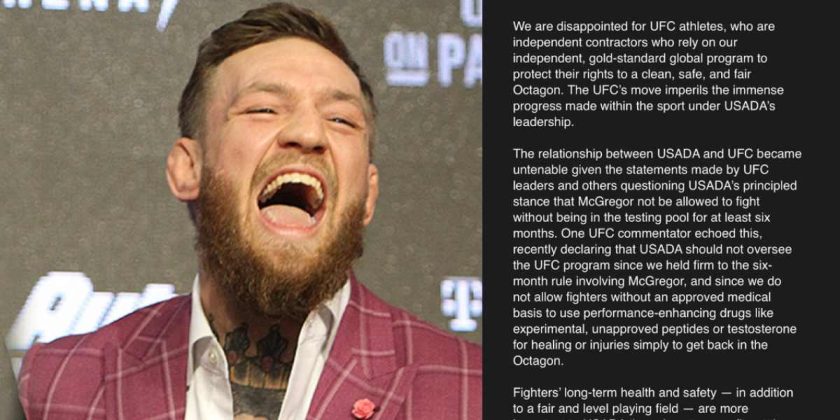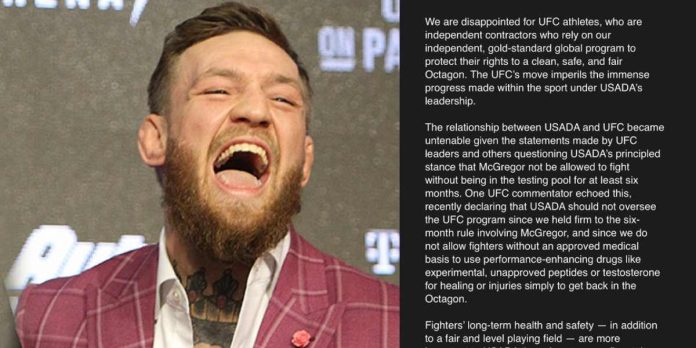 The UFC will no longer work with USADA starting January 1, 2024.
The relationship between the UFC and USADA had been shaky during the last few months, mainly because the anti-doping agency refused to give Conor McGregor an exemption to fight without the mandatory six-month testing after re-entering the pool.
McGregor had withdrawn from the USADA testing pool following his loss to Dustin Poirier at UFC 264, where he lost by a doctor's stoppage after breaking his tibia.
Earlier this week, McGregor was allowed to re-enter the testing pool by USADA. However, the comments made by UFC officials about the situation involving the Irishman and the doping agency didn't sit well with USADA's top executives, it was said in an official statement.
"As of January 1, 2024, USADA will no longer be involved with the UFC Anti-Doping Program… The relationship between USADA and UFC became untenable given the statements made by UFC leaders and others questioning USADA's principled stance that McGregor not be allowed to fight without being in the testing pool for at least six months. One UFC commentator echoed this, recently declaring that USADA should not oversee the UFC program since we held firm to the six-month rule involving McGregor, and since we do not allow fighters without an approved medical basis to use performance-enhancing drugs like experimental, unapproved peptides or testosterone for healing or injuries to get back in the Octagon."
BREAKING: USADA announces that Conor McGregor has re-entered the UFC's anti-doping program and states that as of January 1, 2024, they will no longer be overseeing the UFC's anti-doping program. pic.twitter.com/H4X3gITvzW

— Aaron Bronsteter (@aaronbronsteter) October 11, 2023
USADA was apparently referring to Joe Rogan's comments that the UFC should cut ties with the anti-doping agency and defund testosterone.