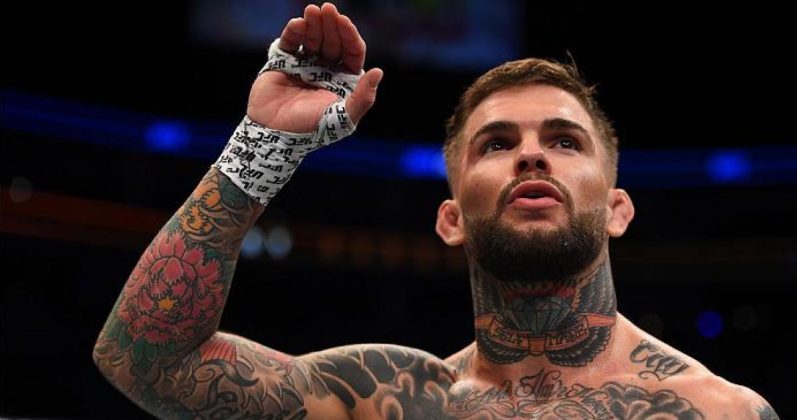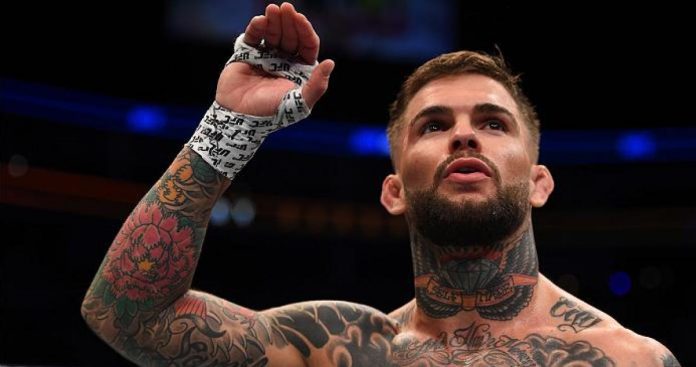 Cody Garbrandt has made a lasting impact on the world, considering he's the man that figured out the seemingly unstoppable, Dominick Cruz. What gave him the skill set to do that? Where did he start out? Will he ever be the same after dropping three in a row? These questions will not be answered until he fights again unfortunately, but I can however give a breakdown of his career from the start of it until now. It's quite fascinating what he's been able to do, especially at such a young age, regardless of if his chin is up to par anymore or not. Let's take a look into the career of No Love: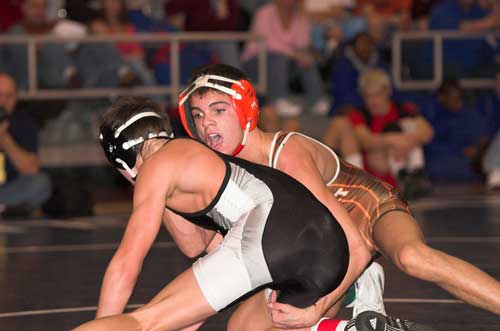 Cody's uncle, who was an Olympic alternate in the sport of Boxing, started teaching him boxing when he was 15 years old. Cody won a state championship in ninth grade, and came in second place the following year on his high schools wrestling team. As a senior, he was also a National All-American, but he decided to focus on boxing instead. He had multiple NCAA Division I schools looking his way, and ended up competing for two NCAA Division II schools before dropping out. He also played football in high school, which I'm sure helped with his athleticism.
Amateur Boxing & MMA: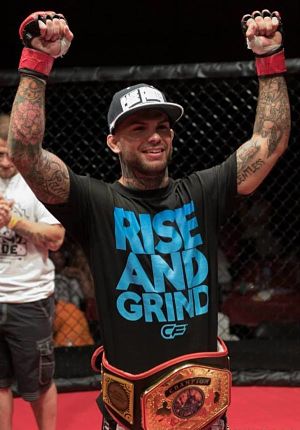 He competed in amateur boxing for a good amount of fights, going 32-1, and was the ABA Junior Boxing Champion in 2007 and 2008. Towards the end of his boxing venture, he started fighting in amateur MMA, and went 6-2 before turning professional. He won his first three professional fights, then went to Team Alpha Male. This belt he had that's pictured to the left was either won as an amateur or early on in his professional career, nothing has been said about it so I'm not entirely sure which. I'm assuming he won it in either his third professional fight against Dominic Mazzotta, or in his fourth professional fight against James Porter, considering he was in the main event of both fight cards according to Sherdog. Urijah Faber said to him that if he makes it to 5-0, he will get him in the UFC, and he did just that, as he has done with many other teammates. He was just 23 years old when he made his UFC debut. To be 23 years old and have 46 fights altogether under your belt, that's quite the experience for anyone to have. He was definitely a youth beyond his years.
UFC Debut:
He came into the UFC with a 5-0 record, all of which were knockouts. He fought The Ultimate Fighter 14 veteran Marcus Brimage, who was 7-3 (4-2 UFC), and coming off a first round KO win via head kick over Jumabieke Tuerxun, who was 15-2. It was a back and fourth fight, Cody ended up hurting Brimage at the end of round one, but was unable to get the initial finish. Both guys landed often throughout, and eventually, Cody caught Brimage after landing a beautiful right hook on the chin with about half a minute left in the fight, and followed it up with more while Marcus was trying to get his footing back to get the finish with ten seconds left in round three.
It was an entertaining fight, and the strike totals were 50-48 for Cody, incredibly close number-wise. Keep in mind, Brimage is only 5'4", but has a 71" reach; our UFC Featherweight Champion Max Holloway is 5'11" and he doesn't even have a 71" reach, think about that for a minute. Cody was now at this point 6-0 with six knockouts.
Fight against Briones:
Cody made his second octagon appearance half a year later at UFC 189, the night his teammate Chad Mendes fought Conor McGregor for the Interim UFC Featherweight Championship. Briones was also 1-0 in the UFC at this point, and had a 16-4-1 record. It was a good fight from both, similar to the Brimage fight; they both landed a good amount, but Cody was just crisper with his punches and almost got the finish in round two with a beautiful combination.
Briones is tough as nails however, and made it to round three, a round where he'd pressure Cody, and try fishing for the knockout. Cody was able to use Henry's momentum against him and get the takedown a couple times. Cody won the fight via unanimous decision, it was his first decision win in his MMA career. Considering that, in his first two UFC fights, he went six rounds and got one finish, not too shabby, that's great for experience and comfort inside the UFC cage.
Cody was scheduled to face John Lineker in his third UFC appearance, however Lineker was forced out of the bout with Dengue Fever, and replaced by Augusto Mendes. Augusto was 5-0, and had 17 BJJ medals, six of which were World Championships. Cody danced around and used his footwork until the right opening presented itself to land the perfect punch just over four minutes into the fight. He was now 8-0, and thought of as a serious threat to most. He was starting to get noticed by the rest of the division at this point.
The Clash of the Undefeated:
He returned just a few months later to fight fellow undefeated bantamweight, Thomas Almeida; Cody was 3-0 in the UFC at this point, and Almeida was 4-0 in the UFC, with his last three wins via knockout and being awarded Performance of the Night in each of them. Almeida was also 20-0 overall with 19 finishes, and Cody was 8-0 with seven finishes, it seemed perfect. If it seems he was a little out-experienced initially, just think a little further back; Cody was 32-1 as an amateur boxer, and 6-2 as an amateur mixed martial artist as I stated before.
At this point, that gave him a total combat sports record of 46-3, plus he spent a good amount of time on the wrestling mat. Thomas Almeida was a BJJ brown belt and Muay Thai black belt as well; it was a perfect match up: Boxing and Wrestling versus Muay Thai and Brazilian Jiu-Jitsu. Cody had an incredible performance against him, and knocked him out almost three minutes into round one, giving him a spot in the top ten at number seven.
Toughest Test of his Career:
This was the first really seasoned and experienced fighter he fought to date, and perhaps the best to date as well: Takeya Mizugaki, who's also a great boxer. I've always loved Takeya, he's the first Asian fighter I ever watched, which was back in 2009. He debuted in the WEC to challenge then top ten pound-for-pound fighter Miguel Torres for the WEC Bantamweight Championship, which is really the same belt as the UFC Bantamweight Championship.
Miguel was 35-1 at that point, and had avenged his only loss, similar to Fedor; he was 32-1 and had avenged his only loss. Miguel was making his third title defense, Takeya was 11-2-2 at the time, and impressed many by winning a round, if not two against Torres. Everyone thought Miguel would blow right through him, but he wasn't able to; for the longest time, Urijah Faber was the only guy that was able to finish him. I remember Rani Yahya had his back for half of their fight and couldn't submit him, but Urijah did in the first round.
By the point he fought Cody, he was 6-2 in his last eight, and that quickly became 6-3 in his last nine. It didn't take long for Cody to finish him, just :48 seconds actually; he has got to be one of the pound-for-pound hardest hitters in MMA, because almost no one can take those shots from him. Around this time, John Lineker knocked out Michael McDonald, and took Cody's number seven spot; after Cody knocked Mizugaki out, he moved up two spots into number six.
Title Fight:
After being granted a title shot after his win over Takeya Mizugaki, he was bumped up to number five in the official UFC rankings. Who knows why, perhaps to make the title fight more compelling. He was just 10-0 at this point with a 90% knockout ratio, going up against the 22-1 puzzle in Dominick Cruz. I don't think that's elaborate enough, Cruz is more of like trying to figure out a maze rather than puzzle, the guy's absolutely incredible. He is the pioneer of what he did, kind of like the Diaz' and their style of boxing, no one did it before.
This was Cruz' sixth title defense, and the way it went down really shocked everyone. Dominick would constantly mention how many Team Alpha Male members he'd beat, and he wasn't wrong. That camp just couldn't figure him out; his fight with TJ was very close, but that's neither here nor there. Cruz was 5-1 against Team Alpha Male fighters, 6-1 if you count Scott Jorgensen because he had trained with Urijah's team before, however he generally stayed in Idaho for his camps, so I don't really count him. That only loss by the way was against Urijah Faber back in 2007. He was a two division champ in Total Combat, winning the Lightweight and Featherweight titles before challenging Faber for the WEC Featherweight Championship in his WEC debut.
UFC Champion:
Cody did very well against Dom, getting the 48-46, 48-46, 48-47 unanimous decision. His footwork and power worked wonders for him that night, which is nuts because Dominick has some of, if not the best footwork in the entire sport. Dominick out landed Cody 88-68 in significant strikes and 95-71 in total strikes, but it didn't look like it, I was very surprised to see the strike totals; however Cody did knock him down twice. Who do you know of that went from unranked to champion inside a calendar year? Cody Garbrandt. Nonetheless, this is the last time we have seen No Love get his hand raised, over two years ago at this point.
The Beef With TJ Dillashaw:
Before this all happened, Team Alpha Male's striking coach Duane Ludwig left the gym to venture out for his own brand, and TJ Dillashaw followed him, Urijah didn't like that, and neither did Cody. Duane was only there a couple years, but in that time, he turned TJ from a good athlete that could wrestle and throw a few punches into someone who could have a career in professional kickboxing if he wanted to; no joke, TJ's a better striker now than he is a wrestler. He used to always out wrestle his opponents, the only guy he's really wrestled in the last five years is John Lineker.
The way he switches stances while striking is a thing of beauty to watch, that's thanks to Mr. Ludwig. Urijah wanted him to stay at Team Alpha Male, TJ wanted to train at both places, and Urijah wasn't having it; so TJ went with who made him evolve the most, and I think he made the right choice. I love Urijah Faber, he got me into this sport, but I don't see a reason he wouldn't let him come back, TJ was obviously so much better because of Duane. It's too bad Ludwig and Faber didn't get along too well, because everyone on that team had much improved striking, and very quickly after Duane started there.
TUF Coaches:
Cody's downward spiral started after coaching against TJ Dillashaw on The Ultimate Fighter 25. The show was filled with hatred and drama from both parties, but particularly from Cody. TJ was generally calm and collected, and didn't seem to have much resentment, at least that he showed. I have a feeling Cody talked himself into hating TJ more than he really did so he could be stronger mentally going into their fight, and here's why:
As I've heard others say, Cody grew up in that gym and was coming up when TJ was champ, and TJ was probably a little better and more evolved, and Cody perhaps knew it, kind of like the 'big brother' thing. Maybe he knew he'd have to knock TJ out to beat him, maybe not who knows. I don't know why he would think like that after his masterful performance against the footwork magician in Dominick Cruz, but that can really effect you, knowing someone that you're fighting has gotten the better of you before, it makes a difference in some people.
Speaking of footwork magicians, TJ Dillashaw is another prime example of that. He's actually the only person to ever out strike Dominick Cruz since Cruz' first ever fight in the WEC. That's 14 fights, and TJ is the only one that's been able to out strike him, and only did so by eight more strikes. It was an incredible fight, if you haven't watched it, I strongly recommend going back and watching it! The two best bantamweights ever, and they're so similar in styles, TJ is just more dangerous and comes into his opponents range more to try and hurt them while Dominick picks his opponents apart.
TJ vs No Love I:
It was an entertaining and competitive first round, and Cody cracked TJ a good one at the end of it, knocking him down. TJ didn't look too great after it, he was definitely rattled. TJ didn't do much for the first minute or so of round two, he still seemed a little dazed, but came back to form and started moving again, before throwing a nice switch kick and catching Cody on the chin with his foot. Generally kicks aren't too powerful when you land with your foot, no where near as anyway, but Cody didn't see it coming, TJ was very quick with it.
That matters, shots that you don't see coming hurt you. Cody tried to recover, but TJ knew he was still hurt, and threw a beautiful combination, landing his right hook on Cody's chin and followed up on the ground to get the finish. This of course would be Cody's first defeat, and I think if they would've done the right thing with him, he wouldn't have lost his last two. I'll explain why:
Cody shouldn't have been given an instant re-match:
Cody Garbrandt was truly special, he was a world champion at 25; not just a world champion though, but a UFC Champion, and he beat Dominick Cruz to get it. Dom is a guy that had four straight title defenses before being stripped due to inactivity, that's a story for another time, came back and won the belt again and added another defense. Not just that, he avenged his only loss, twice. For Garbrandt to do what he did against Dominick was nothing short of astounding, almost like when TJ fought Renan Barao the first time honestly. It was so unexpected to me, I really didn't think anyone, except maybe TJ in a rematch, would be able to figure Cruz out. I was blown away.
Point being, he was able to accomplish that feat, which no one's been able to do to a prime Cruz; he lost by knockout to TJ, and they fed him to TJ again. Exactly nine months later to the day, they rematched. For one, this is unethical: Firstly because TJ lost the belt in a fight that many thought he won, it could've went either way, but he had to win two more times over an almost two year span before getting another shot; he lost a razor thin split decision and had to wait that long, Cody got finished and got an immediate rematch. That's reason number one.
Reason number two is look at what happened to Renan Barao after fighting TJ, he's never been the same. I'd be willing to bet TJ took a good ten years off Renan's life in that first fight alone. They tried to give Barao an immediate rematch, he missed weight and was hospitalized. Barao then fought Mitch Gagnon, and did not look himself at all, he did however get the finish at the end of round three. Renan started his career out 34-1 (1 NC), only losing his first fight via decision, he has since gone 2-7, and has missed weight for his last two. Anyone remember what Renan Barao's pound-for-pound ranking was? He was number one, he'd finally surpassed Jose Aldo, and now look.
So tell me, what good will come of this? Give him another fight to work his way back and get some of his confidence back. This dude is a 32-1 amateur boxer and 11-1 in professional MMA with nine knockouts, don't feed him to a guy that just finished him. It's not like with Conor McGregor and Nate Diaz either, Conor didn't take a beating in that first fight, and he was submitted, not knocked out, there's a difference. The minute it was scheduled I hated this idea, and was praying for one of them get injured, because it's a terrible idea.
Cody's young, he can have another fight or two before you give him another title shot. It's just unbelievable to me, why in the hell would they do such a thing, especially considering they wouldn't give it to TJ when he perhaps shouldn't have lost it, and especially considering what he did to Renan Barao. Did they not think of the same thing happening to Cody? That was the first thing I thought of, they're just going to kill another star. If he wins, okay, great, but like I said he's young, he didn't need an immediate rematch.
By this point, he is 11-2 on a two fight losing streak, and scheduled against Pedro Munhoz. I didn't really like this match up either, he just got knocked out twice in a row, and they give him another killer that was 17-3 with two split decision losses, his other loss was via unanimous decision against Raphael Assuncao in his UFC debut. Pedro finishes everybody; how many times do I need to express, don't kill your star! Give him someone he can definitely beat, maybe even two or three easy fights, give him a chance to regain his confidence. This fight was an absolute war while it lasted, they were both throwing and landing often, and Cody, for the third time in a row not only got knocked out, but got knocked out by a right hook. Maybe that's something his team should look into?
Summary:
Cody has made a great transition to MMA, he doesn't neglect kicks, he throws round kicks to the leg, body, and head; he loves that cartwheel kick, he throws it in about every fight, and has a good flying knee. The one thing I wish he would do more often is establish a jab, he almost never uses it and I have no idea how you win 32 out of 33 boxing fights without it. His boxing technique is almost perfect, like I said he doesn't use a jab or really any straight punches like he does overhands or hooks, but the only other flaw I see is that he gets hit a lot, by everyone. He doesn't seem to have the best boxing defense, if he did, I think he'd be damn near unstoppable.
I just wonder if he's always fought like that, has he always taken punches in every fight? That's a lot of fights to be taking that kind of damage in. His chin looked okay against Munhoz in his last fight, he got hit hard multiple times, but he just kept swinging and didn't do it technically. It's kind of weird though, you don't ever see fighters use boxing in MMA like he does, MMA boxing and 'The Sweet Science' are two completely different things. He bobs, slips, weaves in the pocket like he's in a boxing match, right in front of his opponents, and it works for him.
If he could just start using a jab and cross more often and learn better striking defense, I'd imagine he'd be champion again. Look at Alistair Overeem, he has probably the weakest jaw in all of MMA, and he's still very successful, as a heavyweight where everyone hits hard. He has a striking background, like Cody, but Cody also has a wrestling background. He definitely could do it, but he'd have to branch out I think, and I know that won't happen. If he could go to Tristar, I think that'd be the perfect gym for him; all they focus on is the basics, straight punches and defense, as far as striking goes anyway.
Considering I doubt that'll happen, he could still do it in Sacramento, but he'll need to bring in someone to help with his head movement, and just simply understand that he needs to throw a jab more. He's had 33 boxing fights like I said, there's no way he doesn't have it in his arsenal. He's still only 27, and will be 28 in July. He still has time, but he needs to change things up, his chin may already never be the same.
A name that comes to mind that had a similar situation is Michael Chandler; he was 12-0 and had won three times since becoming the Bellator Lightweight Champion, then lost his next three. Look where he is right now, on top of the Bellator's Lightweight division yet again, for the third time. I must say however, Chandler could've went 14-0 before that Will Brooks rematch; his first two losses were razor thin five round split decisions, and he got TKO'd in round four of his Will Brooks rematch. Chandler was able to come back better than ever. I must say however, that's definitely different than being knocked out three times in a row.
Cody was also KO'd and concussed in amateur MMA, I really hope he takes some time off sparring, works on his head movement, stops brawling, and starts using straight punches more often; hell, even use his wrestling in some fights, it'd help. I wish No Love nothing the best, I've been a fan since he fought Brimage when I found out who he was, I hope he can take the right steps to further himself in his career. He's an absolute prodigy, he just needs to tighten a few things up.