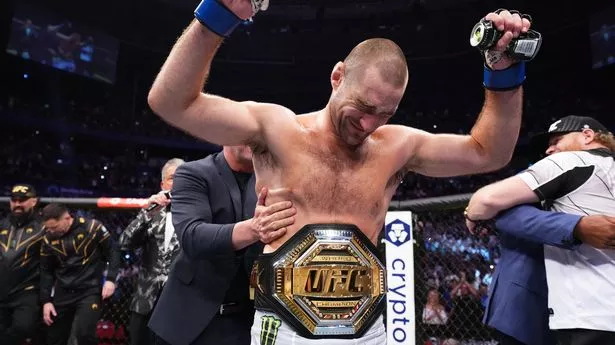 Following his monumental victory against Israel Adesanya at UFC 293, middleweight champ Sean Strickland has revealed who he'd like to fight next.
Strickland has plenty of options in the middleweight division. Dricus Du Plessis believes he's the number one contender in the division, whereas Khamzat Chimaev recently expressed his willingness to lock horns with the newly-crowned champion once he handles business with Paulo Costa at UFC 294.
However, if Adesanya wants an immediate rematch, neither Du Plessis nor Chimaev would matter.
"Oh yeah, I guess I did win a championship," Strickland said during a recent appearance on the Man Dog Podcast. "It was a good time, you guys. It was a good time. I like fighting. I like to hit [people]. I like to fight, I give 110 percent, and it was good. I thought Izzy would be better. I'm sure the UFC might give him a rematch and he might take it a little bit more seriously and put up a better fight.
"My thing is, dude, when it comes to that next fight, everybody's like, 'Who do you want to fight?' I don't give a f***, dude. I want to make f****** money. I get those pay-per-view buys. Give me somebody who's going to make f****** money. I don't want to fight anybody boring. I want to fight, you know, give me someone who's making money. So as long as I'm a f****** champion you guys, [I fight] for you. Enjoy your old f****** trucks, enjoy your old beat up f****** Honda Civics, man… I'm going to keep rocking my Hyundai Accent, we're going to keep making money, and f****** thank you guys because you're the reason why I got this f****** shot. Let's f****** go."
Dricus Du Plessis, Israel Adesanya, or the winner of Paulo Costa vs Khamzat Chimaev, who should Sean Strickland fight next?