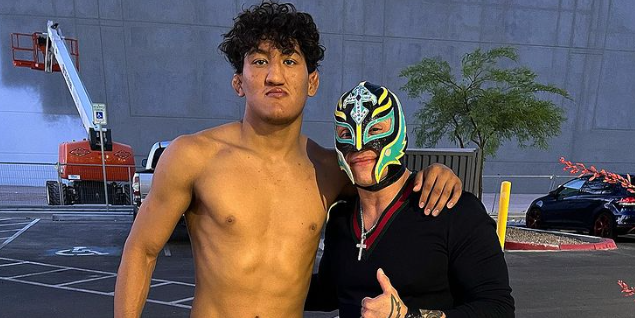 Raul Rosas has said that he was blessed to meet childhood hero and WWE legend Rey Mysterio during fight week at Noche UFC.
Rosas, the youngest mixed martial artist to compete in the UFC, made his return to the win column at Noche UFC, where he dispatched Terrence Mitchell in under a minute.
'The Problem Child's' night turned from good to great when he ran into WWE Superstar Rey Mysterio, who shared a picture of the two on social media, congratulating the 18-year-old bantamweight on his victory.
During a recent appearance on The MMA Hour, Rosas revealed that he was over the moon after meeting his childhood hero.
"When I was a little kid, I and my brother, my grandma from Mexico used to send us over all his gear, like his mask, 6-1-9," Rosas said. "We were really WWE fans and he was our favorite, so finally getting to meet him and take a picture, he posted the picture and stuff, life is crazy.
"Like I said, I'm blessed because I'm just focused on my journey, so all the things that the sport has given me besides what I want — like me being in a video game, meeting people like Rey Mysterio, all these things — I just don't take for granted. It's a real blessing."
Rosas Jr. also expressed his appreciation for Conor McGregor's kind words.
"I think he's tweeted a few times when I've fought and I've won," Rosas said. "That's cool to hear somebody that big that's made the sport even bigger, he became bigger than the company, someone like him to tweet and tune into my fights, that's pretty awesome."