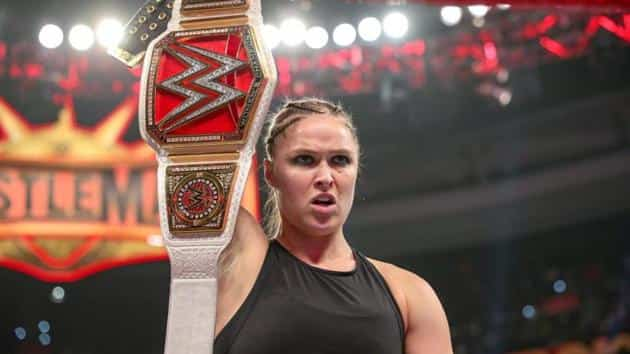 Former UFC bantamweight champion Ronda Rousey believes WWE fans treat professional wrestlers a lot better than UFC fans treat fighters.
Rousey, who paved the way for women's MMA, dominated the UFC's 135-pound division for over two years (from 2013-15), securing six consecutive title defences before Holly Holm shocked the world by knocking her out to win the belt at UFC 193 in 2015. 'Rowdy' suffered another brutal loss at the hands of Amanda Nunes at UFC 207 in 2016, and hasn't fought since then.
Although Rousey hasn't formally announced her retirement from MMA, the judoka said in an interview that she doesn't want to fight again, especially after her transition into the world of professional wrestling through WWE.
Ronda Rousey On WWE vs UFC fans
Despite her accomplishments, the UFC's first and only female Hall of Fame inductee thinks she doesn't get the respect she deserves from fight fans. Speaking on her YouTube channel (as transcribed by Fightful), Rousey said that WWE fans are far more caring than UFC fans.
"I would say that the WWE fans care more about the wrestlers than the UFC fans care more about the fighters," Rousey said. "UFC fans have much less respect for the veterans and legends of the sport than WWE fans do. A lot of UFC fans are kind of like bandwagon fans in that way. The second you're not on top, you're dead to them. Whereas WWE fans are like, 'This is the guy that did this 20 years ago,' and are still really excited, whereas UFC fans now are like, 'Forrest Griffin sucks.' Uhh, you owe basically the whole sport to him. Shit like that.
"'Anderson Silva sucks. GSP (Georges St-Pierre) sucks.' These are people that elevated the sport and paved the way for everybody else. I don't see UFC fans having the same respect for people that got the sport to where it is as WWE fans. I'm not saying it's completely absent, I'm just saying I see more respect for legends in WWE fans than UFC fans. There are exceptions to everything."
Do you agree with Ronda Rousey?