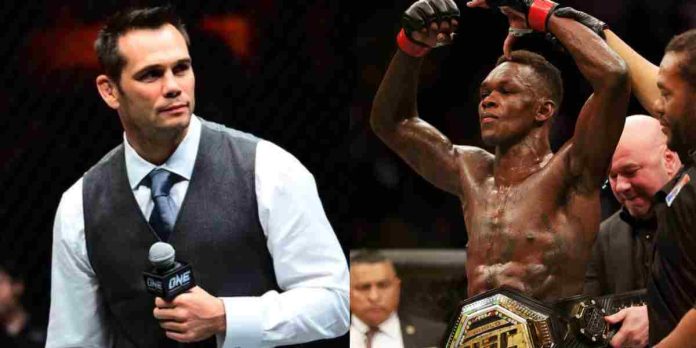 Rich Franklin thinks he deserves to be ranked higher than UFC middleweight champion Israel Adesanya in the middleweight GOAT debate.
Adesanya, a two-time middleweight champion with five successful title defenses to his name, is widely recognized as the second-best middleweight in history, after consensus GOAT Anderson Silva, but Franklin begs to differ.
Rich Franklin On Israel Adesanya
During a recent interview with The Schmo, Franklin praised Silva by saying that not even Adesanya comes close to how exceptionally good the Brazilian was in his heyday.
"Anderson [Silva] didn't just win matches, he made good guys look bad, myself included," Franklin said. "You look at a match like what he did with Forrest [Griffin] and how he was able to outmaneuver him. I have yet to see that kind of level in the middleweight class with somebody else."
When asked what Adesanya can do to surpass Silva, Franklin said "nothing" because he thinks 'The Last Stylebender won't ever surpass 'The Spider'. In fact, the reigning isn't even the second best according to the UFC Hall of Famer.
"It'll always be Anderson Silva," Franklin said. "The reason why is because Anderson beat me. So I had to be beaten by the greatest, right? So Israel will always be… he will be number three. It's Anderson, then me, then Israel."
Adesanya does have his believers, including Jon Anik, who thinks he has surpassed Silva as the greatest middleweight of all time, simply due to the fact that he has fought better competition.
The Nigerian-New Zealander most recently fought at UFC 287, where he knocked out Alex Pereira to avenge his UFC 281 loss.
Do you agree with Rich Franklin?