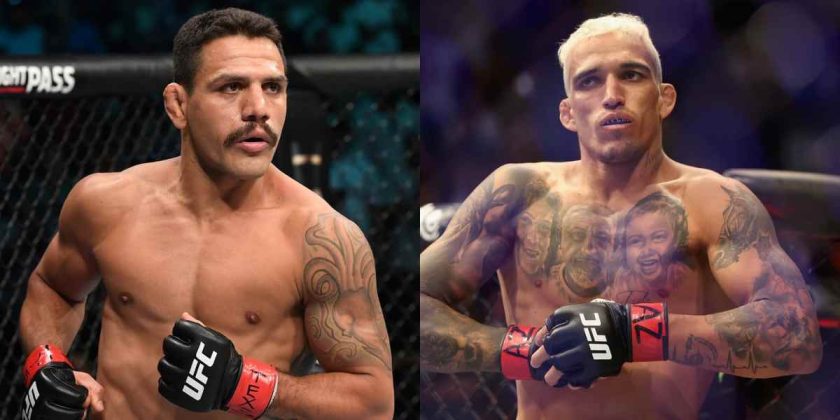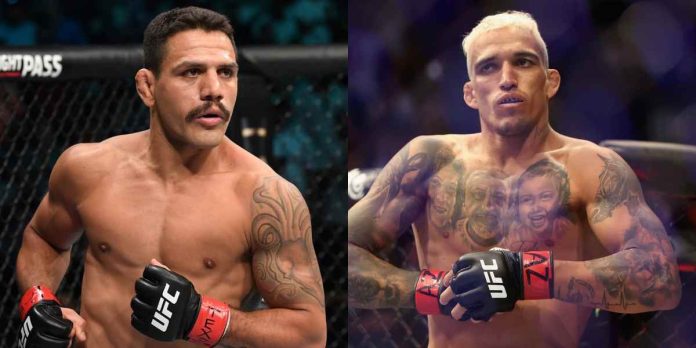 Rafael dos Anjos believes he's a tough stylistic matchup for UFC's uncrowned lightweight champion Charles Oliveira.
Dos Anjos hopes to enter the lightweight title picture with a convincing win over Rafael Fiziev in the UFC Vegas 58 main event on Saturday night. If he gets past the Kyrgyzstani, RDA hopes to face Oliveira, who despite winning his UFC 274 title fight against Justin Gaethje by first round submission, failed to retain his title due to his ill-fated weigh-in.
Rafael dos Anjos On Charles Oliveira
Speaking to MMA Fighting, dos Anjos said that although Oliveira's at the peak of his powers, he believes he is a tough matchup for his compatriot.
"He's on his moment," dos Anjos said. "Fighters, it's all about the mentality. [Charles Oliveira has] got his mental [attitude] on point, and he's very confident, but we all know he has been knocked out in his fights, and he quit a couple of times. But he's on his moment right now. He's very confident. He's on a good win streak.
"If you see when he took [Dustin] Poirier down, [Poirier] just grabbed him and tried to eat the time. It looked like he was desperate while he was on bottom. I play well on the bottom. I'm a Brazilian jiu-jitsu black belt, and I know how to control the wrist and how to be calm on the bottom. With [Justin] Gaethje, he gave the back right away, and once you get in the scrambles and these guys give their back right away, that's how Charles is good."
Dos Anjos has high ambitions but with the likes of Conor McGregor and Islam Makhachev being linked with Oliveira, he will have to get a couple of big wins to solidify his place as a top contender.
Do you agree with Rafael dos Anjos?