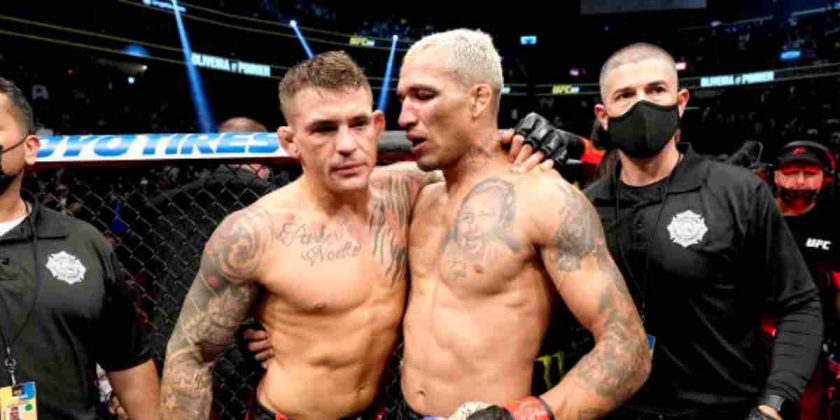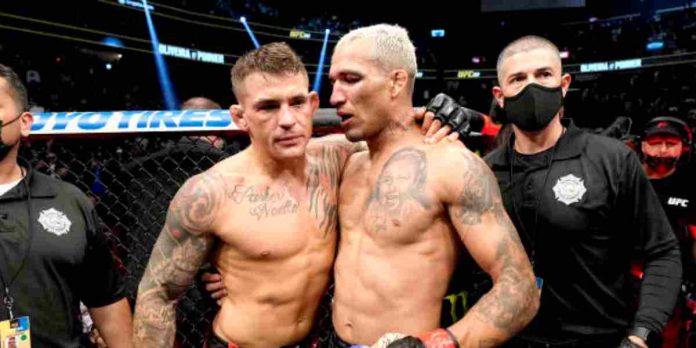 UFC lightweight champion Charles Oliveira has revealed that he hasn't heard back from Dustin Poirier since UFC 269, where he pledged to donate $20,000 to a charity of 'Do Bronx's' choice.
Oliveira submitted Poirier in the third round of their title fight at UFC 269 to make his first successful title defence. After the fight, the two embraced each other, and 'The Diamond' promised to donate $20,000 to a charity in the Brazilian's hometown of Guaruja in Sao Paulo.
Poirier's Offer Giving Him Headaches
Since that moment was caught on Camera, Oliveira told Sherdog that he's been under a lot of pressure, with people constantly questioning him about the donation which he hasn't received yet.
"I'm sure Poirier had a great intention when he said that, but to tell you the truth I really don't know if the proposal turned out to be good or bad," Oliveira said. "Right after the fight, there were so many people with bad intentions asking if I used the money or not, if I spent the money Poirier gave me. And that really pissed me off. I've always done as much as I could since the beginning of my career helping people with my social projects with the small [amount of] money I was making. Of course, now that I'm better paid, I'm able to do more and help more people."
No Contact Yet
Oliveira also revealed that he hasn't had any contact with Poirier since their fight, and he doesn't know how the Louisiana native plans on making the donation.
"I have no idea how Poirier is planning to do that," Oliveira said. "I have no idea how the bureaucracy of that works. My social project is mine. I don't have the documentation once I invest my own money after every fight I have. I just tell people that the money didn't arrive yet, but if Dustin really wants to make a donation and needs those bureaucracy documents, I'll pick some local social project in my area. The most important thing is helping people who need to be helped, but to tell you the truth, after all the headaches I've been dealing with due to that Octagon proposal, I really don't know if it was good or not."
Who do you think Charles Oliveira and Dustin Poirier should fight next?
See also: