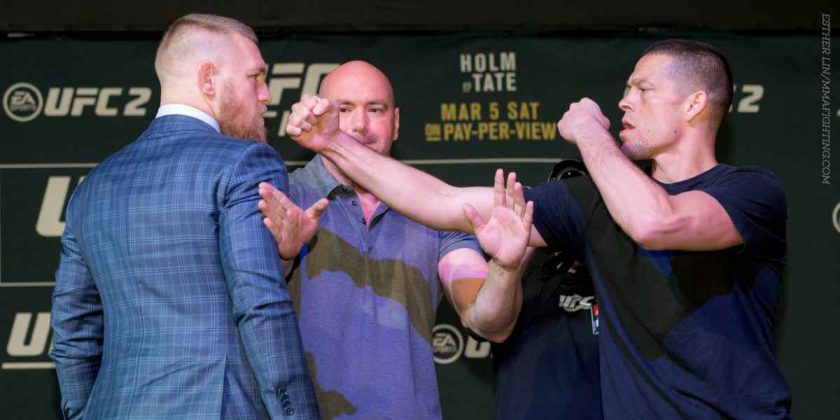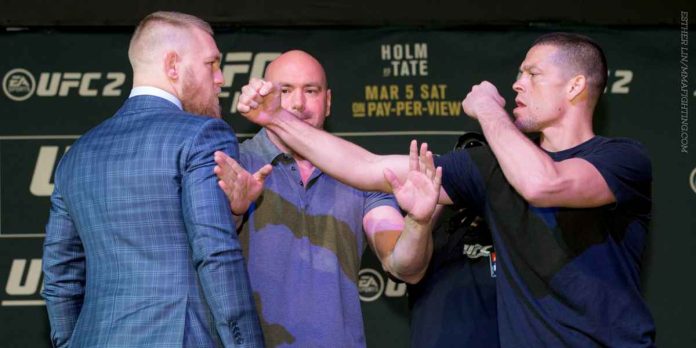 Nate Diaz has given his thoughts on how he believes the highly-anticipated fight between Conor McGregor and Michael Chandler will play out.
McGregor and Chandler recently finished filming The Ultimate Fighter as coaches, and are expected to lock horns upon the conclusion of the season, which will premiere on May 30th. Dana White was recently asked about the date for the fight between the two, but he didn't give a positive answer.
"I don't know," Dana said while speaking to the media during the UFC Charlotte post-fight press conference. "That's the most-asked question I'm getting right now. Obviously, the season of The Ultimate Fighter airs soon, and during that season we will be working very hard to put that fight together."
Nate Diaz On McGregor vs Chandler
Whenever the fight takes place, McGregor will have the edge according to Diaz.
"Chandler is a tough and explosive guy but I don't know how old he is," Diaz said during an interview with MMA Junkie. "I think Conor is better than Chandler, but Chandler, you're great too."
Diaz also praised his former foe and UFC welterweight champion, Leon Edwards, and said that he's open to a rematch with him.
"I don't think I'm over him either," Diaz said. "He's great, he's a great fighter also. It'd be cool if he hung onto [UFC welterweight title] for a while, and he deserves it. Trains hard and works hard."
Diaz fought Edwards at UFC 263, where he almost pulled off one of the biggest upsets in MMA history.
Despite getting thoroughly dominated, the Stockton native managed to badly hurt 'Rocky' in the dying moments of their fight, but instead of going for the kill, he chose to showboat, losing his chance to win the fight.
Do you agree with Nate Diaz that Conor McGregor is better than Michael Chandler?