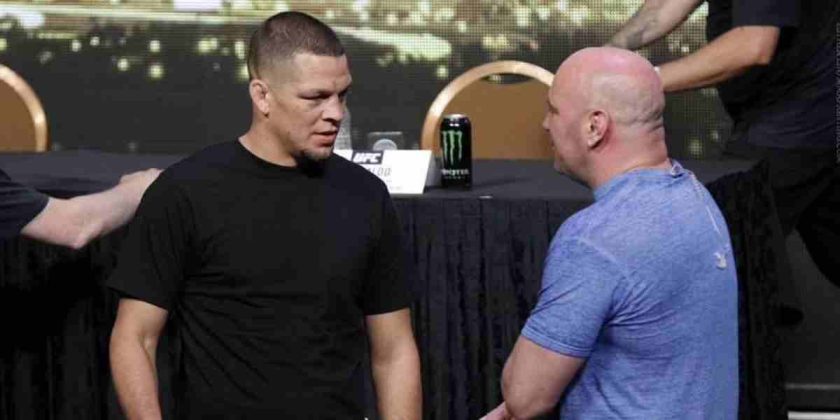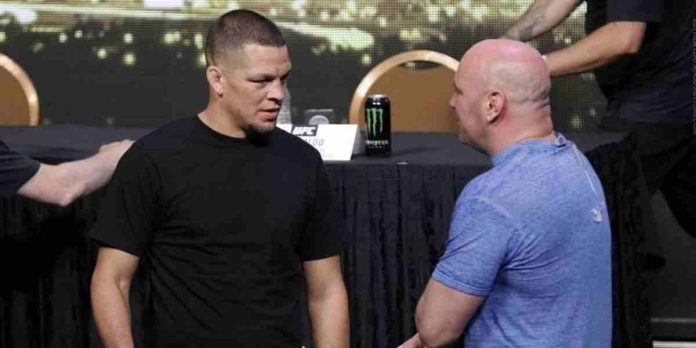 Nate Diaz has denied Dana White's claim that he asked to fight Khamzat Chimaev.
Diaz's main event against Chimaev this weekend at UFC 279 will be the final fight on his UFC contract, and he isn't willing to sign a new deal as he's eyeing challenges outside of the Octagon. The Stockton native understands however that the promotion is trying to turn the Chechen-Swede into a superstar at his expense, and although he doesn't mind that, he does mind Dana acting like he called for the fight.
Nate Diaz On Khamzat Chimaev Fight
In a recent interview with ESPN (as transcribed by MMA Fighting), Diaz rejected Dana's claim that he called for the Chimaev fight, although he did add that he doesn't care because he'll fight anybody.
"What they've got me doing right now is they're acting like I called for this fight, which I didn't call for, and I don't want, and didn't want, and still don't want," Diaz said. "But I don't give a f***, I'll fight anybody. But the pressure's on him — he better finish me, because he's the next killer in town.
"Because … if I whoop his ass, they're going to say, 'Oh, he wasn't the best in town.' But they're not going to let me go [otherwise]. I asked for 20 fights, 10 fights, 15 fights. This fight is not even about this guy. It's about making this guy. It's about making this motherf*****, right? And I'm like, OK, well, you guys aren't going to let me go because I'm the best fighter here, and you're not going to let me go unless it's off of somebody? I've got to make somebody for you? Well, alright — you're welcome. Let's make you. You're welcome, UFC. You're welcome, Dubai. You're welcome, all you motherf***** in your country. You're welcome. This is just my halftime show. I'm just getting started."
Interestingly, Diaz's agent told ESPN that he called for a fight against Chimaev when the bout was officially announced in July.
Will Nate Diaz pull off the upset against Khamzat Chimaev at UFC 279?