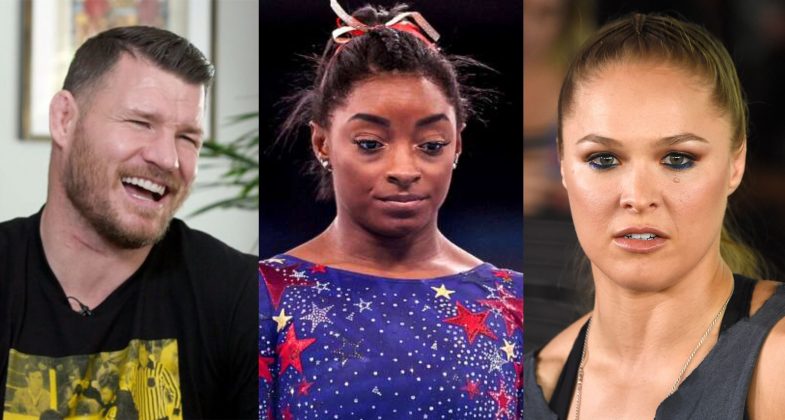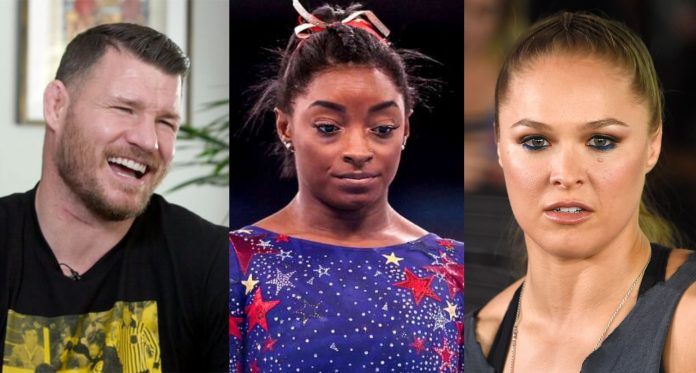 Former UFC middleweight champion Michael Bisping has criticised Simone Biles for her withdrawal from the gymnastics team final at the 2020 Olympic Games due to mental health issues.
Biles, who came to Tokyo as arguably the biggest star in gymnastics, was projected to bag five gold medals, but that won't happen after her withdrawal.
With Biles on the sidelines, Jordan Chiles took her place on uneven bars and balance beam and Sunisa Lee replaced her on floor exercise. The team earned silver medal. Lee also bagged gold in women's individual all-around competition.
The 24-year-old will be evaluated on daily basis to determine whether she will participate in next week's individual events.
While Biles has received support from all over the world for taking such a bold step, she's also come under fire from some netizens, including Bisping who believes the Olympian folded under pressure.
Michael Bisping Slams Simone Biles
Giving his thoughts on the issue on Twitter, Bisping said that 'quitters' never win.
"Quitters never win," Bisping said. "Mental health issues need to be respected. That said, folding to pressure in a sports environment is not a mental health issue, unless I'm missing some details. If so I apologise but from what I read, I don't think I am."
Bisping continued by saying that it's very weak of the former Olympic gold medalist to withdraw from the competition because she was presumably having a bad day.
"She's incredible," Bisping said. "What she has achieved is insane. I'm not hating. I'm trying to understand why she pulled out. If it's because she wasn't having a good day then that's pretty weak. Not the lesson we teach our children. Finish the race! Try your best."
Ronda Rousey Defends Simone Biles
Former UFC bantamweight champion and Olympian Ronda Rousey also took to Twitter to clap back at Biles' critics, saying that they have no idea what they are talking about.
"Everyone judging Simone Biles doesn't know their foot from their asshole when it comes to being in her position," Rousey said. "She's on the Olympic team while you're on Twitter. Whatever is going on cannot be grasped from outside. She's doing the absolute best she can given the situation she's in."
Michael Bisping or Ronda Rousey, whose point of view on Simone Biles do you agree with?
See also: