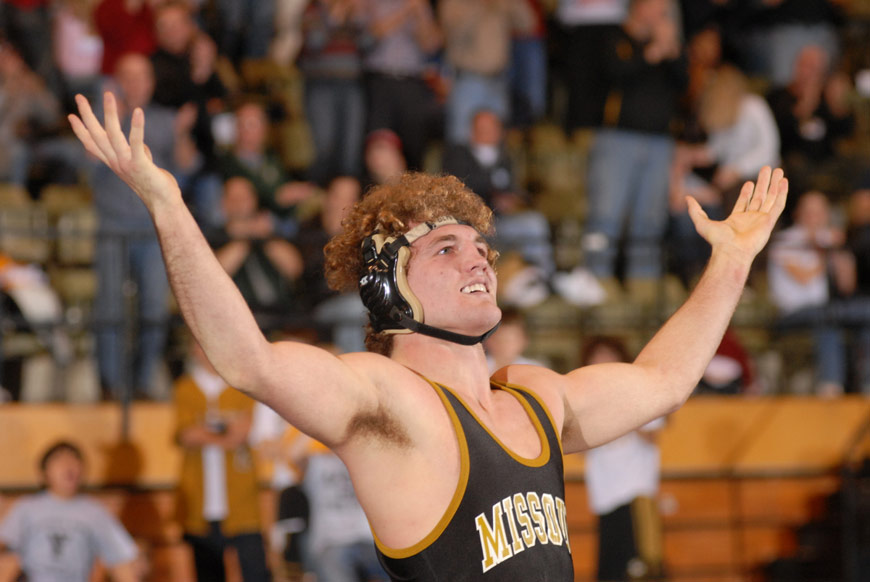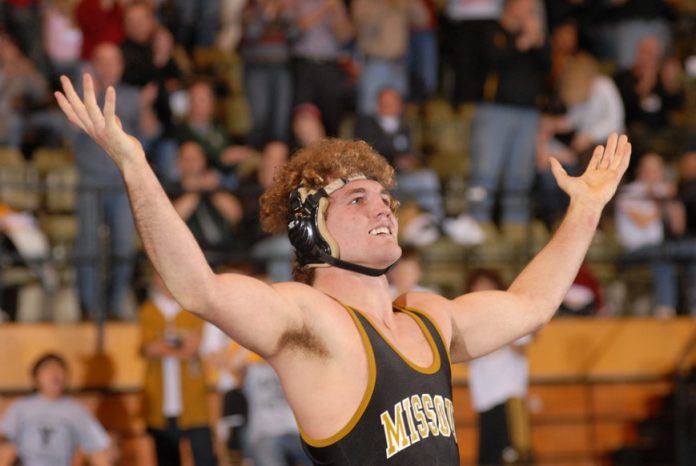 I'm not even sure where to start with Ben Askren to be honest, his credentials are longer than pretty much any MMA fighter you'll ever find. Of course, I'll start off where he did, with his wrestling career, then I will talk about his MMA career. Both of which he's one of the best ever in. It's crazy, you wouldn't think a guy that looks like him is that strong, you wouldn't think he could take everyone down, and not let them up. That's one of the many differences Ben Askren's wrestling brings to the table, he may miss a couple takedowns here and there, but once he gets his opponents down, they generally don't get up.
He's held two different major World Championships in MMA, and won nine World Championship fights. Along with being a 2x NCAA Division I National Champion, and 2x NCAA Division I National Runner-Up. Continue reading to hear about this mans incredibly impressive resume of complete domination across two sports: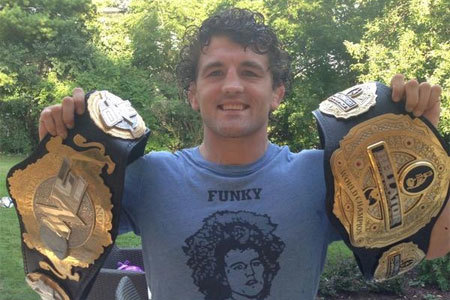 High School years
Ben Askren started wrestling when he was a little kid, and won his first state title when he was in seventh grade. He won two more state titles in high school, in 2001 and 2002, before graduating from Arrowhead High School in Hartland, Wisconsin, where he was also a 3x All-American. He was also the Runner-Up at the High School Nationals. After that, he won the Junior National Tournament in 2002, and was also fourth place at the FILA Junior Freestyle Nationals. He was also a four time Conference 8 Champion, every year from 1999 to 2002.
College dominance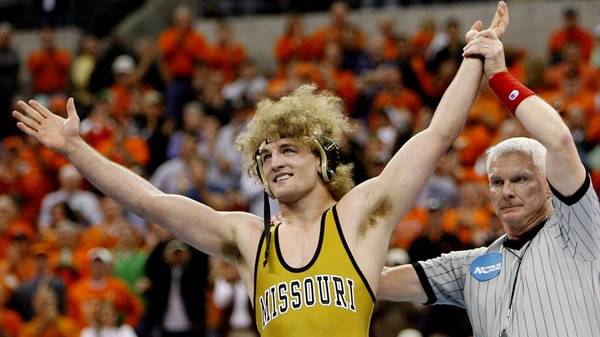 Ben Askren started wrestling for the University of Missouri after high school, becoming an All-American all four years he attended, and also competed in the NCAA Division I Championship Finals all four years he attended, that's insane. The first two years, in 2004 and 2005, he lost the finals, and came in second place; but the next two years in 2006 and 2007 he won, and came in first place. It's not often someone's good enough to wrestle for the top spot every single year they're in college, that's astonishing, and he's only the 12th man to ever do it.
All along with going 153-8 throughout college, winning his last 87 matches, going undefeated in both his junior and senior years, and recording 91 pins overall. That's the third most pins ever in NCAA Division I history. He finished his Junior season with a 45-0 record, with 25 of those wins coming via pin, and finished his Senior season with a 42-0 record, and won the Dan Hodge trophy twice, the last two years he wrestled for MU, becoming only the second person to win two Dan Hodge trophies. If all that isn't enough, he only ever lost to two guys in college: Chris Pendleton and Ryan Lange. Also during his second year at MU, he won the Pan American Championships Gold Medal in 2005. He also won the Big 12 Conference Championship in 2004, 2006, and 2007. In 2006 and 2007, he was awarded Schalles Award Top Pinner of the Year.
After College:
After College, he wrestled in the United States Championships in 2008, and World Championships in 2009, both of which he won Gold Medals in. He went 1-1 in the Olympics, stating that he just wasn't good enough to be there. He won his first match via pin, but lost the next 1-3, 0-4 to former Olympic Bronze Medalist, Ivan Fundora, and he avenged his loss to him in 2010 at the Cerro Pelado International Senior Freestyle tournament, a tournament in which he'd win a Silver Medal. He won a Bronze Medal in the 2008 Kiev International Senior Freestyle tournament, a Silver Medal in the 2009 Sunkist Kids International Open Senior Freestyle tournament, and a Gold Medal in the 2009 Hargobind International Senior Freestyle tournament. He also won the 2010 Dave Schultz Memorial International Open Senior Freestyle tournament, receiving a Gold Medal. In 2012, he was inducted into the University of Missouri Intercollegiate Athletics Hall of Fame.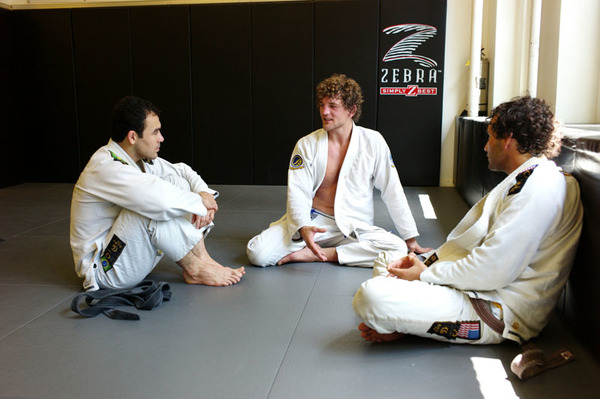 He has also tried his hand at submission grappling, and done pretty well. You see him above taking in knowledge from BJJ icon Marcelo Garcia. He was awarded his BJJ brown belt after just two years of training in the sport, that's insane, and was awarded his black belt a couple years later. He tried out for the ADCC Submission Wrestling World Championships in 2009, and made it to the quarterfinals. He also won a Gold Medalist in the FILA Grappling World Championships Senior No-Gi in 2009, as well as a FILA World Team Trials Senior No-Gi Winner that same year. This is all without a hint of MMA credentials, impressed yet?
Ben Askren's MMA Career: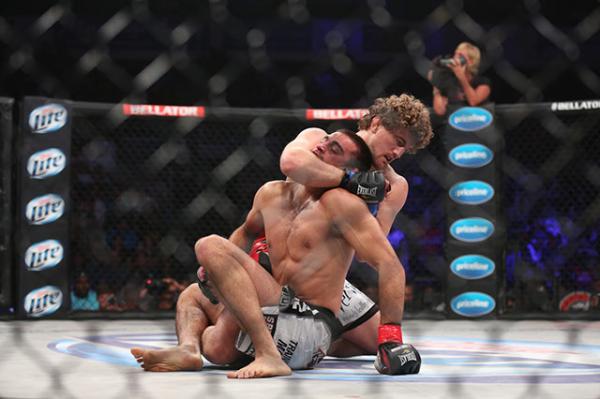 Ben Askren started out his MMA career 3-0 with three wins in 1:27 or under before signing with Bellator, and you could say he was thrown to the wolves pretty early. In his first and second fights with Bellator, he fought, and beat Ryan Thomas. Ryan was 10-3 when Askren was 3-0, and 11-4 when Askren was 4-0. Askren then fought Dan Hornbuckle, who was 21-2, and won via unanimous decision. By this time, he was 6-0 and was about to fight for his first ever MMA World Championship against the 10-0 Lyman Good, and he mauled him over the course of five rounds, to improve to 7-0 and to capture the Bellator Welterweight Championship.
He would defend the belt four times, along with winning one non-title bout against Nick Thompson. His title defenses were against the former IFL Welterweight Champion Jay Heiron, Karl Amoussou, Douglas Lima, and Andrey Koreshkov. The last two of which both won the Bellator Welterweight Championship after he left, and Amoussou won the Cage Warriors Welterweight Championship afterward as well.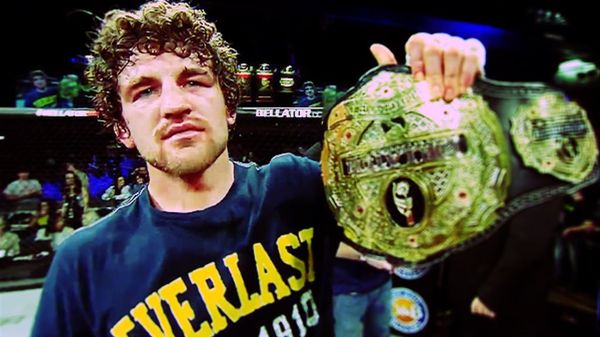 Post-Bellator Career
After defending his Bellator belt for a fourth time, Askren vacated it and signed with ONE Championship. By the way, those four consecutive title defenses in Bellator, that's still a record over there, in any weight class. In his first fight with ONE, he fought a 12-2 opponent, and submitted him in round one.
He then challenged for the ONE Welterweight Championship, the champion was 11-1-2, with ten wins by knockout, eight KO's. Askren ran right through him and TKO'd him in less than 90 seconds. His next fight is the one everyone likes to talk about, against Luis Santos, his no contest. To be fair, he didn't take much damage from Santos, and Santos does not have good cardio. My assessment would be by mid-second round Askren would've began taking him down at will, maybe even a little sooner. But hey, that can't be proven so I won't go on about it.
His next fight would be against 18-3 Nikolay Aleksakhin, he won the fight via unanimous decision. His next two opponents weren't as good as the first few he fought in ONE, but that's not his fault. He tried to get a rematch with Santos, and Santos refused. He also had tried going to the UFC prior to signing with ONE, we thought that's why he left Bellator, but Dana White passed on the idea. Anyways, two of his last three fights were against 6-0 and 9-3 opposition, both of which he won quite handily. His last fight was a win against Japanese MMA legend Shinya Aoki, who he defeated early in round one via TKO. That is a good fighter to have a win over; the only thing is, Aoki was a little undersized.
He defended his ONE Championship three times, and also won a non-title fight there as champion as well, as his opponent missed weight. Since then, he's been retired, just wasting his talent, not at a fault of his own however. The UFC should have never passed up on someone so dominant, I don't care if he's boring or not. How can people find something so boring about something that's that hard to do? People that don't understand it.
UFC
Around October, it was announced that Askren would finally get his shot in the UFC, and Demetrious Johnson would go to ONE in return. We speculated on who he'd fight in his debut. It seemed like it'd be Darren Till for awhile there, then maybe Wonderboy Thompson, then back to Till, then about a week or so later it landed on Robbie Lawler. This was supposed to happen at UFC 233 on January 26, but the entire card was cancelled and the fight was moved to this card. Honestly, that's great, because as Askren said, going from retired to a fight against a guy like that in eight weeks probably isn't the best idea.
I can't wait for this fight, I do wish he would've gotten scheduled with someone else for two reasons though. Reason one, Askren is incredibly clever and witty, and Lawler isn't someone he can sell a fight with by talking; and two, I think Lawler is a very tough match up for Ben, he's one of the best pure sprawl and brawlers ever.
Think of it like this, Rory MacDonald was able to take Tyron Woodley down in their fight, he couldn't take Lawler down to save his life in their second fight. Ben Askren is widely considered the very best fighter to never get a shot in the UFC, Fedor Emelianenko may be the only exception. Two things are for sure, these are two of the very best welterweights ever, and we're gonna find out who's better this Saturday; and it's about time, it's taken what seems like forever, but Ben Askren has arrived!