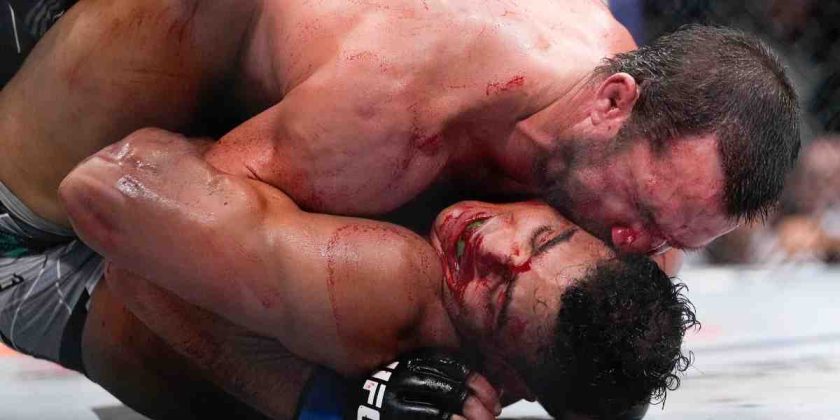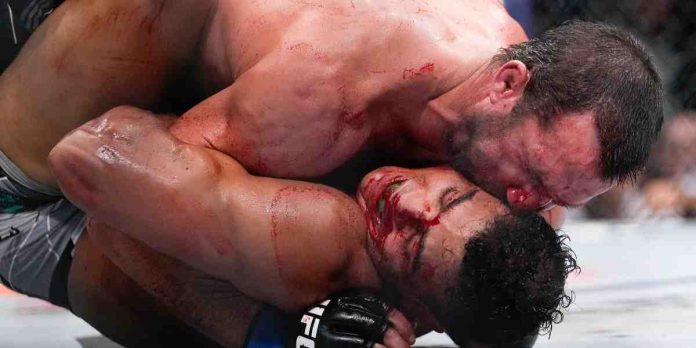 Luke Rockhold has revealed why he smeared blood on Paulo Costa's face during their middleweight fight at UFC 278.
Rockhold dropped to three defeats in a row and subsequently retired after losing to Costa by unanimous decision in their co-main event at UFC 278. The former middleweight champion was battered with his nose busted open courtesy of the Brazilian's constant blows. The fight was explosive during the opening minutes but slowed down as both fighters found themselves impacted by the Salt Lake City elevation.
The bout was very eventful in itself, but what caught the attention of many was Rockhold smearing the blood dripping from his nose all over Costa's face during the final minute of their fight as he had controlled him in full guard. During the UFC 278 post-fight press conference, 'Borrachinha' said that the act was "disgusting".
Luke Rockhold On Smearing Blood On Paulo Costa's Face
During a recent appearance on MMA Fighting's The MMA Hour, Rockhold said that he smeared blood on Costa's face because he was pissed off.
"Honestly, he broke my nose back into place," Rockhold said. "He kept f***ing [pissing me] off because he broke my nose and then he kept hitting me on my nose, and I could feel the f***ing thing just crunching in my face, and I was like, 'F***!' That was really kind of pissing me off the most. It got me back into that fight. You've got to f***ing piss me off, I guess.
"It was definitely off [beforehand], my nose was off, and I think he even took down some of the bump, you know, from the side angle. So he straightened me up and he took off my ridge, and so I was like, 'F***, I've got a Hollywood nose job.'"
Who do you think Paulo Costa should fight next?