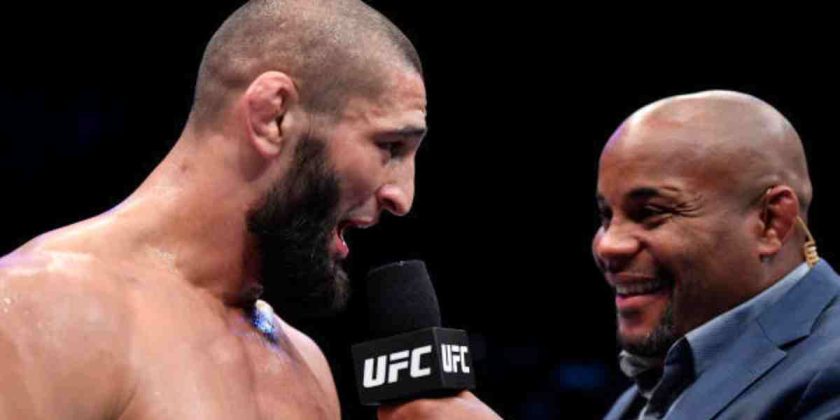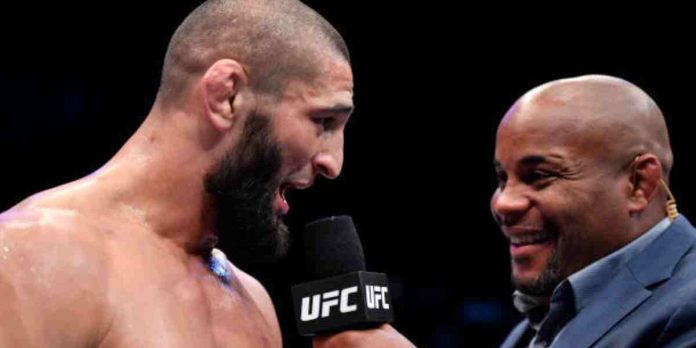 Daniel Cormier believes Khamzat Chimaev is the "biggest loser" following Leon Edwards' knockout win over Kamaru Usman in their welterweight title fight at UFC 278.
Having already defeated Edwards by a comfortable unanimous decision in 2015, Usman was confident of securing another win over his rival, and despite having a tough start to the UFC 278 main event, he was well on course for a comfortable victory until 'Rocky' knocked him out in the final minute to capture the welterweight title.
During the UFC 278 post-fight press conference, Dana White said that the promotion will book a third fight between the two, which means the winner of the UFC 279 main event between Khamzat Chimaev and Nate Diaz will have to wait for a title shot. 'Borz' believes he deserves to fight for the title if he beats the Stockton native, but Cormier doesn't agree.
Daniel Cormier On Khamzat Chimaev
Speaking on his YouTube channel (as transcribed by MMA Mania), Cormier said that Chimaev is the "biggest loser" following Edwards' win over Usman.
"I think last weekend he did not understand that he was the biggest loser in the Usman vs. Leon situation, because he was in line," Cormier said. "All he had to do was get past Diaz. All he had to do, get past Diaz, you fight for the championship, but with Leon Edwards winning now, now we got a trilogy and rightfully so.
"That leads to the question: What is this fight for? I feel like for Diaz, this fight's for legacy. I feel like for Chimaev, this is just another scalp on his resume, because I don't know if this win necessarily puts him closer than he already is to a championship fight. And, because of the result last weekend, he'll need one more. I just wonder who that one more is going to come against. If he beats Diaz, does he get Covington next?"
Do you agree with Daniel Cormier?