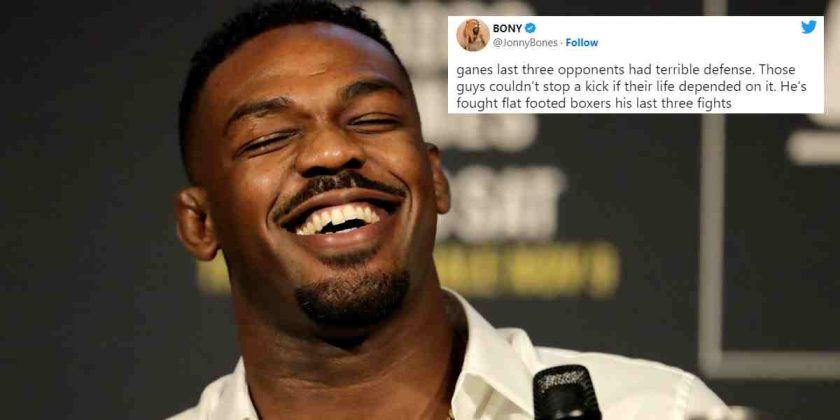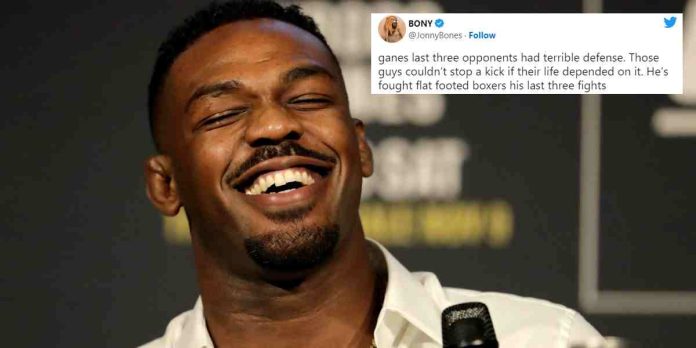 Jon Jones doesn't understand why MMA fans think Ciryl Gane is the most clinical striker he's ever matched up against.
Jones will return to the Octagon after a three-year lay-off to face Ciryl Gane for the vacant UFC heavyweight title at UFC 285 in the first week of March. He last fought at UFC 247 in 2020, when he defended his light heavyweight title by a controversial decision against Dominick Reyes, while prior to that, he beat Thiago Santos, also by a controversial decision. He vacated his 205-pound title in August 2020.
Upon his return to the Octagon, Jones will face Gane, who many think is the best kickboxer in the UFC heavyweight division. Although 'Bones' believes 'Bon Gamin' is incredible, he doesn't think the Frenchman is the best kickboxer he's ever matched up against.
Jon Jones On Why Santos Is Better Than Gane
In a recent series of tweets, Jones explained why Santos is a better kickboxer than Gane.
"Man, I just finished watching my Thiago Santos fight again. I think it's crazy that you guys consider Gane the most technical kickboxer I've ever faced. Everything Thiago did have bad intentions on it. The dude had lightning speed, power, and explosiveness. Crazy versatility," Jones tweeted.
Jones continued by insinuating that Gane's not that good, it's just that his last three opponents, Tai Tuivasa, Francis Ngannou, and Derrick Lewis, had a poor striking defence.
"Gane's last three opponents had a terrible defense. Those guys couldn't stop a kick if their life depended on it. He's fought flat-footed boxers in his last three fights," Jones tweeted.
Do you agree with Jon Jones that Thiago Santos is a more technical kickboxer than Ciryl Gane?