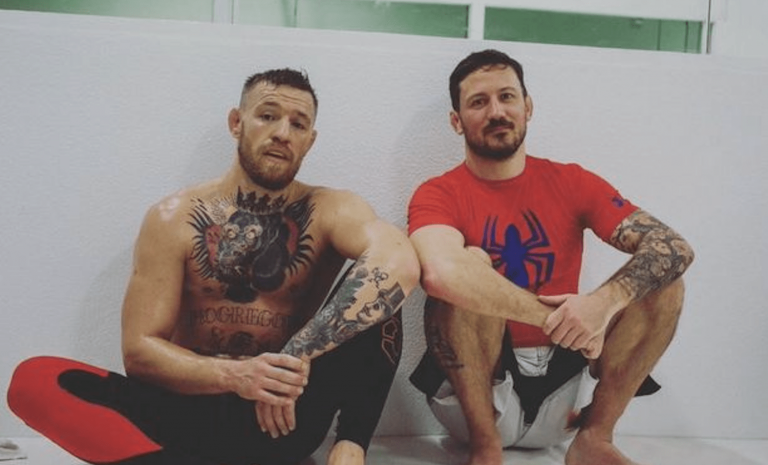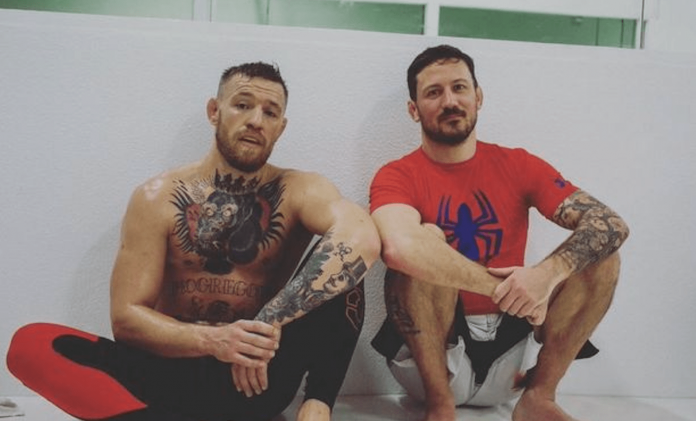 John Kavanagh has given his thoughts on Conor McGregor breaking his leg, which resulted in his TKO loss to Dustin Poirier in their trilogy fight at UFC 264, and what the future holds for 'The Notorious'.
Guillotine Attempt Was Planned
Early in the first round, Poirier countered McGregor's two-punch combination with a huge left hook, which sent him stumbling back. The Irishman shot for a takedown but was put on his own back after a clinch battle.
McGregor immediately attempted a guillotine choke on Poirier, much to the surprise of many as he had said in an interview earlier that he doesn't count submission wins as legitimate. Speaking to Laura Sanko on Instagram (as transcribed by MMA Mania) however, Kavanagh said that the submission attempt was pre-meditated.
"I studied Dustin a lot on the fence, his fight with Holloway for example," Kavanagh said. "And I knew Dustin's head would be there for the guillotine. So we had drilled that a lot. Conor has a very very strong guillotine. A slight tactical error going to the back with it. We drilled getting the finish on the feet or at least it would make the takedown attempt go away and then we'd be back to the center of the Octagon and back to boxing.
"As somebody who likes guillotines myself, the temptation to try and throw that leg over the back and just get the finish is very very strong, and Conor was the one in there, he must have thought the grip was right and he went for it. That's what fighting's about, he went for it. Dustin did an incredible job getting his leg over to the right side of his head to relieve the pressure."
It Was All Going Well Until…
Poirier struggled with the guillotine momentarily, but was able to escape and rain down vicious elbows on McGregor from top position, up until he stood up complaining that the Irishman was grabbing his gloves.
Despite the damage McGregor took in the grappling exchange, Kavanagh said that he was relaxed as everything was going according to plan, until the former two-division champion's lower leg snapped.
"There was a bit of a struggle to get the head free and then he landed some decent ground and pound," Kavanagh said. "Most of it on the forearms and the gloves, Conor had no marks, no bruises, swelling, cuts, anything like that. So most of it was parried, but for sure that was Dustin's moment. He's obviously winning there in the judges' eyes. When Dustin stood up, Conor got off some nice upkicks. Some of them whizzed by and others landed.
"So all and all up until that point, let's say four and a half minutes, I wasn't concerned at all, I was actually really really happy. And I knew what I was going to be saying between rounds … I was just going to tell him to keep doing what he was doing with the kicks and try to close a bit heavier this time. So we'd be looking to rather than exchange punches to slide back and left hand like he did on Aldo. Look for those kinds of techniques. Slide back left cross, slide back left uppercut, and kind of let Dustin fall into that kind of open space. At the four and a half minute mark, everything's gravy. Energy looked good, technique looked good. A few adjustments between rounds and I thought we were on track to getting a finish there or at least keep going, keep the rhythm going for the rest of the fight."
How McGregor Broke His Leg
Although McGregor's leg gave way when he stepped on it, Kavanagh believes that the fracture happened when one of the Dublin native's liver kicks landed on Poirier's elbow moments earlier.
"You can watch this back, there's lots of clips on Instagram, where he throws a leg kick, he moves away, and then he throws a teep, that's one of the techniques we definitely wanted to apply in this fight," Kavanagh said. "Obviously being a southpaw, that liver side is there so we were looking to teep in that area. … There's a high danger of catching the elbow, and if you're watching back you can clearly see that's where the fracture happened.
"He very aggressively threw that kick. Dustin shelled with that lead hand, and the foot wraps around the elbow in a similar fashion to Weidman and Silva, they wrapped around the shin. Conor wrapped his shin around the elbow. He stands back on it and you can see the bone almost protrude through the skin. I don't know how he didn't fall there. He comes in there, they both exchange crosses, they both miss with their back hands, he goes to step back on it and that's when there's that horrifying fold underneath. Again we've seen it a handful of times over the years, Weidman and Silva being the big ones. Of course, that's the end of the contest. So yeah, bitterly disappointed."
Kavanagh continued by speculating that an ankle injury McGregor sustained in training camp may have contributed to the leg break.
"Little bit of that ankle injury had been aggravated during that camp," Kavanagh revealed. "We'd gotten a scan on it. Did that have a small part to play in weakening it? I don't know. … There might have been something in there. It seems unusual that a young healthy fit man can wrap his foot around an elbow without there being something there before. But you know, you can play those guessing games all day long.
"Credit to Dustin, that's the way fighting goes. He won. It's an unfulfilling end to the night. I don't want to put words in Conor's mouth, but even if it goes in a way where you just get punched out, you can say 'All right, you got me.' This doesn't feel properly finished, so to speak. Closure, that's the word I was looking for."
McGregor's Post-Fight Comments
In his post-fight interview with Joe Rogan, McGregor once again verbally attacked Poirier and his wife, Jolie, threatening to kill them both.
Kavanagh defended McGregor's comments, saying that he was in a vulnerable state, and slammed Joe Rogan for interviewing him in that moment.
"His foot is literally hanging down. It's a clean fracture of the fibula and tibia, it went straight through, the foot's hanging down," Kavanagh said. "You can only imagine the rush of hormones and what's going on in your body, the pain, it was on fire. And then someone sits down and sticks a microphone in your face. 'How are you feeling about the end?'
"Come on. Come on! When has he ever not been graceful at the end? Let's get backstage, let's get a proper assessment from a doctor. Let's get an x-ray. So I was pretty miffed at the idea of sticking a microphone in his face at that point."
What's Next?
With his fighter suffering a gruesome injury that will take some time to recover from, Kavanagh isn't thinking too far ahead and believes the focus should be on rehabilitation for now.
"He's in hospital right now, I'll be heading over after this to check in on him," Kavanagh said. "You know, it's a bitter pill to swallow, this sport has the highest highs and lowest lows. We got to take some time to assess what the next move is. Obviously now, rehab and recovery is where it's at.
"The 24 hour goal for today is to meet with the surgeon and his team after the operation is finished. Get their take on it, get their assessment. It's not till they've opened them up and actually looked at the joint and what's going on in there that they can tell us what the next while is going to look like in terms of rehabilitation."
That being said, Kavanagh is sure that McGregor will fight again.
"He truly loves this and it's hard to imagine him not wanting to come back, not wanting to do this again," Kavanagh said. "Because we really just got this fantastic rhythm. He's turning 33, which to me is a peaking time where strength meets conditioning and mental and physical and spiritual maturity, everything's coming together. I think we have a couple of years of this ahead of us."
McGregor Updates On His Surgery
In the last few hours, McGregor has taken to social media to confirm that his surgery was a success.
He also shared a video message, in which he reiterated that he's not done with Poirier yet, and will come back stronger.
"It was not to be," McGregor said. "You know, Dustin, you can celebrate that illegitimate win all you want, but you've done nothing in there. That second round would have shown all."
Do you agree with John Kavanagh's assessment of the Dustin Poirier vs Conor McGregor trilogy at UFC 264?
See also: