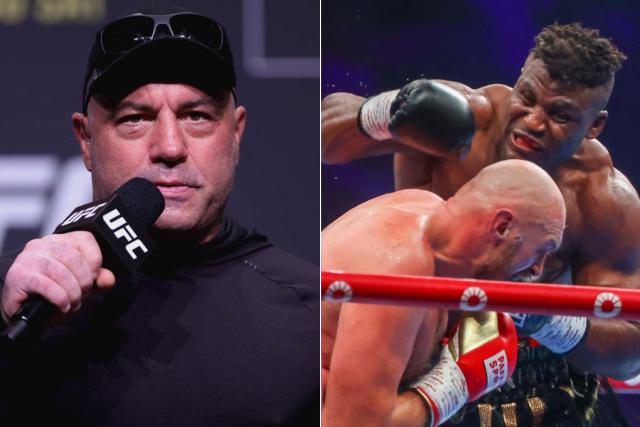 UFC color commentator Joe Rogan believes Francis Ngannou should have emerged victorious against boxing phenom Tyson Fury in their professional bout in October.
During a recent podcast episode, Rogan commended Ngannou for giving Fury a run for his money and even knocking him down in the third round. The 10-round fight was razor-close, with two scores of 95-94 for each fighter and a score of 96-93 in favor of the boxing champion.
Rogan believes judge Juan Carlos Pelayo, who scored the fight 96-93 in favor of Fury, should be jailed for his 'disgraceful' scorecard.
"Francis Ngannou had never had a boxing match his entire life," Rogan told X owner Elon Musk. "Had zero boxing matches, but he was the UFC heavyweight champion. Knocked down Tyson Fury in the third round. Beat him up in the eighth round. Most people, including me, thought he should have won the decision, including most boxers, and most boxing pundits, and he lost by one point on one judge's scorecard. He won on one judge's scorecard, and the other judge, who should go to jail, had it 96-93 for Tyson Fury, which is f****** outrageous.
"When he dropped Tyson Fury in the third round, you see Tyson's on his back going, 'What the f***?' And then he realizes, [he's in trouble]. Because I think he thought he was going to run him over, because he's the boxing heavyweight champion. He's like, 'There's no way this guy can box with me.' He even said at the beginning of the fight, 'It's time to go to school,' and then Francis said at the end of the fight, 'You are a s***** professor.'"
Ngannou is eager for a rematch with Fury, but the WBC heavyweight champion is getting ready for a title unification bout with Oleksandr Usyk in February.
Do you agree with Joe Rogan?