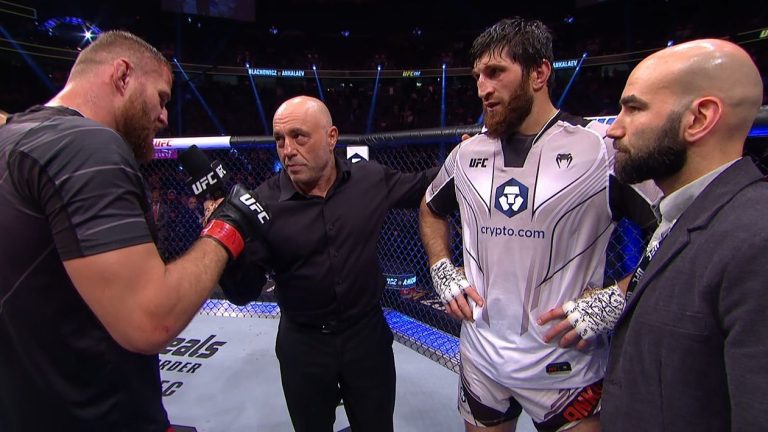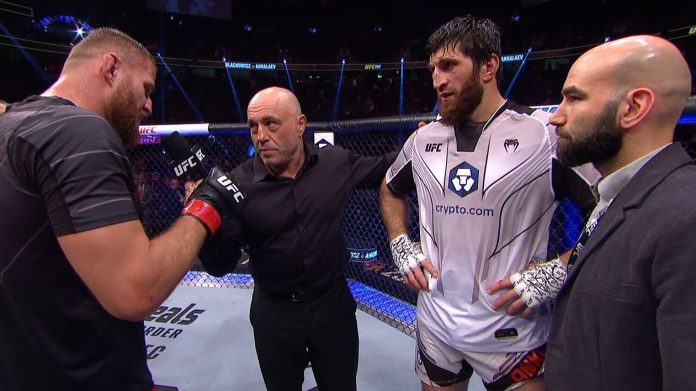 Jan Blachowicz isn't happy with the way Joe Rogan handled the UFC 282 post-fight Octagon interview with Magomed Ankalaev.
Blachowicz's vacant light heavyweight title fight against Ankalaev at UFC 282 ended in a split draw. In the aftermath, Rogan was interviewing the Russian inside the Octagon when the former champ interrupted and asked to give his opponent the belt. This prompted the veteran commentator to ask if he felt the Dagestani won. The Pole answered that while he was sure he didn't deserve to win, he was not sure if he lost.
Rogan then said "you are a very honourable man, the way you did that to me that felt like you felt you'd lost that decision," before turning to Ankalaev and saying that, "we thought you won the fight". Blachowicz didn't like it at all.
Jan Blachowicz On Joe Rogan
Speaking to MMA Fighting, Blachowicz slammed Rogan for mishandling the post-fight Octagon interview with Ankalaev.
"Joe Rogan, he shouldn't say something like this to me after the fight," Blachowicz said. "I was stuck in the last round and then Joe Rogan says 'that was a good fight but for me you lost the fight.' After the fight, when I go to the locker room and I start talking with a lot of people backstage from different teams, they said 'don't say that you lost the fight, you didn't lose this fight, a round is OK but maybe you won the fight. So don't say it.'
"I said OK, maybe I'm thinking a little bit bad about the fight and then I start to remember the first three rounds. It looks different, not like the last round. When they said the draw, it was a weird situation because I cannot be happy but I also cannot feel bad about myself. Because I didn't win but I also didn't [lose]. I feel a little bit empty inside."
Blachowicz On Ankalaev
Jan Blachowicz also took a swipe at Ankalaev for saying that he failed to win the fight due to injuries and a poor training camp.
"Excuses. I hate when someone say it like this," Blachowicz said. "It pisses me off when someone uses excuses. I never say that my camp was bad, I have injuries or something like this. If you feel bad, stay home, drink tea with honey and relax. If you go to the fight, don't excuse yourself. It just shows your weakness and that's it."
What do you make of Jan Blachowicz's comments?