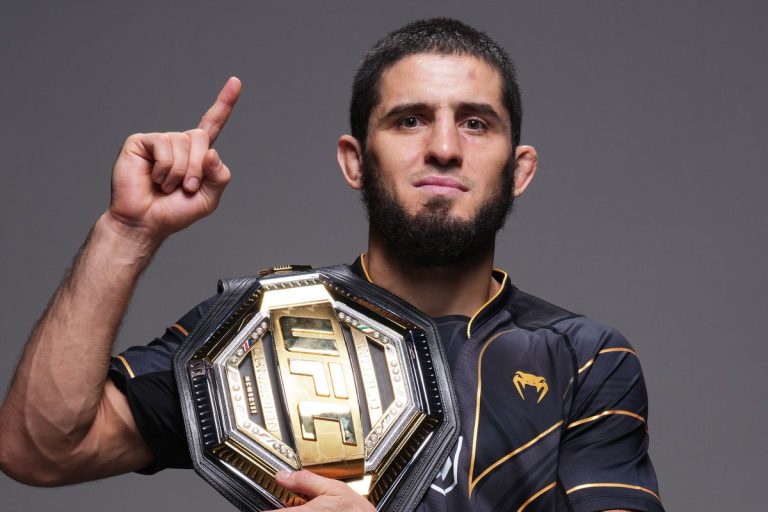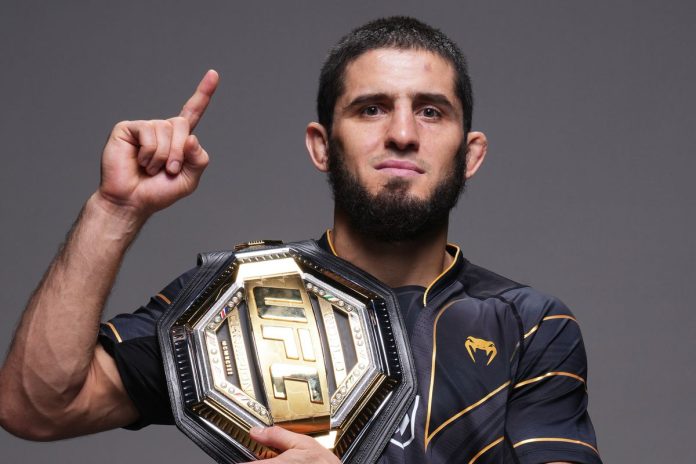 UFC lightweight champion Islam Makhachev has said that he'd love to move up to welterweight to fight the champion once he cleans out his division.
Makhachev will put his title on the line in a super fight against featherweight champion Alexander Volkanovski at UFC 284. In his most recent fight, he beat Charles Oliveira to win the belt at UFC 280. Despite his dominant run in the division, the Dagestani hasn't fought the likes of Dustin Poirier, Beneil Dariush, and Michael Chandler.
Should he win against Volkanovski, welterweight champion Leon Edwards said that he'd like to fight Makhachev in the future. The reigning 155-pound champ likes the idea as well, but for now, he's focused on defending his title against the worthy contenders in his division.
Islam Makhachev On Welterweight Move
In a recent interview with RSports Russia, Makhachev said that he'd be interested in a move up to welterweight, but it won't happen this year.
"Let me tell you this: This topic is relevant," Makhachev said. "I like to compete. I like to fight strong fighters. I love big fights. Whoever is the welterweight champion, it's going to be a huge fight. I'm very interested. But in 2023, there are worthy opponents in my division with whom I still have to meet."
When asked if he plans to make a few title defences and retire like his best friend Khabib Nurmagomedov, Makhachev said that he has no such plans and will continue to fight as long as there is a fire in him.
"There's no such thing," Makhachev said. "As long as there is a fire in me, I will fight. As soon as I feel that it's not going, it's not the same, I'll leave the sport. In the meantime, I feel that everything is working out for me. With each preparation I show myself better and better. I will go to the end."
Who do you think would win a potential fight between Leon Edwards and Islam Makhachev?