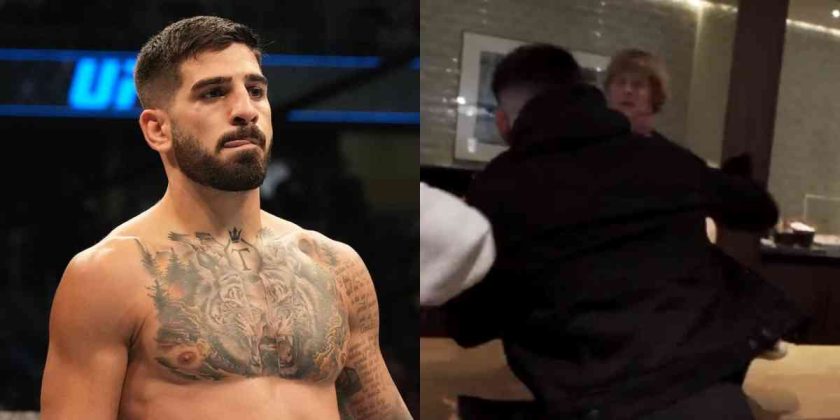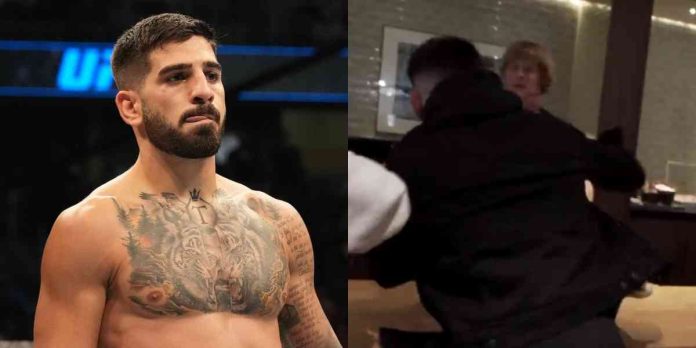 Ilia Topuria has revealed why he confronted Paddy Pimblett at the fighters' hotel ahead of this weekend's UFC London.
Topuria and Pimblett came face-to-face in the hotel ahead of their respective fights at UFC London. The verbal exchange soon turned violent as the Brit threw a bottle of hand sanitizer at the Georgian, who dodged it and fired back with his fist. Both fighters were separated immediately.
Taking to Twitter after the incident, Topuria told Pimblett that he would have "taken your head off" had they not been separated.
Pimblett fired back by poking fun at Topuria.
Ilia Topuria Explains Why He Confronted Paddy Pimblett
Speaking to MMA Fighting's The MMA Hour, Topuria revealed that he confronted Pimblett over his insensitive tweet about his home country of Georgia.
"It didn't happen because he called me something yesterday. It comes from a long time ago," Topuria said. "He was arguing with one of my close friends once on Twitter and he posted [something] like, 'Now I understand why Russia destroyed Georgia, because you're dumb,' and it makes my blood boil. When I saw it, I was surprised. I didn't believe it when I saw that tweet, because in 2008 I was living in Georgia when the war happened, and it was a very difficult time for me, for my family, for all my friends, for my country. A lot of innocent people, kids, were dying in that war.
"And to see how someone is joking about that, it makes my blood boil. So I texted with him, I don't remember what I tweeted, and when they gave me the fight in London, he text me like three weeks ago, like, 'I can't wait to see you in London. We'll see if you have the balls to tell me everything you texted me on Twitter.' Bulls***."
Who do you think would win a potential fight between Paddy Pimblett and Ilia Topuria?
See also: