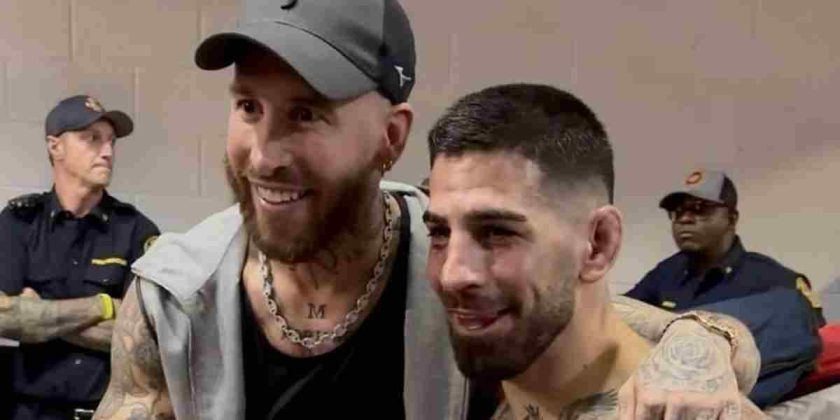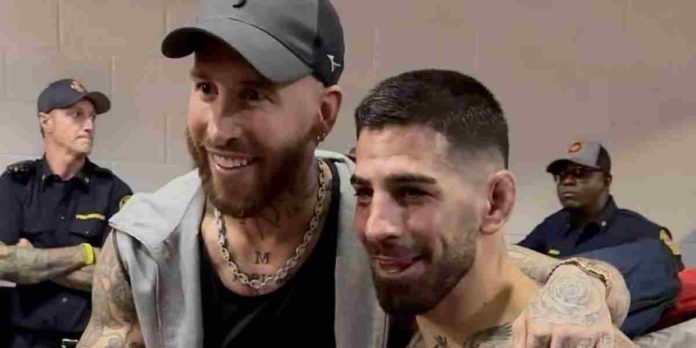 Rising UFC featherweight contender Ilia Topuria has revealed how he became friends with Spain and Real Madrid legend Sergio Ramos.
Topuria, who is of Georgian descent and was born in Germany, settled in Spain in his teens, joining a local MMA facility in the country, and then putting together a streak of impressive victories that ultimately opened the UFC door for him.
'El Matador' has been nothing short of impressive in his UFC run as well, winning each of his six fights, with his most recent win coming against Josh Emmett at UFC Jacksonville, where Ramos was in attendance.
How did that happen?
"One year ago or something like that, he (Ramos) texted me after one of my fights," Topuria said during a recent appearance on The MMA Hour. "He started to follow me [on social media], text me, and for this fight he told me I'm going to watch you, to support you. I was like, 'Really? You will come?' He told me, 'Yes, I'm on vacation. I didn't have any football match, soccer match, so I'm going to go to watch you fight.'"
Topuria's ultimate dream is to fight in Spain, and he believes he could sell out the 83,000-plus capacity Santiago Bernabeu stadium in Madrid if the UFC makes it happen.
"Seeing how MMA is growing in Spain, it's crazy, because I remember when I started, no one knew anything about MMA," Topuria said. "They were like, 'Which sport is that?' 'What are you doing?' 'They punch each other?' Crazy questions. Right now, everyone knows everything about MMA. Everyone follows the UFC. I'm pretty sure that if the UFC brings an event to Spain, they're going to sell out the whole arena in one day. Madrid, Santiago Bernabéu, in that stadium. Yeah. They're going to sell out. I don't have any doubt about that."
Topuria will likely challenge featherweight champion Alex Volkanovski next.