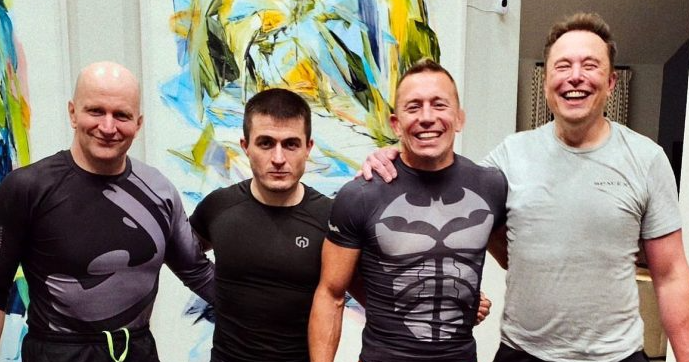 Georges St-Pierre has revealed how Elon Musk performed during a recent training session with him.
Musk has been linked to a cage fight with Meta co-founder Mark Zuckerberg for a few weeks now, and notable people from the fight business are eager to train the two in case a fight between them is booked in the near future. Dana White hopes they fight under the UFC banner, and St-Pierre would love to help Musk prepare for the biggest fight in world history.
In fact, GSP recently had a training session with Musk and he was pleasantly surprised to see how good the tech mogul is.
"That was a great experience, I have a lot of fun with Elon," St-Pierre said while speaking to TSN's Aaron Bronsteter. "He's someone I really, really admire for all his accomplishments and all his ideas that he stands for. We trained together and what I can say is that he's much stronger than the average man and he's very tough.
"He had a judo background, and we know from his history: when he fixes his goal, he's unstoppable. And that's the quality of a very good fighter if you take that into fighting, that's the most important thing. Because in combat, things doesn't always — things aren't always easy as you expect, there are always obstacles."
While GSP reveals Musk is stronger than an average person, Zuckerberg is a very fine martial artist as well, according to fighters like Kevin Lee who have trained with him. Mark is also the favorite according to the fight odds, although more people are backing Musk to win, according to a YouGov poll.
Georges St-Pierre on the idea of a Musk vs. Zuckerberg cagefight: "There's a part of me that hopes that this thing gets resolved in a different way" pic.twitter.com/HqJwJ7n1Ch

— Aaron Bronsteter (@aaronbronsteter) July 6, 2023
Who do you think would win a potential fight between Elon Musk and Mark Zuckerberg?