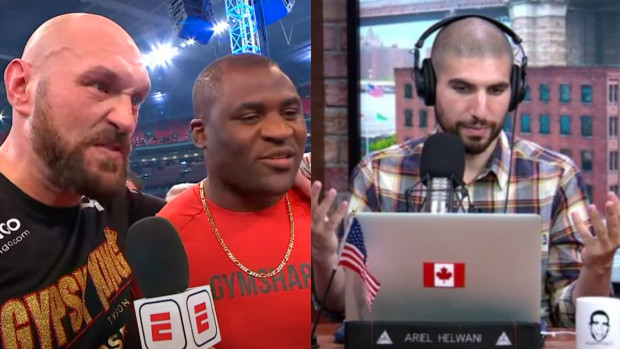 Ariel Helwani has questioned whether Tyson Fury is scared of Francis Ngannou amidst rumors of a boxing exhibition between the two heavyweights.
Last week, Fury's promoter revealed that his next fight announcement would be a game-changer. A few days later, Eddie Hearn revealed that Fury and Ngannou are apparently going to fight in a boxing exhibition, with a no-knockdowns rule set.
If that's true, Ariel Helwani doesn't really understand how it makes sense. He thinks that maybe Fury is worried about losing his undefeated record.
"It does seem like there's smoke to that fire… I have two questions: A. Is it real or is it an exhibition? Is it a pro bout or exhibition?" Helwani said while speaking on MMA Fighting's The MMA Hour. "I hope it's a pro bout. Exhibition does take some lustre away. Second question would be: Is an exhibition against Tyson better than a regular fight against a [Derek] Chisora or a [Dillian] Whyte; some lesser heavyweight? I say yes.
"If it ends up being Tyson but an exhibition, will people still say that (Ngannou) bottled it?  Why exhibition? I don't understand this. The exhibition only favors Tyson in the sense that, Floyd (Mayweather) does these exhibitions because he wants to keep his record intact. Is Tyson Fury afraid he's gonna lose to Francis that bad? … Floyd did do the one against Conor (McGregor), the 50-0 one… Give us one! Give us Tyson vs. Francis… It takes the lustre away."
Ngannou parted ways with the UFC in January and signed with the PFL, where he has the liberty to box as well as engage in MMA fights.