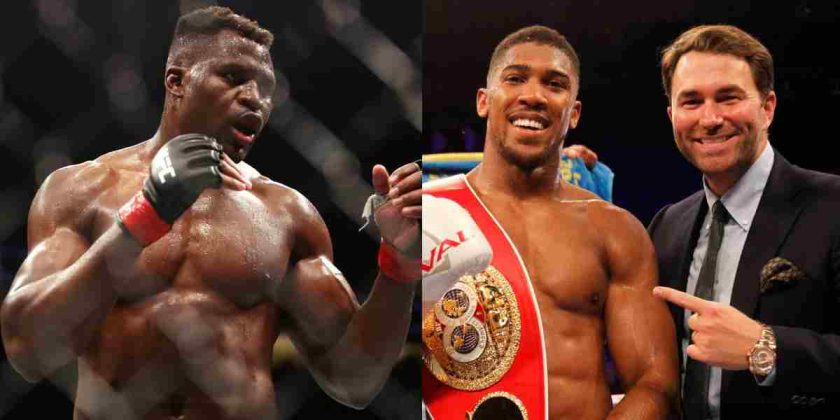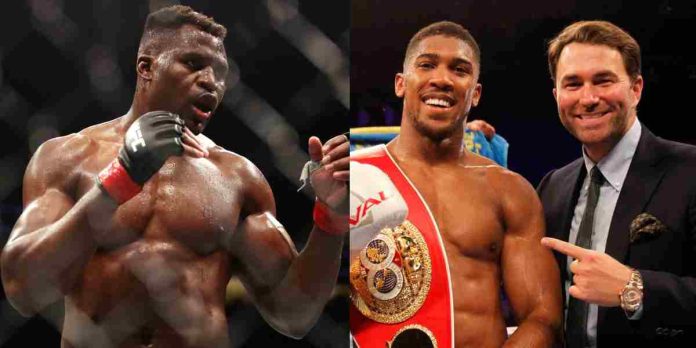 Eddie Hearn has revealed that he's down to a boxing showdown between Francis Ngannou and Anthony Joshua.
Three months after parting ways with the UFC over a contractual dispute, Ngannou is still jobless, although he has offers from top MMA promotions like the PFL and ONE Championship. The Cameroonian's priority is boxing fights against phenoms like Tyson Fury and Deontay Wilder, both of whom have expressed their willingness to fight him.
Another name that is often mentioned with Ngannou is Joshua, who is managed by Hearn.
Eddie Hearn On Francis Ngannou vs Anthony Joshua
During a recent appearance on MMA Fighting's The MMA Hour, Hearn said that although Ngannou is an intriguing challenge for anyone in boxing, he'd get beat up by top-tier boxers.
"It doesn't matter whether Francis fights Anthony Joshua — Tyson Fury, I agree with you, horrible fight for Francis Ngannou because he'd he just poke [Ngannou] around — Deontay Wilder, Dillian Whyte, Derek Chisora, Jermaine Franklin; he has no chance against those guys, other than to be aggressive, trade up, and catch someone clean and take him out," Hearn said.
Although Hearn believes Ngannou doesn't have the skills to compete with the best boxers in the world, he admits that Ngannou's story is inspirational, and he'd love to work with him for a boxing match with Joshua.
"I'd [recently] done lunch with Francis Ngannou," Hearn said. "You know his story. I was completely gobsmacked by the story of this man. We sat for two hours, and I was just listening to just the most remarkable — I mean, how this isn't a film, I have no idea. Unbelievable. I'm thinking, 'Please let me go to Hollywood now with you and sell this film.' People need to be educated about what that man has been through, and his story to get to where he's got to. I found him fascinating. Lovely guy, lovely guy, and I'd love to do something."
Who do you think would win a boxing match between Francis Ngannou and Anthony Joshua?