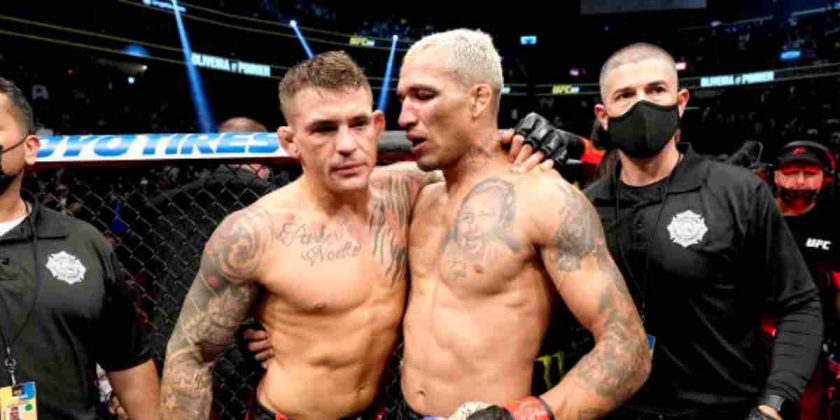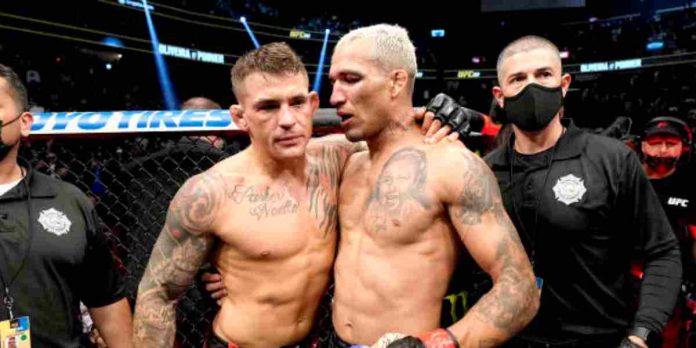 Dustin Poirier believes Justin Gaethje made the same mistake as he did against former UFC lightweight champion Charles Oliveira.
Poirier started off really well against Oliveira in their lightweight title fight at UFC 269, knocking him down twice in the first round, but failed to finish the job as he didn't want to risk going to the ground with the BJJ ace. 'Do Bronx' took the fight to the mat in the second round and dominated, before jumping onto his opponent's back and submitting him in the third frame. 'The Diamond', who's a BJJ black belt himself, believes that he could have done a lot better had he trusted his ground game a little more.
Gaethje also knocked down Oliveira a couple of times at UFC 274, but was reluctant to finish the job by following him down to the ground, giving the Sao Paulo native enough time to recover and bounce back in a big way by knocking 'The Highlight' down and submitting him in an action-packed first round.
Dustin Poirier On Mistake He Made Against Charles Oliveira
Speaking on THE FIGHT with Teddy Atlas (as transcribed by MMA Junkie), Poirier said that both he and Gaethje respected Oliveira a bit too much.
"I think he should have followed him up," Poirier said. "Got on top, tried to finish the fight. You know, find out how hurt Charles really was. There's only one way to find out: You've got to dive in. Same thing with me – of course, you have to respect jiu jitsu. I've been doing jiu jitsu forever. I'm a blackbelt, as well, compete with and train with the best guys in the world. I'm confident, and I have good jiu jitsu. I just respected him too much that I didn't engage.
"So, even in the second round when I ended up on my back, and he was on top, I just tried to get stood up. I tried to get a stalemate. I didn't engage and use my jiu-jitsu offensively or defensively, and I should have. I should have created space. I should have attempted submissions and used that to create space and get back up."
Do you agree with Dustin Poirier?