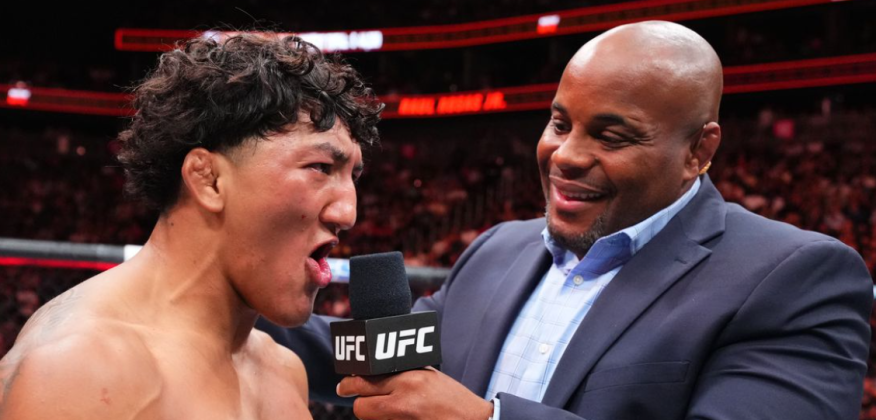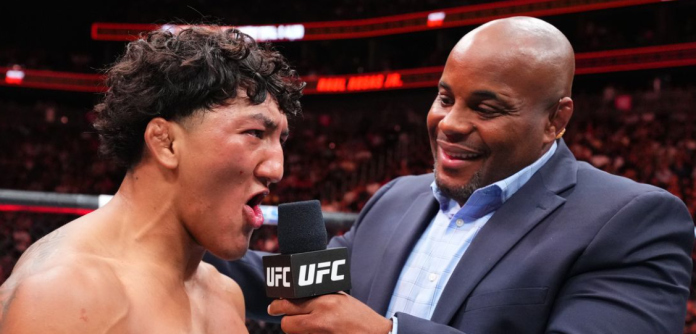 Daniel Cormier has publicly apologized to Raul Rosas Jr. for ruining his big moment at Noche UFC.
The former two-division champion, who now works as a commentator during UFC events, was in the Octagon for a post-fight interview after Rosas dispatched Terrence Mitchell in the first round of their bantamweight fight at Noche UFC this past weekend. With his victory, Rosas bounced back into winning ways after suffering a heartbreaking loss at the hands of Christian Rodriguez in his second UFC fight.
During his Octagon interview, the first thing Cormier mentioned was Rosas' loss. 'DC' now thinks he shouldn't have done that.
"Raul Rosas Jr. came back from the first time he ever lost in his career and had one of the greatest performances," Cormier recently shared his thoughts on his YouTube Channel. "He destroyed Terrence Mitchell and it was phenomenal to see, because you never know how a kid at 18 years old will respond. With that being said, I feel like I didn't do him justice by bringing up the loss as the first question. I feel like I should have led with something better, opposed to how he got over the adversity."
"Now for me, I've dealt with a ton of adversity so I wanted to know that," Cormier continued. "But in reality, I should have been in there to uplift Raul Rosas Jr., I shouldn't have brought up his loss. So for that, my bad, I shouldn't have done it. My apologies to Raul, he fought beautifully tonight. What a tremendous performance by that young man. And it shows, that regardless of age, you can get back on the horse and correct things. Now it feels like once again, it's all systems go for Raul Rosas Jr."
Do you agree with Cormier?