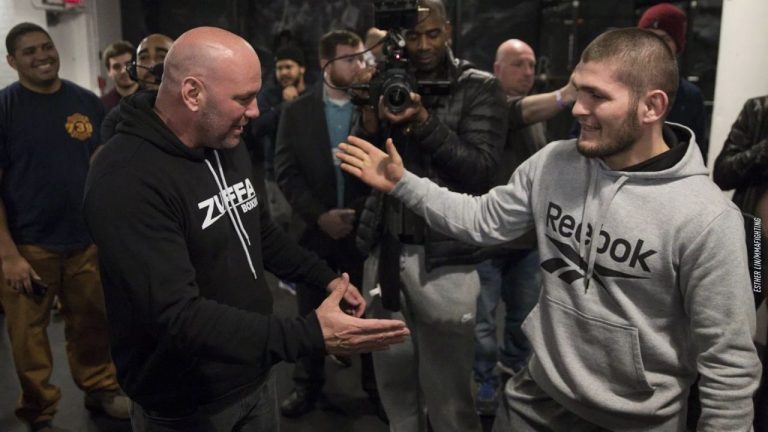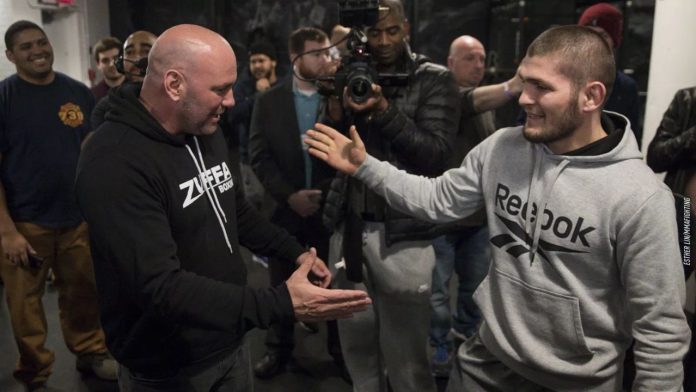 Dana White has explained why he didn't respond to a recent message from former UFC lightweight champion Khabib Nurmagomedov.
Khabib has a great relationship with Dana and is generally known to have the UFC president's ear when it comes to the fight business, but when the Russian demanded that his long-time friend and teammate Islam Makhachev fight Charles Oliveira for the vacant 155-pound title, he was ignored for the first time since joining the promotion.
"Honestly, this is first time since we've been talking to each other, he didn't respond to me," Khabib said in a recent interview. "I sent a message, I said, 'Hey, no way other guy has to fight for the title. Islam has to be there.' I said something like similar message, but he didn't respond. I think he was busy maybe. This is the first time."
Dana White On Ghosting Khabib
In an interview with ESPN MMA, Dana said that he left Khabib waiting for a response because he didn't have an answer to his demands.
"So what he's saying is I read the message and didn't respond to it? Well, it was nothing personal," Dana said. "I got him and Ali [Abdelaziz] all over me about Islam. There's no answer, no. I wanted to do that fight with him and Beneil Dariush."
The lightweight title was left vacant after Oliveira missed weight for his fight against Justin Gaethje at UFC 274, where he won by first round submission. In his post-fight interview, he said that he would fight anyone the UFC puts in front of him, before calling out Conor McGregor.
Khabib and Makhachev believe the latter deserves to fight for the belt more than anyone else, although both Oliveira and Dana White believe he has unfinished business with Beneil Dariush.
Who do you think would win a potential fight between Charles Oliveira and Islam Makhachev?