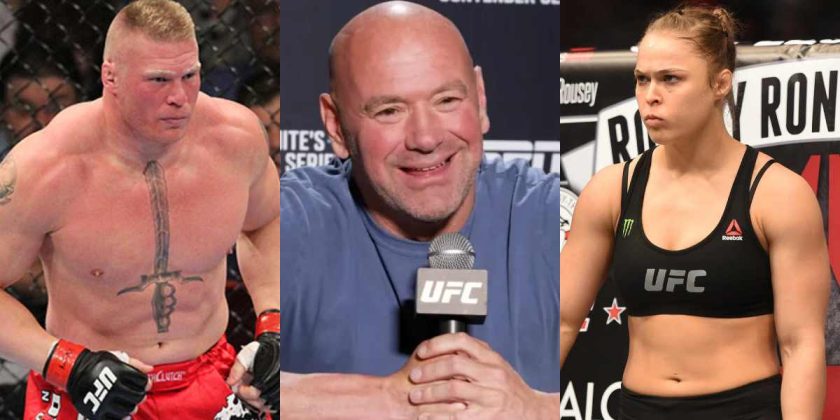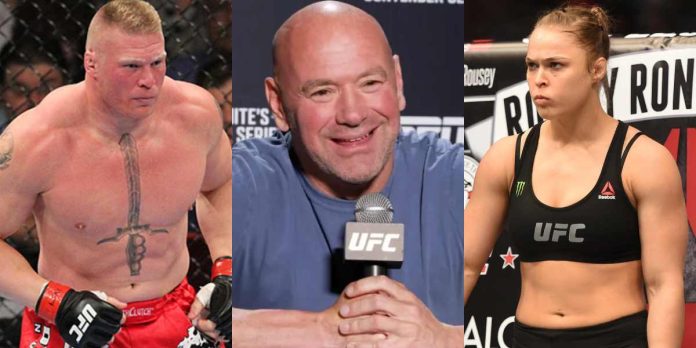 UFC President Dana White has confirmed that neither Brock Lesnar nor Ronda Rousey will make a comeback for UFC 300.
The UFC is gearing up for next year's UFC 300 card, which is anticipated to be the biggest in MMA history. There's also growing speculation about the potential return of Rousey and Lesnar as well as Conor McGregor, who hasn't fought since his loss to Dustin Poirier at UFC 264 in 2021.
During a recent interview with Sports Illustrated, Dana said that he loves the idea of Lesnar and Rousey competing on the biggest card in the promotion's history, but it's unfortunately not going to happen.
"I get why everybody asks," Dana said. "I love that everybody loves them like that, and with so much passion. I do, too. But they're not coming back for UFC 300. I always had an incredible working relationship with Brock Lesnar. It's funny to say this because he's such a grouchy dude, but I consider Brock Lesnar a friend.
"I love Ronda Rousey. She's one of the greatest athletes I've ever worked with. She's a pioneer, an inspirational figure for women, and an all-around badass for UFC. I'm focused on Madison Square Garden [UFC 295]. But no, they're not coming back."
Both Lesnar and Rousey had their last fights in 2016. 'The Beast' went up against Mark Hunt at UFC 200, where he initially secured a decision victory, but it was later overturned when he tested positive for clomiphene. Rousey faced Amanda Nunes at UFC 207, where the Brazilian stopped her in under a minute.
Would you like to see Brock Lesnar and Ronda Rousey back in the Octagon?