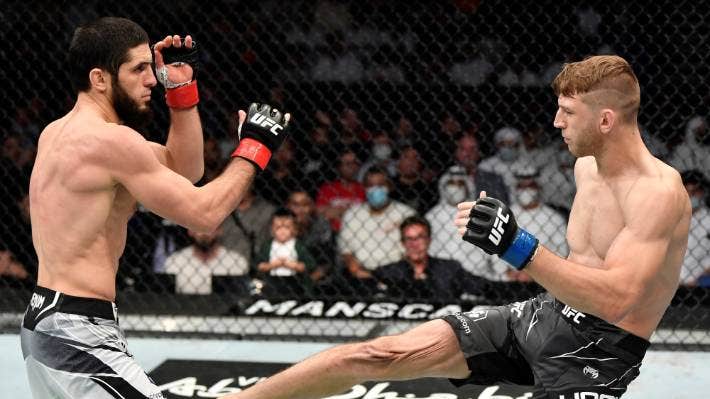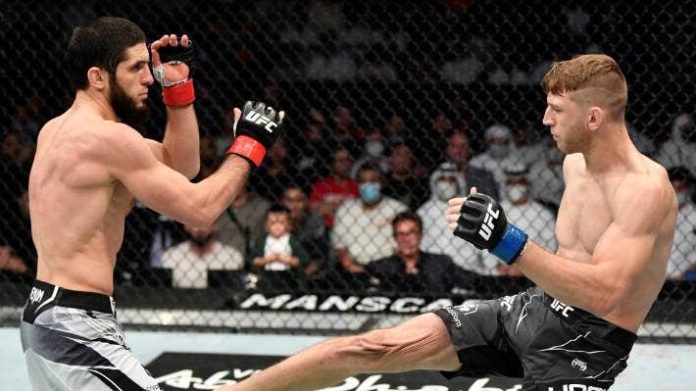 Dan Hooker has commended UFC lightweight champion Islam Makhachev for calling out Alex Volkanovski immediately after his title win last year.
Makhachev dominated Charles Oliveira in their vacant lightweight title fight at UFC 280, securing the win by second round submission. In his post-fight interview, he called for a super fight against featherweight champ Alex Volkanovski, who was more than happy to accept the challenge. The Dagestani will be stepping out of his comfort zone to travel all the way to his foe's home country of Australia for their title fight at UFC 284. The Russian's out-of-the-box move has earned him the respect of the opposing camp.
Dan Hooker Commends Islam Makhachev
In a recent appearance on Israel Adesanya's YouTube channel (as transcribed by MMA Junkie), Hooker said that he commends Makhachev for taking a massive risk in Volkanovski immediately after winning the title.
"It's a difficult fight for Makhachev, and it's a credit to him," Hooker said. "I think the biggest hesitation with him being a champion was that he would not be as active as a lot of other champions. But for him to get on the microphone straight after their fight and call for another fight in his own territory, but be willing to fly a very long distance, they don't usually take those kind of risks. They're kind of US, or close to home. .. I tip my hat to Makhachev, because he's in for one hell of a fight. Volk's a very difficult man to hold down and even harder to keep there. Yeah, he's in for a tough night."
Who do you think will win the lightweight title fight between Islam Makhachev and Alex Volkanovski at UFC 284?