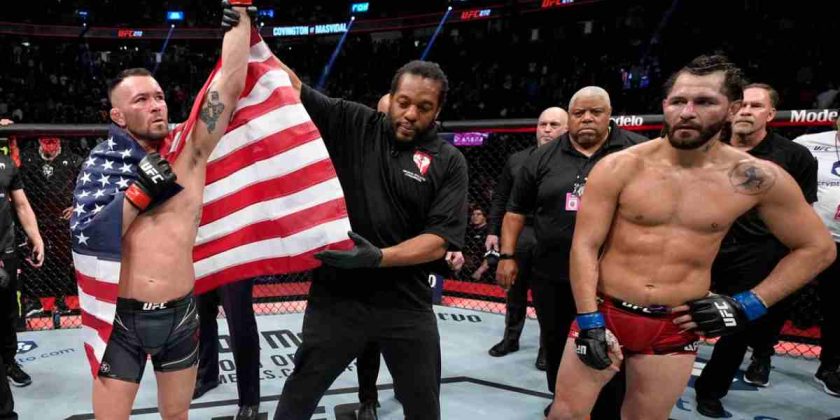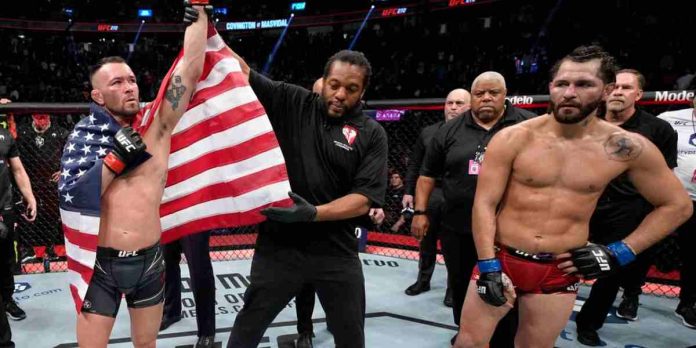 Colby Covington has given his thoughts on the upcoming welterweight fight between Gilbert Burns and Jorge Masvidal in the UFC 287 co-main event.
After spending a year on the sidelines, Covington is back in action as he is expected to face Leon Edwards for the title next. He last fought at UFC 272, where he beat his arch-rival Masvidal by a comfortable unanimous decision, but there is still a lot of animosity between the two, especially after 'Gamebred's' attack on him outside a restaurant in Miami last year.
Colby Covington On Burns vs Masvidal
In a recent interview with Michael Bisping (as transcribed by BJPenn.com), Covington predicted that Masvidal, who is currently on a three-fight losing streak, will lose a fourth consecutive time when he locks horns with Burns.
"Jorge is a broken man. He's not the same fighter after I destroyed him, beat him 50-44 with a soda. Obviously, he's had an emotional letdown," Covington said. "His life is unraveling, Mike. Look at obviously what he came and did. The guy, he's done a lot of drugs and just a lot of things that have rotted his brain and his body. You could tell he's just not the same person. I just see 'Dilbert' getting an easy win. Gilbert's a nice guy, family guy. He's not Colby Covington, so he's not going to get a title shot off of beating 'Street Judas.'
"But the thing is, he's going to be one or two fights away after he beats 'Street Judas,' and he's going to be close. He might want to get a new manager though, Mike. I'm self-managed, I manage myself at Colby Covington incorporated."
Do you agree with Jorge Masvidal?