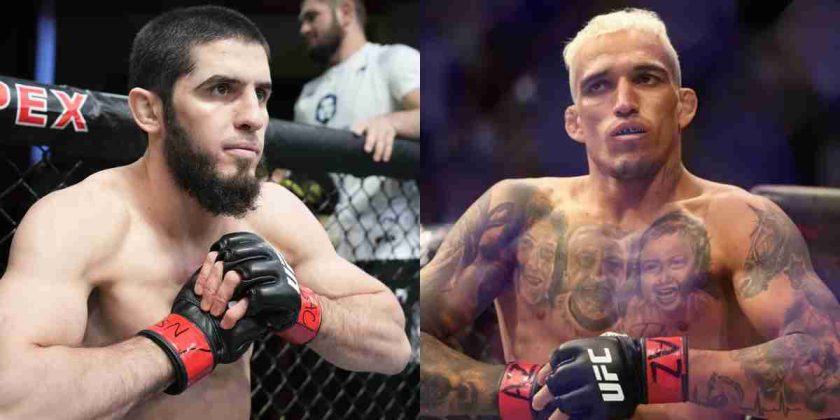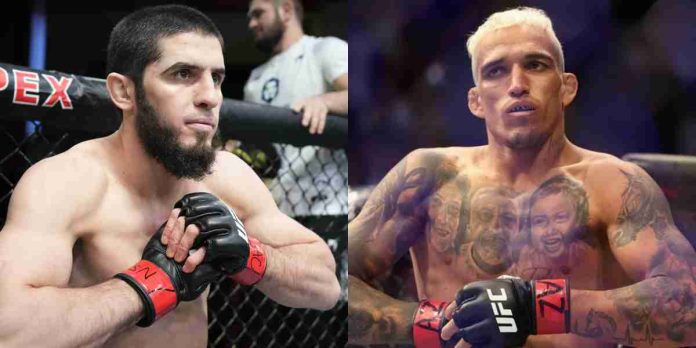 Charles Oliveira has explained why he would like to fight Conor McGregor instead of Islam Makhachev next.
Oliveira is coming off a first round submission victory over Justin Gaethje at UFC 274, where he failed to retain his title despite winning after missing weight. In his post-fight interview, he called out McGregor, much to the annoyance of Makhachev and his team, who believe the Russian deserves to fight for the vacant title.
Charles Oliveira On Conor McGregor and Islam Makhachev
The Brazilian wants a 'red panty night' more than anything else at the moment and he believes a title fight against McGregor makes a lot of sense, despite the fact that the latter is on a two-fight losing streak.
Speaking to ESPN Brazil, Oliveira said that he'd love to fight McGregor because it would be good for his bank account and legacy.
"It would be a very good fight for me," Oliveira said. "It would put a lot of money in my pocket, and [at this moment] that's the most important thing. And it would also be really good for my legacy, for me to have in my story. Regardless, if he's coming from defeat or not, he's a guy who's made history, so I think it would be great, but it's not just up to me. If it were up to me, this fight would already be happening."
When asked about Makhachev, Oliveira said that the Dagestani is a tough fighter, but he needs to fight big names to earn a title shot.
"I've never ran from a fight and the lightweight champion is called Charles Oliveira," Oliveira said. "Is Islam a very tough guy? Yep. Did he fight big names? No. He's on a big streak, but who did he fight? I don't care about his fighting style. What he does best, I do 10 times more. If he thinks that putting down everyone [on the ground] he [fought] is the same thing as [fighting] Charles Oliveira, he is completely wrong."
Conor McGregor or Islam Makhachev, who should Charles Oliveira fight next?