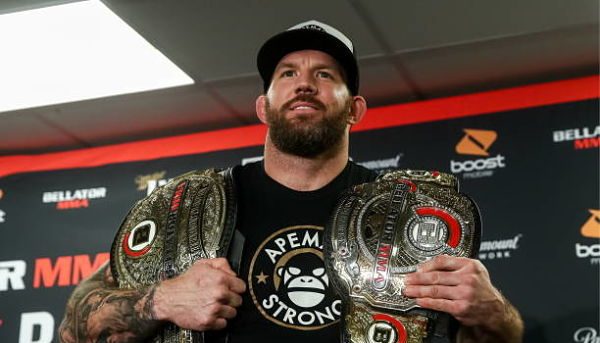 Ryan Bader's career exploded after he moved from the UFC to Bellator in 2017. The current heavyweight and light heavyweight champion hasn't lost since his promotional switch and is now widely regarded as one of the best active MMA fighters in the world.
UFC 126
Bader faced a prime Jon Jones way back at UFC 126 in 2011. 'Bones' perfectly shutdown his opponent's game plan for two rounds before sinking in a deep guillotine choke to secure the win. The bout made Jones the 205lbs division's top contender and at only 21 years of age, he became the undisputed UFC champion of the world after winning his next fight against Mauricio 'Shogun' Rua.
Now, in an interview with Bloody Elbow, Bader says that he's seen a decline in Jones' recent performance and believes that he could win the rematch.
"Guys are coming up and they're getting better but I think there is a big mental game. Years and years ago, Jon Jones was untouchable. You couldn't win a round agains.
"As you start seeing other people be successful, you stop walking out there like, 'I can't beat this guy.' You start thinking, 'I can definitely beat him. Look how close others have come. Why not me?' For me, I want that fight back because he's the best. He's the greatest effort. I feel like I'm in my absolute prime and I'm the best I've ever been."
A History Of Bad Blood
The pair exchanged words back in 2015, after Bader first suggested the idea of a rematch whilst speaking to Submission Radio.
"I'm a totally different fighter. I came into this sport as just a wrestler. I didn't really have anything else, and by getting the right people around me and everything, I've definitely grown as a fighter. So I definitely want to get a rematch because I'm definitely, 100 percent, not the fighter I am, and the fighter I am today would whoop my own a– that I was back then."
This drew an immediate response from Jones.
Jones Struggled Against Reyes
Bader's comments come after Jones struggled in his recent outing against Dominick Reyes. The UFC champion retained his belt in a narrow decision win. However, Reyes managed to outland Jones 116- 104 in significant strikes. Whereas in the past, Jon used to dominate every aspect of the fight and exercised complete control over his opponents.
In the last couple of hours, Jones has taken to social media to announce his retirement, after negotiations stalled for a super fight with Francis Ngannou. Despite the tweets, it's very unlikely we won't see 'Bones' fight again.
Bader vs Kongo 2?
The Bellator champ-champ moved on from the Jones situation and also expressed his interest in a rematch with Cheick Kongo. Their first fight ended quickly when an eye poke from Bader left Kongo unable to continue and resulted in a no contest decision at Bellator 226.
"My friend sent me something today where he keeps complaining about the eye poke that didn't happen. He called me a coward and all that. After watching the fight and looking at all the cameras angles, it didn't happen. We can definitely redo that one and he can be my next fight at heavyweight. I wanted that and I want to put that to bed. I was dominating him in the first round and it was going to keep going exactly like that.
"My thumb pokes him right in the nostril. Then he winces and covers his eyes. The ref jumps in and stops it. His wince was right after the thumb in the nose and he grabbed his eye. This is on national television. He kept whining and whining about it, but he never brought anything forward. Nothing to prove there was ever an eye poke."
Instead, Bader believes Kongo was looking for an easy way out.
"I heard he tore his bicep right before that defending a takedown. It's a five-round fight. There wasn't a second where I wasn't winning, dominating the fight. Maybe it's one of those things where he tried to steal the fight and get out of there."
What did you think about the alleged eye poke on Cheick Kongo? And how do you think Ryan Bader gets on against Jon Jones in a rematch today?
See also: