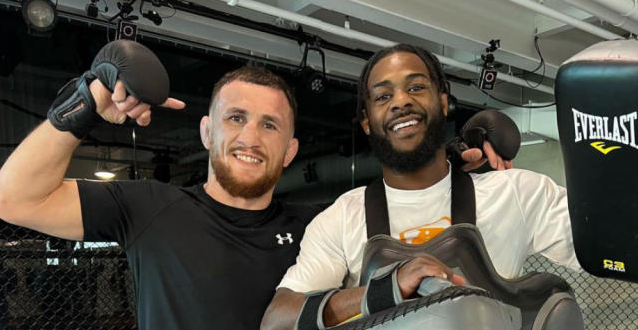 UFC bantamweight champ Aljamain Sterling believes a $500k payday isn't worth risking his friendship with the top bantamweight contender, Merab Dvalishvili.
Dvalishvili jumped up to the number one spot in the UFC bantamweight rankings after securing the biggest win of his career by dominating Petr Yan at UFC Vegas 71. After the fight, Merab said that he would only fight his best friend for the title if he's offered a whopping ten BILLION dollars. Dana White thinks he'll make a big mistake if he refuses to fight 'Funk Master', who is scheduled to fight Henry Cejudo at UFC 288 and wants to move up to featherweight in the future.
Aljamain Sterling on Merab Dvalishvili Fight
In a recent appearance on 'My Mom's Basement with Robbie Fox' podcast (as transcribed by MMA Junkie), Sterling said that he's not going to throw his friendship with Dvalishvili away for peanuts.
"It's his business, so I know that he's going to try to make the matchups that the fans want to see, and I know the fans would love to see that," Sterling said. "Merab is a great dude. He'll take off his shirt for anybody. He doesn't even have to know you, he's just that type of guy. To have that relationship with him and to throw it away for 500K? You know what I mean?"
Like Dvalishvili, Sterling also said that he'd be tempted to fight if he gets an offer that's rarely heard of in mixed martial arts.
"We never talked about that, and for us to fight for that kind of money, it doesn't make a ton of sense," Sterling explained. "Now, if we were talking about NFL money, money that can, actually – these guys make $50 million for like one or two years, you know what I mean? That's life-changing money, you see what I'm saying?"
Who do you think would win a potential fight between Aljamain Sterling and Merab Dvalishvili?