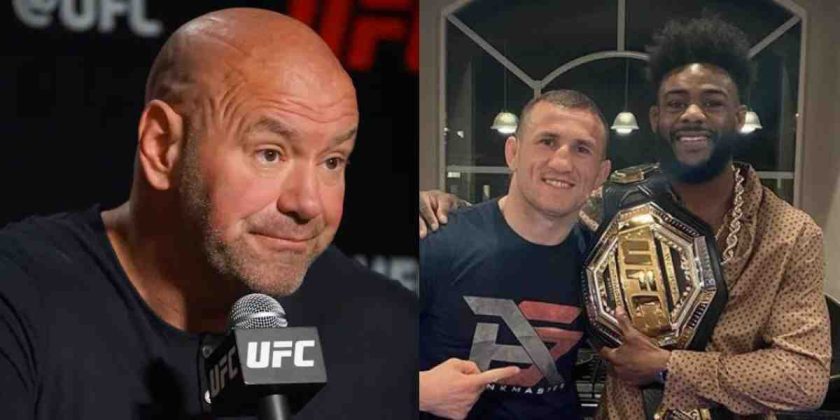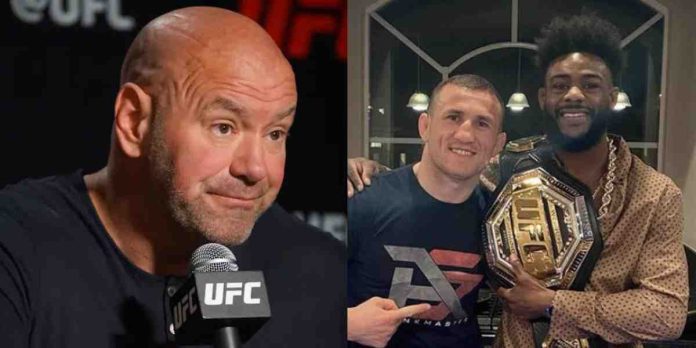 Dana White has said that Merab Dvalishvili would make a huge mistake by saying no to a potential fight against his best friend and UFC bantamweight champion, Aljamain Sterling.
Dvalishvili earned the biggest win of his career by dominating Petr Yan in the UFC Vegas 71 main event, and is in a strong position to fight the winner of the upcoming title fight between Sterling and Henry Cejudo at UFC 288. In his post-fight interviews however, the Georgian said that he won't fight for the belt as long as 'Funk Master' is the champion because of the close friendship between the two.
Dana White On Merab Dvalishvili
Speaking to the media after the latest edition of the Power Slap (as transcribed by MMA Mania), Dana warned Dvalishvili that he would make a big mistake by refusing to fight Sterling if and when the possibility arrives.
"I don't remember who the hell I was talking to the other day about this," Dana said. "I was like, 'yeah, we don't have to deal with that bulls*** anymore," White said. "You know, back in the early days, the camps were so small, you didn't have a lot of different options. So, we had a lot of these guys saying, 'Oh, he's my friend, he's my friend.' You can still be friends and want where your friend has, you know what I mean? It would be a really bad idea for Merab to go down that path.
"Does Merab want a shot at the title, or would Merab rather have people under him jump over him and him have to take on all these different tough guys? That's a personal decision that he needs to make if that's what he wants to do. I can tell you how that story ends. It's not a good ending to that story, but he's a big boy. He can figure that out on his own."
Do you agree with Dana White?