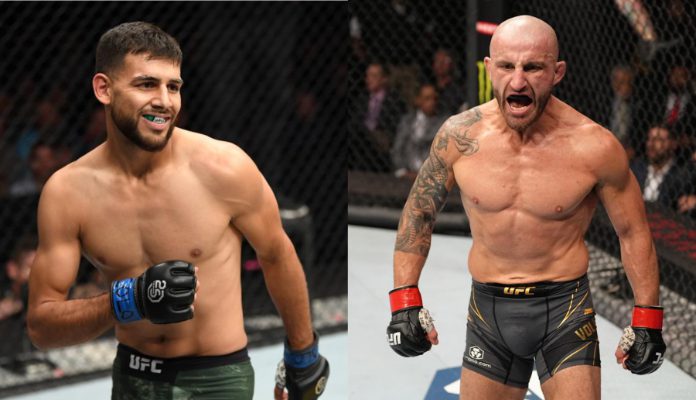 UFC featherweight champion Alex Volkanovski believes Yair Rodriguez is his most dangerous opponent.
Volkanovski is set to face interim featherweight champion Rodriguez in a title unification bout at UFC 290 in July. The Aussie is undefeated in the 145-pound division and holds three wins against former champion Max Holloway and one against Jose Aldo, who's widely regarded as the GOAT of the division.
'The Great' most recently fought Islam Makhachev for the lightweight title at UFC 284. Despite facing some of the meanest fighters in the UFC, Volkanovski believes Rodriguez is his most dangerous opponent.
"I believe so, 100 percent, most dangerous," Volkanovski said on Israel Adesanya's YouTube channel. "Does that make it the hardest? We will see. A lot of people will be, what about Max, what about this? They are different challenges, and that is the thing people have to understand. I always look at Yair as a more dangerous opponent for me than Islam because of that crazy, sporadic, always looking for a finish in the striking, and unpredictable behavior. It's different. What's a harder fight? I'll probably say Islam is gonna be a harder fight. But, who's more dangerous? I'll say Yair is more dangerous, it excites me, he's going to have these big threats and see how I deal with them.
"He's a dangerous fighter, he's a fighter that is always looking for the finish which is exciting. It excites me as well. It's exciting for the crowd, you know he's gonna bring it, you know he's going to be unpredictable and looking for the finish even if it goes to the ground, he's constantly looking for the finishes. His last couple of fights were submissions. That's the kind of fighter he is. He's on the back foot, he's coming back with flying knees, spin kicks, no matter where it is, he is looking for the finish."
Do you agree with Alex Volkanovski?