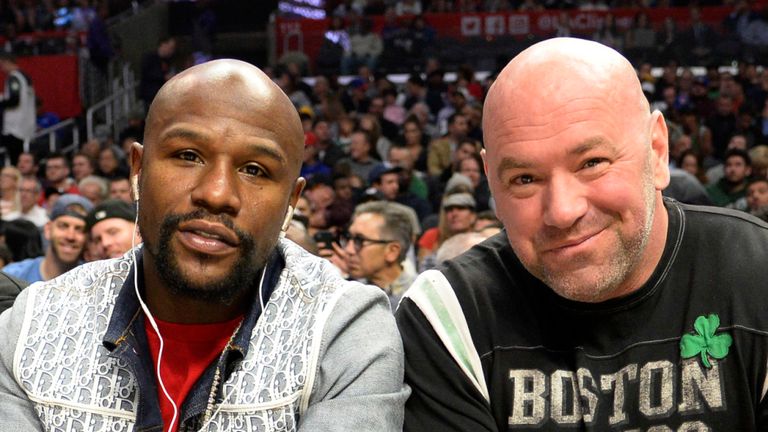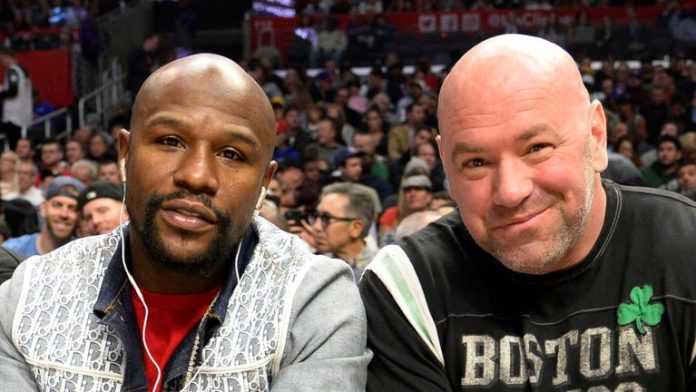 Dana White has recently publicised that he's still interested in working with Floyd Mayweather. Rumours first rose when both men were seen exchanging words at an NBA game last November. Since then, both parties have confirmed a desire to schedule another fight for the Michigan native.
Last week, Dana confirmed that the business talks between the two are still ongoing. The renowned promoter announced that he is looking forward to working with the legendary boxer, once the current state of the world stabilises.
Dana spoke to Yahoo Sports (as transcribed by MMA Junkie) on an Instagram live video about the possibility of working with Mayweather, in organising another blockbuster combat event.
"Floyd wants to fight," Dana said. "He wants to fight. We're going to probably….listen: I'm dealing with all the s*** that's going on with 2020 right now. Floyd and I want to work together. We want to do something. We're going to do something. I just need a little more time to get my s*** together."
Although Mayweather's last fight was in 2017, his last title fight took place in September of 2015 against Andre Berto. Many in the boxing community question how much will the former champion's inactivity affect him, should he make a comeback to the squared circle.
Dana, however, does not seem worried about Mayweather's inactivity; the UFC president believes that all doubts will be answered once 'Money' enters the ring.
"No, it doesn't concern me, but those are things that will all factor into the fight," Dana said. "Those are all things that will factor into the fight, 100 percent. … I don't know. Those are questions that will be answered when you put the fight on. The Conor McGregor vs. Floyd Mayweather fight was the perfect storm. That thing was built from the fans to the media and became what it became."
Since their encounter three years ago, Mayweather's name has been constantly linked to that of MMA's biggest star, Conor McGregor. Recently, 'The Notorious' expressed his desire to rematch 'Money May'. However, Dana believes that the Irishman will not be seeing action any time soon.
"Conor McGregor is retired," Dana said. "Yes, Conor McGregor is retired."
Mayweather has returned to the ring once since his retirement, beating the young Japanese kickboxing superstar Tenshin Nasukawa a year and half ago at RIZIN 14, in an exhibition match. It's believed that Floyd will compete in another exhibition match in RIZIN late 2020 or early 2021.
What do you think Dana White and Floyd Mayweather have in mind for their future collaboration?
See also: