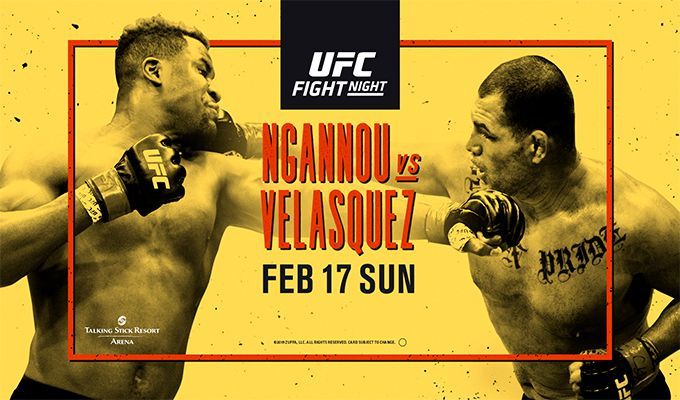 MMABetz is back with your predictions and betting tips for UFC Fight Night: Phoenix.
The event takes place from Phoenix, Arizona on February 17, 2019 and boasts a main event title bout between former two time UFC Heavyweight Champion, the returning, Cain Velasquez and contender, Francis Ngannou.
So, who will win?
Let's get down to business and find out.
Heavyweight bout: Cain Velasquez (-175 F) vs Francis Ngannou (+145 U)
Cain Velasquez is back! The former Heavyweight Champion is competing for the first time since UFC 200, way back in July 2016. Over two and a half years later, the Brazilian is finally ready to compete once more inside the Octagon cage at UFC Fight Night.
The oddsmakers have made him the favourite but is this the right call?
Velasquez was one of the greatest Heavyweights in MMA history. His lightning quick hands were made of granite. This ensured that when he landed his punches, his opponent was getting knocked out. He has knocked out luminaries such as Junior dos Santos, Brock Lesnar and Antonio Rodrigo Nogueira.
Velasquez has a wrestling background too and can win via Submission as well. He is a dangerous, dangerous opponent and is still only 36 years old. He can become perhaps the greatest ever, if he can stay healthy.
Francis Ngannou is a very tough fight to return to. "The Predator" dominated the Heavyweight ranks prior to his unsuccessful tilt at the Heavyweight Championship versus Stipe Miocic back at UFC 220. He then lost his subsequent fight to fellow contender, Derrick Lewis. He snapped that losing streak with a morale boosting win over Curtis Blaydes at Fight Night 141 in November 2018.
Can he boost his Heavyweight title aspirations with a big win over Velasquez?
With a massive frame of 254lbs and standing at 6'5", he is an intimidating presence and has striking power to match his more experienced opponent. What he perhaps lacks is stamina, having blown up badly versus Miocic.
It's worth noting however, on the two occasions that Ngannou has faced a top class wrestler in Blaydes, he battered him senseless. He never once allowed himself to be dominated on the mat.
So, this may turn into a pure striking battle, which considering how strong both men are in this area, makes this extremely difficult to call.
Velasquez has more weapons and if his condition is anywhere close to what it was the last time we saw him, then he should take the win.
Prediction: Cain Velasquez via Knockout
That being said, Ngannou certainly has the punching power to put Velasquez down. Surely, there will be a degree of ring rust on the Brazilian, given how long he has been out. If Ngannou attacks early, then he could land a knockout blow. That bet is definitely worth a flutter.
Betting Tip: Francis Ngannou
---
More MMA betting tips
---