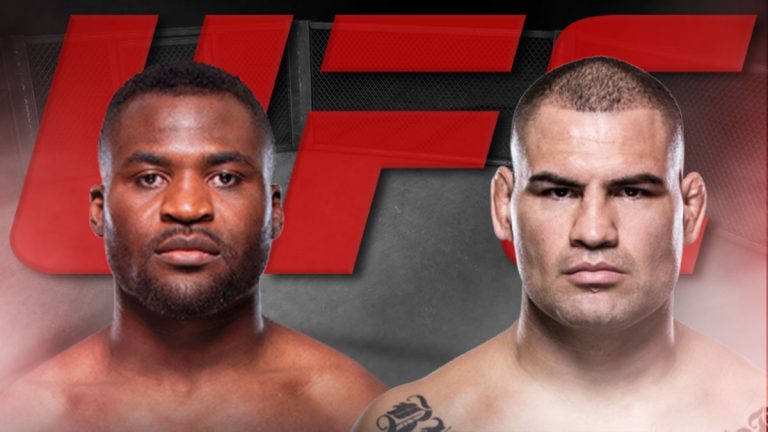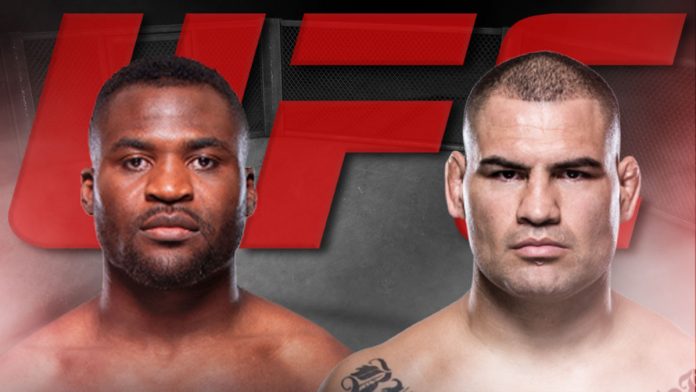 Yes we have six great match ups on the main card, but don't forget about the seven great match ups on the prelims! We have high level talent all across the card, starting at 5:30 PM ET, 4:30 PM CT, and 2:30 PM PT. Tune into ESPN+ for the first three fights, and all ten of the others will be free afterwards on ESPN.
ESPN Prelims
Jimmie Rivera (22-2) vs Aljamian Sterling (16-3)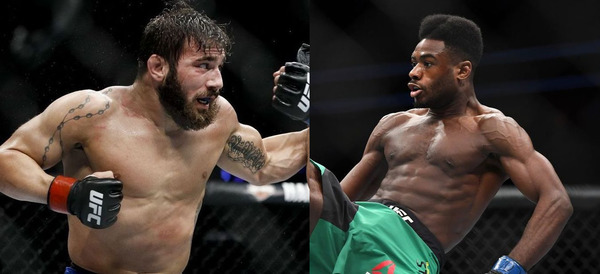 This is the prelim match up I'm most excited for, as I love both of these guys. Neither leave many openings, both have very good striking, both have great wrestling, it's going to be a good one. I must say I do predict this fight to go to decision, but that doesn't mean it will be boring for one, for two it doesn't even mean I'm right, I just see both of these guys being very hard to finish. If you take Marlon Moraes off of each of their records, they're a combined 36-3 with all three losses coming by split decision. The reason I say that, is Marlon finished each of them by KO in a combined 1:40, he's the only guy that could find any openings that each of these two left.
Jimmie Rivera started out wrestling in high school, and though not much is said or posted online about it, I'm assuming he did very well, because his wrestling is very, very good. He's a short, stocky guy, one of the stockiest builds in the sport honestly. He has good hands, great inside and outside leg kicks, and is good at keeping his hands high. Jimmie only stands at 5′ 4", assuming he would be a flyweight if he wasn't so thick. He holds a 3rd degree black belt in Kyokushin Karate under Tiger Schulmann, his head coach. That's pretty surprising, considering even his teammate Uriah Hall is a 2nd degree black belt in the same art, under the same coach; he's got an extra stripe over one of the most dangerous stand up fighters out there.
As for Aljamain Sterling, Aljo also started out wrestling, becoming a two-time NCAA Division III All-American, going 87-27 and SUNY Cortland. He also holds a brown belt in Brazilian Jiu-Jitsu, is three inches taller than Rivera, and has a three inch reach advantage. Luckily for Rivera, his reach is four inches longer than his height. Rivera started his MMA career as an amateur, going 7-0 before turning professional; similar to Sterling, who went 6-1 as an amateur before turning professional. It's somewhat surprising we haven't seen this match up yet, considering these two have held two of the same titles before.
Aljamain Sterling's titles include winning the Ring of Combat Bantamweight Championship in just his third professional fight, and winning the CFFC Bantamweight Championship two fights later, and defended it three times before giving it up to make his UFC debut.
Jimmie Rivera won the KOTC Flyweight (135 lbs) Championship, the Ring of Combat Bantamweight Championship, and the CFFC Bantamweight Championship, all of which he defended once. With Jimmie Rivera sitting at #5 in the world, and Aljamain sitting at #7, the winner of this fight is surely that much closer to a title shot.
Benito Lopez (9-0) vs Manny Bermudez (13-0)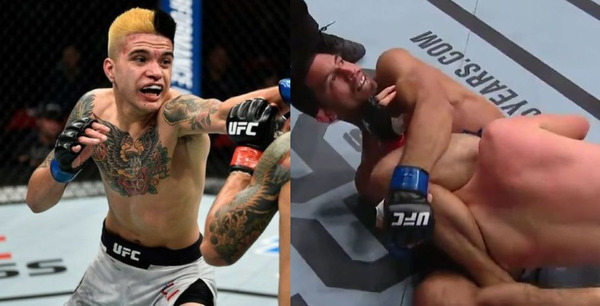 This fight between two undefeated prospects is hit or miss to me on how it will go. Both of these men have shown true high level mixed martial arts skills, it's exciting to see who will continue climbing the ladder. Both of these men were successful amateurs as well, with Sherdog claiming Benito went 4-0, and Tapology claiming Manny went 7-1. This pair of 24 year olds makes for a great fight, with Benito Lopez having a pretty even mix of submission, knockout, and decision wins; and 10 of Bermudez' 13 wins coming by way of submission, as you see him submitting TUF 18 finalist Davey Grant in the right picture above.
They have similar builds, as Benito is 5′ 11" with a 73" reach, and Manny is 5′ 10" with a 72.5" reach. Manny Bermudez is 2-0 inside the octagon, and Benito Lopez is 1-0 inside the octagon after punching his ticket into the UFC with a great fight on Dana White's Tuesday Night Contender Series. I'm expecting fireworks in this one, as I'm sure neither of these men want to lose that 0 on the right side of their record.
Ashlee Evans-Smith (6-3) vs Andrea Lee (9-2)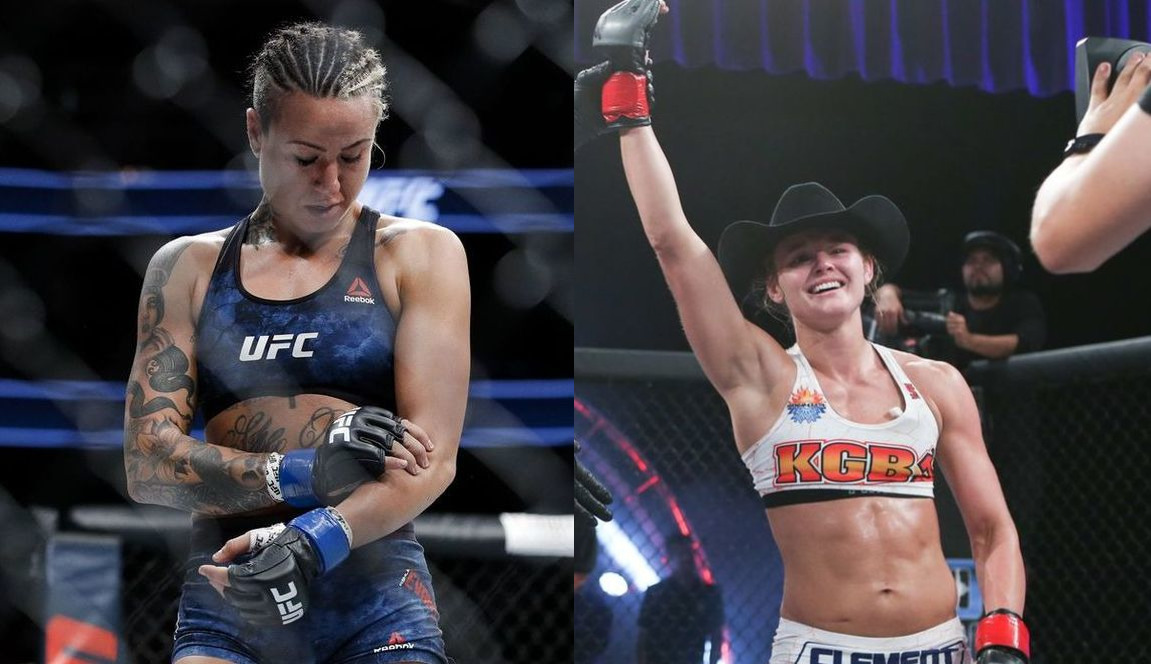 Ashlee Evans-Smith and Andrea Lee both have had success in combat sports, though Lee's is a little more extensive, competing in other arts than just MMA. She started out boxing and kickboxing; though her records in those two sports are unknown, she is a Louisiana State Golden Gloves Champion in 2010 and 2013, and an Amateur National Golden Gloves Champion in 2013. As for kickboxing, she was the IKF World Classic Amateur Muay Thai Champion in 2013, WKA Amateur North American Muay Thai Champion, WKA Amateur North American Kickboxing Champion, TBA Amateur World Open Lightweight Muay Thai Champion, and IKF World Classic Amateur Featherweight Muay Thai Champion, all in 2014 before starting her professional MMA career. She has also held the Legacy FC Women's Flyweight Championship, and LFA Women's Flyweight Championship, and defended it once prior to vacating for a career in the UFC.
Ashlee Evans-Smith doesn't quite have all those credentials, but she's a very skilled, gritty fighter in her own right. She so far holds a 3-3 record with the UFC, and 3-0 outside of it in the CFA and WSOF. She has defeated good fighters like Marion Reneau, Bec Rawlings, and in her amateur career got a win over TUF 18 veteran Jessamyn Duke. She held a 5-4 amateur record, with her four losses coming to women with a combined 20-1-1 record. Tapology suggests that Andrea Lee is 7-3 as an amateur in MMA. Andrea definitely holds the combat experience, but Evans-Smith holds the UFC experience, as she's had six fights in the promotion, combating the one that Lee has. Andrea Lee also holds a black belt in Kyokushin Karate, a brown belt in Judo, and a purple belt in BJJ; Ashlee Evans-Smith holds a blue belt in BJJ.
Scott Holtzman (12-2) vs Nik Lentz (31-9-2) 1 NC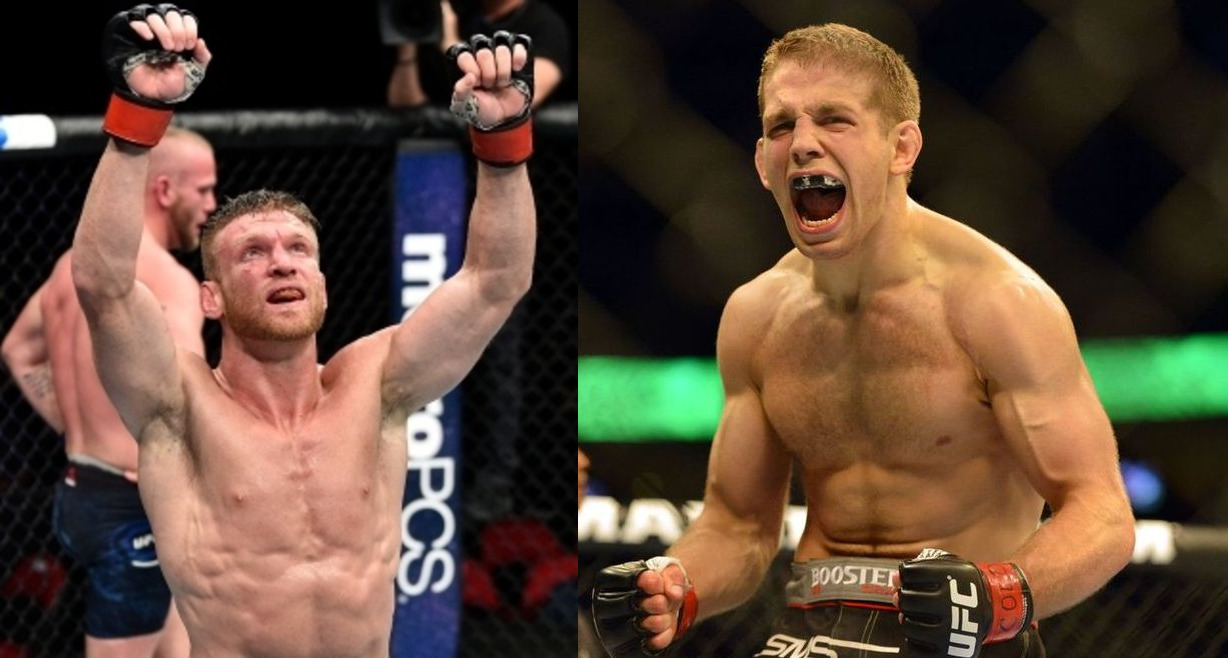 This is a great fight that I'm really looking forward to, as both of these guys have come into their own recently. Scott Holtzman started off his UFC career picking up two wins and two losses, before winning his last three. The 35 year old holds a brown belt in BJJ, and went 4-0 as an amateur. He won the XFC Lightweight Championship via TKO in round two of his fifth professional fight, and defended it over the course of five rounds in his next fight, before vacating it to fight for a one fight stint with PFC, then coming to the UFC.
Nik Lentz started out his MMA career going 18-3-1 after a successful NCAA Division I Wrestling career, and went 5-0-1 in his first six fights with the UFC. He then dropped three losses in a row, the first of which was overturned to a no contest because of an illegal knee by Charles Oliveira, before winning his next three, bringing his UFC record to 8-2-1 with 1 NC. He has since gone 5-4, with the most notable wins being over former Bellator Lightweight Champion Will Brooks via guillotine choke, and former two-time UFC Lightweight title challenger Gray Maynard via TKO, both in round two. Those four losses are also to very elite fighters, losing to Chad Mendes, Charles Oliveira in the rematch, David Teymur, and Islam Makhachev.
Lentz also holds a purple belt in BJJ, and is 13-6-1-1 in the UFC, as opposed to Holtzman's 5-2 UFC record. My bet is this is going to be a very grindy battle between two very grindy fighters.
ESPN+ Prelims
Renan Barao (36-7) 1 NC vs Luke Sanders (12-3)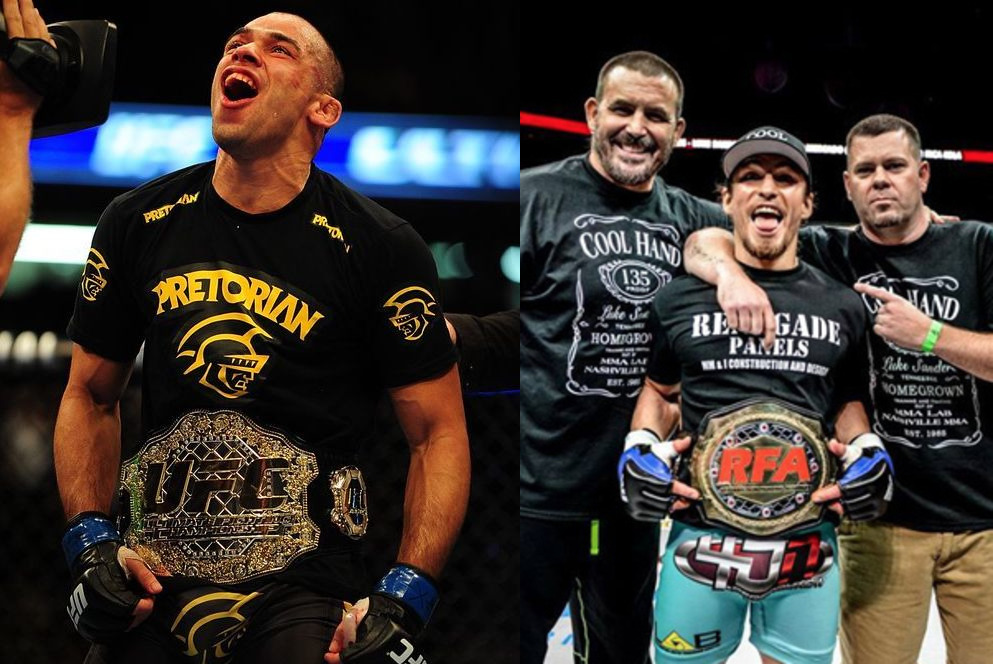 The main even of the ESPN+ prelims, man oh man am I excited for this one. Will Renan Barao be able to return to form, or will another unranked prospect get a victory over him? Renan Barao was widely considered the #1 pound-for-pound fighter in the world, until a short notice fight against none other than current UFC Bantamweight Champion TJ Dillashaw. He won the Interim UFC Bantamweight Championship and defended it twice, before being promoted to Undisputed UFC Bantamweight Champion, and defended that belt once. Renan Barao was scheduled to defend his title against Raphael Assuncao at UFC 173, but Assuncao was forced to pull out due to a rib injury, and in his place came the 9-2 TJ Dillashaw, and the rest is history.
He just hasn't been the same since. Before that, he was 34-1 (1 NC) with his only loss coming via decision in his first ever fight. Take that first fight away, he was 34-0 (1 NC) defending his belt against a 9-2, relatively inexperienced TJ. Though experience didn't matter, as TJ battered him for four and a half rounds, before getting the finish midway through round five.
Since then, Barao just hasn't been the same. From the scheduled immediate rematch that he missed because of being hospitalized from the weight cut, to fighting Mitch Gagnon in a lack luster performance, which he did get a finish in at least; he won via arm triangle choke late in round three. After that he earned a title shot in a rematch against Dillashaw, but it went a similar way, this time getting finished less than a minute into round four.
He then moved up to featherweight and fought Jeremy Stephens in a losing effort, before winning a unanimous decision over Phillipe Nover, and has since lost his last three; to Aljamain Sterling in a fight the CSAC wouldn't allow him to cut the weight, and made them schedule a catchweight of 140 lbs, and also lost to Brian Kelleher and promotional newcomer Andre Ewell, both of which have been finished in their most recent outings, Kelleher in his last two, and Renan missed weight by six pounds in the Ewell fight. It's kind of sad honestly, I don't think any fighters have fallen from Kingpin to where he's at right now so drastically before. Johny Hendricks and BJ Penn are the only two that even come close.
Renan Barao is only half of the party in this fight, as we have hard hitting "Cool Hand" Luke Sanders coming to try and make it four straight losses for Barao. Sanders was a 2004 High School State Champion wrestler at 145 lbs, along with going 9-0 in amateur boxing, and 4-0 in amateur MMA. He was 10-0 before signing with the UFC, and quickly improved that to 11-0 in his debut, before dropping three of his last four. If you look at who he's lost to though, there's no shame in it, especially this early into his UFC career. He won the RFA Bantamweight Championship via knockout just over a minute into round one, and defended it over the course of five rounds in his next fight, before vacating it to make his UFC debut.
Barao has lost to guys recently that we never would've thought possible, so it wouldn't be surprising to see that again; however, Sanders has been submitted twice, by legit BJJ black belts Iuri Alcantara and Rani Yahya, both of which were leg locks. Barao is also a very high level BJJ black belt, and has two leg lock submissions to his credit, but the last one was almost 12 years ago. That's not to say he can't submit him with something else though, he definitely can. We just have to wait and see.
Jessica Penne (12-5) vs Jodie Esquibel (6-4)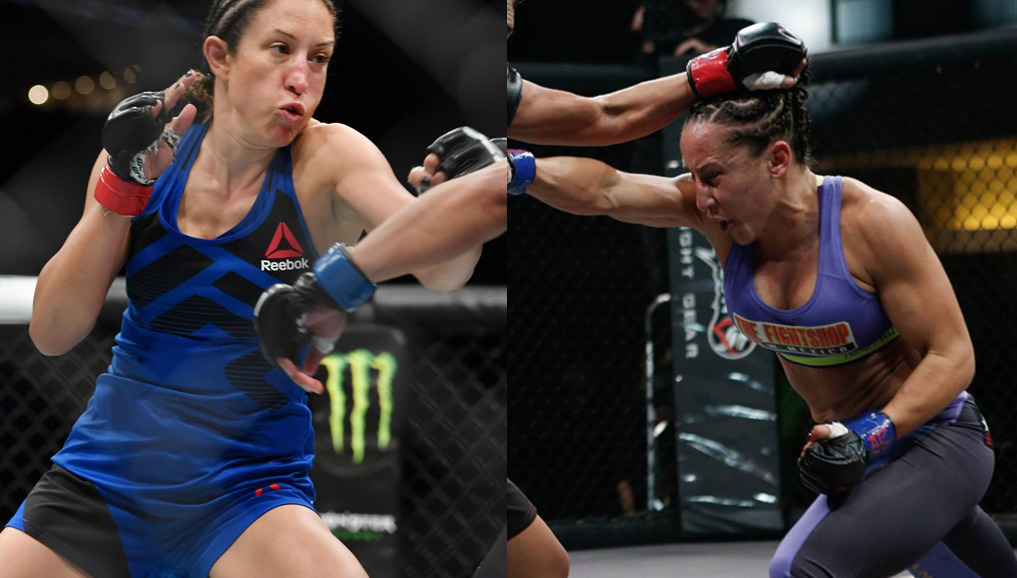 Both of these women are coming in to not lose their third, and fourth fights in a row. Penne hasn't fought in almost two years after a suspension by USADA, and has lost her last three fights, starting with the title shot against Joanna Jedrzejczyk. She holds a 1-3 record with the UFC, and Jodie holds an 0-2 record with the UFC; if you take their UFC records out, Penne is 11-2 and Jodie is 6-2.
Penne is four inches taller, and will have a three inch reach advantage over Jodie. Jessica Penne holds a black belt in BJJ, and a brown belt in Judo, along with being the former Invicta FC Atomweight Champion, before losing the title to Michelle Waterson in her next fight. Jodie Esquibel also has some professional boxing experience dating from 2005 to 2015, going 7-7-1. One of these women will end their losing streak, and one will continue it. Watch to find out which one reigns supreme.
Aleksandra Albu (3-0) vs Emily Whitmire (3-2)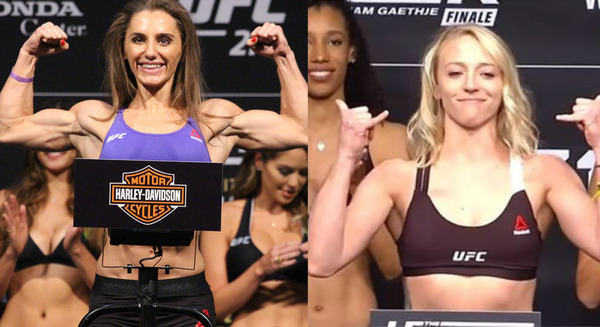 There isn't too awfully much information on these Russia and Oregon USA natives, so I must refer to their fights that I've seen. Aleksandra does hold a black belt in Karate, and is 2-0 in the UFC, as opposed to Whitmire's 1-1 record with the promotion. Emily also went 1-1 on The Ultimate Fighter 26; then made her UFC debut, losing to 3-2 Gillian Robertson by armbar in round one, before rebounding against 4-2 Jamie Moyle via unanimous decision. Aleksandra Albu made good in both of her octagon appearences, winning her debut via guillotine choke in round two, and winning via unanimous decision in her second fight in the promotion.
Will Aleksandra Albu improve to 4-0, or fall to 3-1? Will Emily Whitmire improve to 4-2, or fall to 3-3? We will find out this Sunday at 5:30 PM ET, tune in!