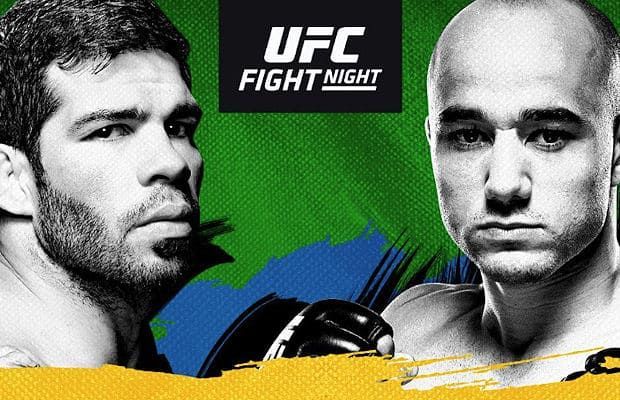 UFC Fight Night is back and MMABetz has you covered with predictions and betting tips. It is a card full of fights that look very close affairs on paper. Therefore, there is huge potential for upsets and thus, some money to be won.
Bantamweight: Raphael Assuncao (+162 U) vs Marlon Moraes (-175 F)
Raphael Assuncao is on a four fight winning streaks and is somewhat a surprising underdog for this fascinating bout with Marlon Moraes.
He has tremendous striking defence, avoiding 70 percent of his opponents' strikes per minute, while having incredible striking offence. He unloads 3.38 significant strikes of his own per minute. He hasn't been stopped in a fight for almost a decade. The 36 year old is a formidable foe.
Moraes is no mug either, demonstrated by his favourable odds. He has also tasted defeat to Assuncao before, back in 2012. Moraes has been a winner ever since however. His aggressive and active fighting style makes him a joy to watch. He usually devastates opponents in double quick time with and lands an incredible 3.25 significant strikes per minute but lacks the nous of Assuncao.  Assuncao is difficult to hit but if Moraes does hit him, it could be all over, given his immense punching power. Difficult one to predict, but patience and savvy could be the key to this one as it was in 2012 for Assuncao.
Prediction: Raphael Assuncao via Decision
These are attractive odds for Assuncao and a real chance to win with the bookmakers.
Betting Tip: Raphael Assuncao
Featherweight: Jose Aldo (+110 U) vs Renato Moicano (-138 F)
Jose Aldo has an opportunity to rebuild his legend in an intriguing clash with Renato Moicano. He has the chance to put together consecutive wins for the first time in over four years. Can he do so? I think he can. Aldo's three most recent losses came versus Conor McGregor and Max Holloway (twice). There is no disgrace in that. He won last time out in impressive fashion by dispatching of Jeremy Stephens in under a round.
Moicano is primarily a counter-striker who puts together strong, devastating combinations to overwhelm his opponents.
Moicano has never earned won a fight via Knockout in his career, thus his only chance to win is via Submission or Decision. That is a limitation against a top line fighter like Aldo.
The question is, which Aldo will turn up to the Octagon?
Prediction: Jose Aldo via Knockout
I am backing the underdog again due to the greater upside and opportunity to earn a victory. That is my tip.
Betting Tip: Jose Aldo
Welterweight: Demian Maia (-175 F) vs Lyman Good (+130 U)
Demian Maia is 41 years old and is riding a three fight losing streak. That being said, those losses were against the Welterweight Champion, Tyron Woodley and top contenders Colby Covington and Kamaru Usman.
Lyman Good is not in the same league though he is a very competent striker, with 5.73 strikes per minute landing. However, he is not the quickest and an experience foe like Maia could well have them scouted.
If Maia can take Good down then it is game over. Can he do it?
Prediction: Demian Maia via Decision
This fight is on a knife edge really as it all depends on whether Good can connect with his powerful strikes or whether Maia can control him on the mat. The latter is more likely but the former could well occur to. Could be worth a flutter.
Betting Tip: Lyman Good
Lightweight: Charles Oliveira (-120 F) vs David Teymur (-110 U)
Both of these fighters are on fine winning streaks with the difference being that Oliveira likes to win by submission whereas Teymur attempts to win via Knockout.
Teymur has excellent takedown defence which means it could be difficult for Oliveira to fight his natural game.
For that reason, I think Teymur will edge it.
Prediction: David Teymur via Decision
The bookie's have tossed a coin in truth. It's a close one but Teymur is the best bet here.
Betting Tip: David Teymur
Light-Heavyweight: Justin Ledet (+175 U) vs Johnny Walker (-225 F)
Johnny Walker is a big man with explosive punching power.
Justin Ledet is more agile and is not afraid to get stuck into a wild striking exchange. That will likely prove his downfall as he often wanders into trouble when he moves forward and absorbs a massive 4.34 significant strikes per minute.
Walker might only need one to put him down.
Prediction: Johnny Walker via Knockout
I can't see past the favourite here.
Betting Tip: Johnny Walker
Women's Strawweight: Sarah Frota (+175 U) vs Livia Renata Souza (-250 F)
Two fresh faced UFC stars face off and one will taste their first defeat in the promotion.
Souza is the more aggressive and more experienced. She has a speed advantage and excellent striking.
Frota is a star of the future herself, but in the present, she likely won't have enough to overcome Souza.
Prediction: Livia Renata Souza via Submission
I can't see beyond the favourite here.
Betting Tip: Livia Renata Souza
---
More MMA betting tips
---