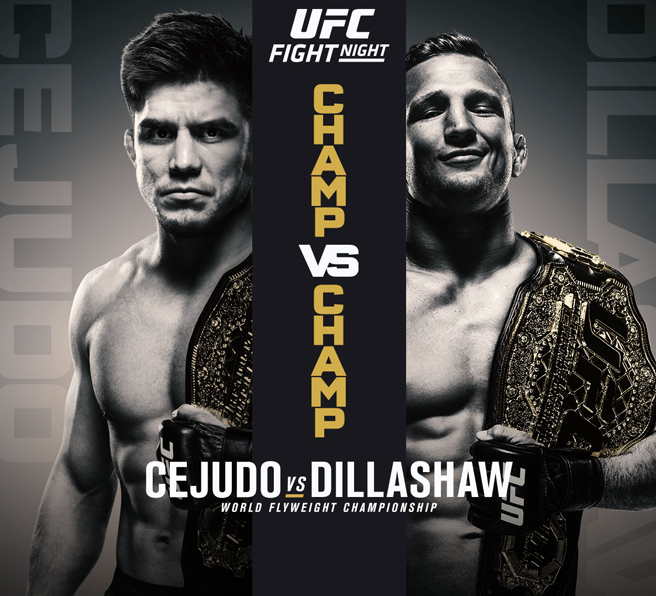 History beckons for TJ Dillashaw at Fight Night 143 as he bids to become the fourth UFC superstar to become a dual champion.
Dillashaw has reigned as Bantamweight Champion since November 2017 when he became the first man to defeat Cody Garbrandt at UFC 217. He repeated the feat at UFC 227.
Dillashaw has won his past four fights and is in the prime of his career. He is perhaps the greatest pound for pound fighter in UFC right now.
Flyweight Champion, Henry Cejudo is no mug either and has won his past three bouts inside the Octagon. Most impressively was his victory to win the Flyweight title over UFC legend, Demetrius Johnson at UFC 227; the same show that Dillashaw successfully defended the Bantamweight belt versus Garbrandt. Can he upset the odds once more and turn back the challenge of Dillashaw?
The odds would seem to be against it. Despite Cejudo's excellent wrestling skills, his intangibles don't match up well versus Dillashaw's.
He is shorter, has a three inch reach disadvantage and his significant strikes per minute stats are considerably inferior to those of the Bantamweight Champion.
Cejudo's key to victory would be to take down Dillashaw down to the mat and win the fight there as he has done so often before. However, with a takedown defence percentage of 86% how likely is it that the smaller Cejudo will have the strength to do that?
A lot depends on the success of Dillashaw's weight cut but if that is successful, for me there can only be one winner. Dillashaw can go from top star to legend in one fight.
---
More MMA betting tips
---