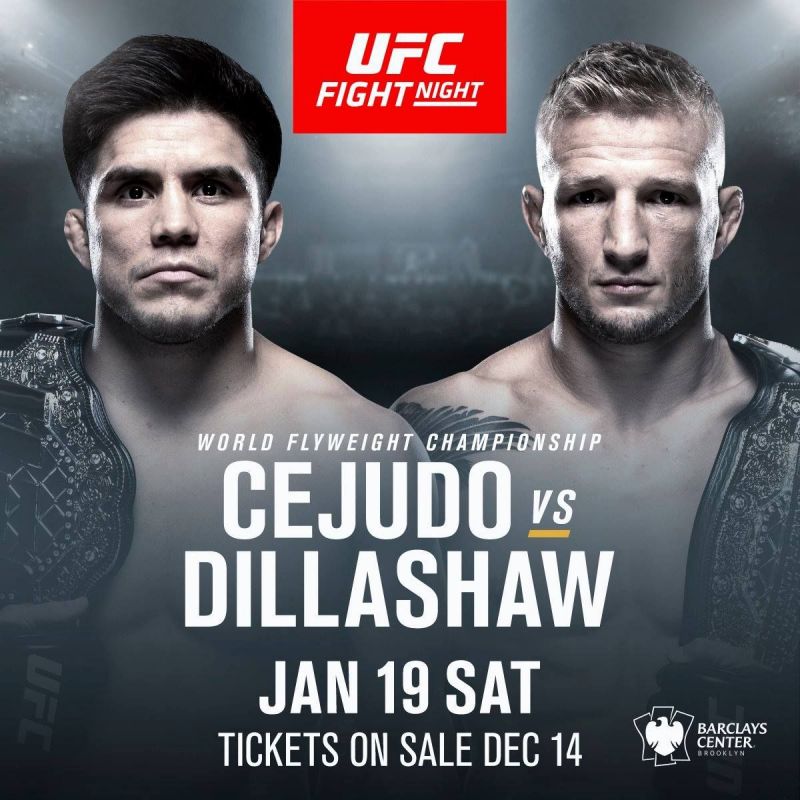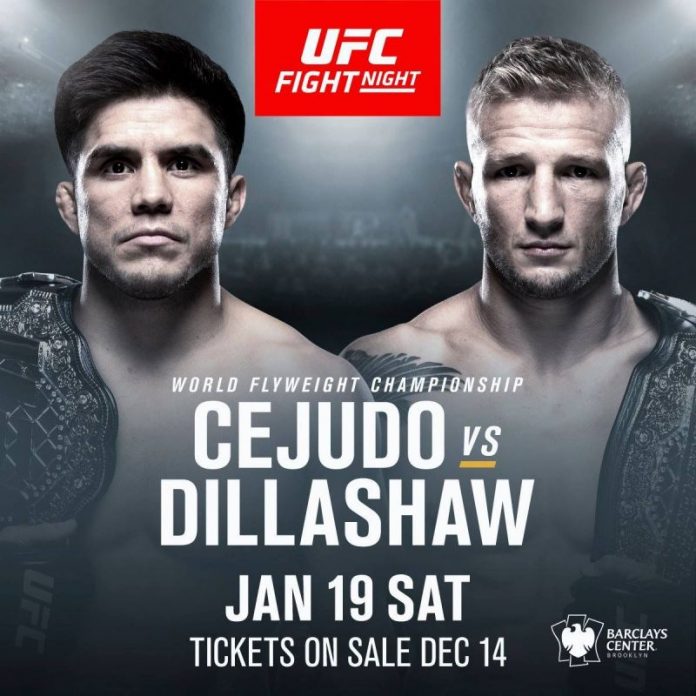 The UFC is back in New York for UFC Fight Night 143 and MMABetz has you covered for predictions and betting tips for all six main card fights.
Flyweight Title: Henry Cejudo (+175 U) vs TJ Dillashaw (-225 F)
TJ Dillashaw has the opportunity to become the fourth dual champion in UFC history after Conor McGregor, Daniel Cormier and Amanda Nunes as he challenges Flyweight Champion, Henry Cejudo. Can he do it? Yes he can.
It will be interesting to see how the weight cut affects Dillashaw but if he can overcome that, his larger frame, speed and stronger striking should be enough to keep his excellent opponent at bay. The bookmakers appear to agree. I would back them in this one.
Prediction: TJ Dillashaw via Decision
Considering Cejudo is such an excellent talent and is on an impressive winning streak, the temptation might be there to back him, given the odds on him as an underdog. However, I don't see him being able to takedown Dillashaw to play to his strengths. Don't risk your money on this one.
Betting Tip: TJ Dillashaw
Heavyweight: Greg Hardy (-599 F) vs Allen Crowder (+400 U)
Greg Hardy, the former NFL star makes his UFC bow against journeyman Heavyweight, Allen Crowder. Hardy has contested three MMA fights and won all of them, with impressively quick hands and heavy punching power.
He is a superb athlete and despite his inexperience, he is a heavy favourite to defeat his more experienced foe.
It is probably well founded. Don't expect this to last long.
Prediction: Greg Hardy via Knockout
However, if you are someone who places greater belief in experience, the odds are so attractive for Crowder that a bet on him could well be worth a punt.
Bear in mind, Crowder's losses have come against top ranked stars such as Curtis Blaydes and Justin Willis and he is no mug. However, they both have quick hands like Hardy and the bout could well go the same way. Don't bet the house on it but it may be worth a go for a few quid.
Betting Tip: Allen Crowder
Lightweight: Gregor Gillespie (-599 F) vs Yancy Medeiros (+400 U)
Gregor Gillespie is heavily favoured and for good reason. He is a top class wrestler and has been picking off opponents with ease up to this point. Expect no different here.
Yancy Medeiros hasn't fought in a while and lost last time out to veteran, Donald Cerrone. Can he prevent Gillespie from taking him down? I don't believe he can. Therefore I see no route to victory for him.
Prediction: Gregor Gillespie via Submission
Keep your money in your pocket. There is only one winner.
Betting Tip: Gregor Gillespie
Flyweight: Joseph Benavidez (-250 F) vs Dustin Ortiz (+200 U)
Strange to see two Flyweight bouts on the same card given the rumours of the division's impending demise.
However, perhaps this fight exists to set up a potential opponent for the winner of the main event. Who knows?
These two have fought before. Joseph Benavidez won then and despite him having a few more miles on the clock, I don't see Dustin Ortiz being able to overcome Benavidez's superior striking and grappling.
Prediction: Joseph Benavidez
Benavidez all day long. Don't waste your time betting on a upset.
Betting Tip: Joseph Benavidez
Women's Flyweight: Paige VanZant (-163 F) vs Rachael Ostovich (+130 U)
Now then. This encounter is an interesting one. Both women have flattered to deceive and lose as many fights as they win. VanZant's days as contender may be over but in all honesty it feels as if she has been pitted against Ostovich to "feed" her a win and push her back up the ranks.
Ostovich is a decent fighter but VanZant is in another league entirely and everything Ostovich can do, VanZant can do better.
Prediction: Paige VanZant via TKO
Neither woman is winning a title anytime soon but VanZant will at least win this encounter.
Betting Tip: Paige VanZant
Light Heavyweight: Glover Teixeira (-125 F) vs Karl Roberson (+100 U)
This is another intriguing contest on a card full of them. No doubt, Glover Teixeira has seen better days. His recent record is spotty but in saying that his past two losses have been to top contenders, Alexander Gustafsson and Corey Anderson.
Now, Karl Roberson is renowned for his excellent kickboxing and certainly has the ability to cause Teixera some problems. However, everyone knows how strong Teixeira's chin is so can Roberson fight past that, given Teixera can win standing or on the ground.
Common sense says that Teixera will edge this but in truth i am on the fence.
Prediction: Glover Teixera via Submission
If you are going to back an underdog on this card, then this is the bout to do it in. It would not be a huge surprise to see the younger, faster Roberson pull off an incredible head kick to turn Teixera's lights out.
Betting Tip: Karl Roberson
Let us know if you agree in the comments section and happy betting!
---
More MMA betting tips
---