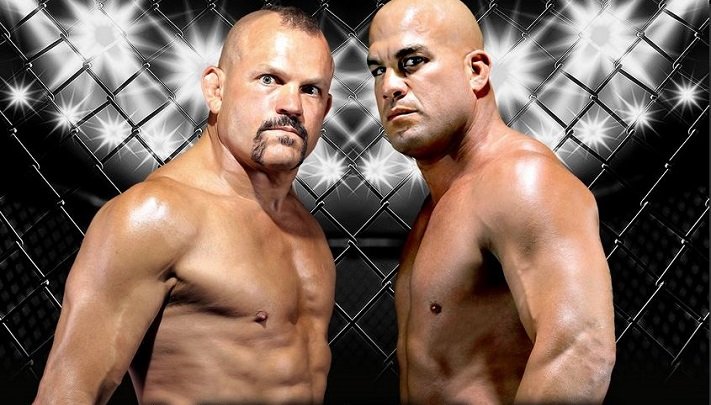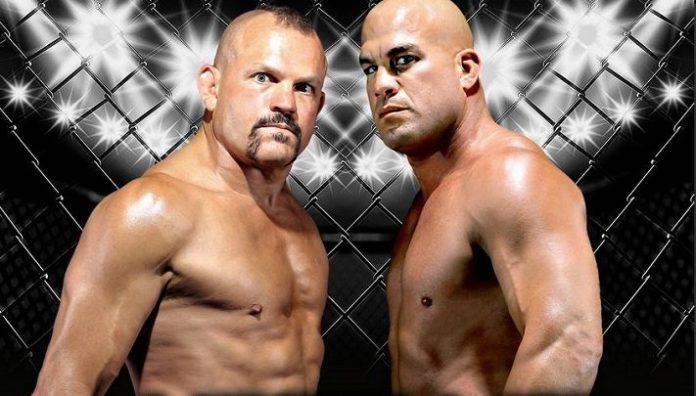 Light-Heavyweight: Chuck Liddell (+180 U) vs Tito Ortiz (-230 F)
Chuck Liddell and Tito Ortiz, twelve years after they last clashed are set to fight once more under the banner of Golden Boy Promotions in their trilogy fight.
Liddell and Ortiz are both UFC Hall of Famers and in the first half of the 2000s were the two best Light-Heavyweight fighters in the world.
The pair had been training buddies and friends but Liddell's desire to be Light-Heavyweight Champion, a belt then held by Ortiz and Ortiz's reluctance to fight his pal, due to their friendship and a pact they made as members of "Team Punishment" to never fight each other soured that once close relationship.
However, Liddell insisted no such pact ever existed and Ortiz was simply ducking him as he was afraid the "Iceman" would beat him for the title.
So, Liddell remained the number one contender for over two years without getting his shot and Ortiz defended the title against a range of other fighters such as Wanderlei Silva and Ken Shamrock.
Impatient at being unable to book the dream match, UFC decided to pit Liddell against Randy Couture to crown an Interim Champion instead. However, in a shocking upset, Couture actually defeated Liddell to become Interim Light-Heavyweight Champion at UFC 43.
"The Natural" threw another wrench into UFC's booking plans when he unified the Interim title with Ortiz's Light-Heavyweight Championship when he went on to defeat Ortiz at UFC 44.
Finally, with no title at stake, Liddell and Ortiz lined up at UFC 47 in April 2004. Ortiz was wounded by the accusations of him being a coward with regard to Liddell and was determined to beat Liddell at his own game, so came out swinging wildly trying to knock "The Iceman" out. It was a poor game plan and Ortiz was brutally KO'd early in the second round.
Their re-match which took place on December 30, 2006 was a long time coming. By that point, Liddell had finally become Light-Heavyweight Champion, defeating Couture at UFC 52 in April 2005. Ortiz was desperate to reclaim the gold and since his defeat to Liddell had won five consecutive fights versus Patrick Cote, Vitor Belfort, Forest Griffin and Ken Shamrock (twice) and had earned his shot.
Unfortunately for Ortiz, the result was the same. Although, the bout was more competitive this time around, Liddell's punching power was still too much for the "Huntington Beach Bad Boy" to overcome.
Now, a full 12 years later, all bookmakers are making twice defeated Ortiz the favourite. The reasons are threefold. Following his defeat of Ortiz at UFC 66, Liddell lost the Light-Heavyweight Championship to Quinton Jackson in his next defence at UFC 71 in May 2007. He would only win one more fight in his entire career, at UFC 76 versus Silva. Liddell lost his final three fights all via Knockout and looked a shadow of his former self a decade ago.
Secondly, is the age difference. Liddell is 49 years old next month. Ortiz is 43; although that does not make him a young man, he still has greater youth on his side than his opponent.
Finally, the biggest factor is their match fitness so to speak. Liddell has not fought since June 2010, eight and a half years ago. Ortiz, although not exactly an active performer in recent years has by comparison fought nine times in that time frame, most recently submitting Chael Sonnen at Bellator 170 in January 2017. Will Liddell be able to overcome the inevitable rustiness?
Liddell's major weapon was always his iron fists. At nearly 50 years old he does not possess the same power he once did. He didn't at 40 years old. His takedown defence was always an excellent weapon to neutralise Ortiz. However, it is hard to imagine that he possesses the flexibility in his joints after almost a decade away from the sport to be as effective in that area. Ortiz may only need one takedown to secure a submission or TKO in the mount. Liddell literally has no room for error which is why Ortiz is so heavily favoured. It is almost impossible to see anything other than an Ortiz win.
Prediction: Tito Ortiz via Decision
The odds favour Ortiz and all logic points to him being the one to win the fight as he has more weapons at his disposal. However, Liddell who was once a world class striker will always have a punchers chance and as the underdog may be worth a tipple. It would not be truly shocking if he could make it three wins out of three versus his old foe.
Betting Tip: Chuck Liddell
---
More MMA betting tips
---