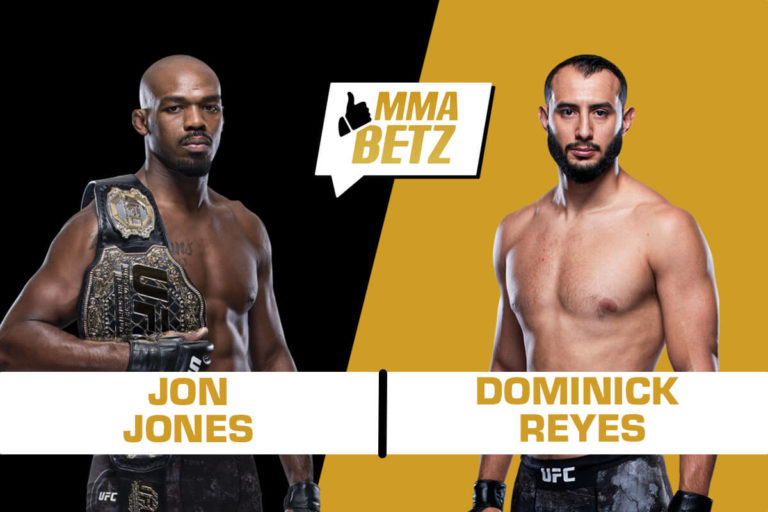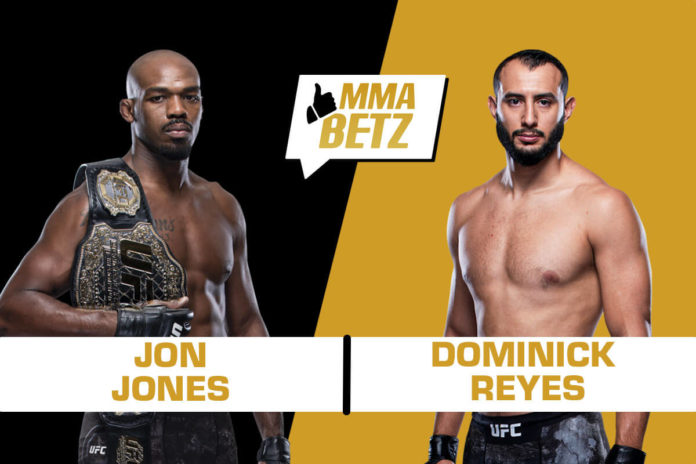 We have a great main event this weekend at UFC 247 in Houston, Texas, as UFC Light Heavyweight Champion Jon 'Bones' Jones looks to defend his title against Dominick 'The Devastator' Reyes. Should he successfully defend his belt, it will be his third consecutive title defense (eleventh total), and should he win this fight, he'll be 14-0 (1 NC) in UFC title fights. Reyes does pose some real threats to anyone at 205 lbs, but will his skill set be enough to dethrone arguably the greatest fighter ever?
The odds for this bout have Jones as a pretty heavy favorite, with himself at -500, and the challenger at +350. This means you'd need to bet $500 on Jones to win $100 with a win, and you'd need to bet $100 on Reyes to win $350 with a win. Given the fact that this is a Jon Jones fight, the odds can't really be disputed too much, but it does appear that many are overlooking Reyes.
This is awful reminiscent of when Chris Weidman was just 9-0 and fighting Anderson Silva, when TJ Dillashaw was 9-2 and fighting Renen Barao, or when Cody Garbrandt was 9-0 and fighting Dominick Cruz. Anderson Silva was 33-4 at that point, Renan Barao was 32-1 (1 NC), and Dominick Cruz was 22-1, no one expected those three inexperienced, undefeated prospects to defeat those three greats, but all three did. This looks a lot like that; a young, hungry, undefeated up-and-comer that's incredibly dangerous.
Not only that, but his second-to-last fight against Volkan Oezdemir, he lost that fight. No one agreed with the scorecard, and still to this day no one agrees with it, everyone knows he lost that fight. He didn't look horrible, he just got bettered over the course of three rounds. Reyes ended up winning the fight via split decision, and no one liked it.
That was his second-to-last fight, and his last was against Chris Weidman, who was 1-4 in his last five with all four losses coming via knockout, and fighting twenty pounds above his natural weight class. Of course 'The Devastator' knocked him out in the first round, but those last two fights are not something most would get a title shot off of.
Going into this fight coming off those two most recent performances, people need to understand, this is a newer Dominick Reyes. This is the best he's ever been, and he may show his full potential on Saturday, like he didn't do against Oezdemir. Every fight is different, and Reyes is an undefeated former champion that's 6-0 in the UFC for a reason.
Reyes has a ton of power, especially on his left side. He's had a number of knockouts with his left hand, and though it was ruled a unanimous decision victory, he knocked Ovince Saint Preux out with a left cross just seconds before the final bell. He also has two other knockouts on his record from head kicks.
He's a well-rounded striker, but we haven't seen much of his ground game. We do know he gets taken down early on sometimes, but he learns his opponents takedowns very quickly and doesn't let it happen again. Will Jones attempt to take him down, or will he strike with him the whole time like he did against Thiago Santos?
Though Reyes is incredibly dangerous on the feet, and a great all-around athlete, Jones did make a great point. He said Reyes is very dangerous and knocks a lot of people out. The thing is, most of those people he knocks out are lunging in with strikes of their own and he counters them. Jones is not going to lunge in on anyone with punches, it's not what he does. Like he said, he's more of a kicker.
Jones keeps the range with his kicks better than anyone, and he has a wider diversity of them than really anyone as well. And though he isn't a great boxer, if Reyes comes in to land shots, he could eat some of Jones' elbows. This is a very dangerous fight for both men on many levels, and though Jones is the obvious favorite, Reyes could definitely be the one to take all the glory from him.
This is an incredibly interesting light heavyweight title fight between the 25-1 (1 NC) Jon Jones and the 12-0 Dominick Reyes. Who will you be betting on?