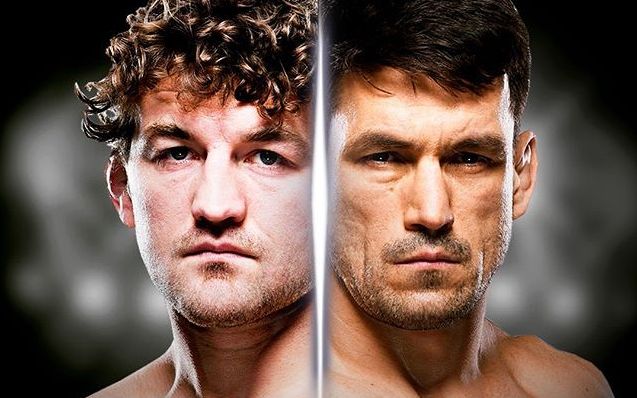 The opening odds have been released for the UFC Singapore headliner between the No. 11 ranked UFC welterweight Ben Askren and the No. 10 ranked UFC welterweight Demian Maia. The odds have opened at -250 for Askren and +195 for Maia, making Askren a surprisingly sizable favorite. These two are quite evenly matched, this fight should show us who the best pure grappler in MMA really is.
Though the betting odds are quite heavily in Askren's favor, Maia is not one to take lightly. He's one of the rare elite BJJ guys that learned how to wrestle, and he's great at it. The one difference that's obvious between the two is that Maia has decent boxing, and Askren has never really proven himself on the feet. Maia hasn't really either, but we've seen him in fights where he had to use it, we can't really say the same for Askren.
Maia generally shoots for takedowns against the cage, and almost always gets them. This fight is going to be very interesting because Askren will sometimes allow his opponent to take him down in order to create a scramble, how would a scramble of his do against a guy like Demian Maia? Askren is literally the best in the sport at getting on top no matter what, whether he's on his feet or on his back, he knows how to get on top and stay there.
This fight can be compared to a past fight in Maia's career, his five round main event against Jake Shields back in 2013, a fight he lost via very close split decision. That fight could've easily went either way. This is also a five round main event, and Ben Askren fights a lot like Jake Shields. To be honest, he really seems like a Jake Shields 2.0.
For a nine-time MMA world champion and two-time NCAA Division I champion to be facing a 4th degree black belt in Brazilian Jiu-Jitsu that has literally mauled guys like Jon Fitch to have a main event spot against each other, we should all consider ourselves lucky we get to witness it.
Askren of course started out with wrestling, but was awarded his BJJ brown belt after just two years of grappling, and was awarded his black belt just a couple years later. That's some insane grappling, and we all know how good Maia is at it, owning ten submissions to his credit in the UFC alone. How does this one play out and who are you betting on?