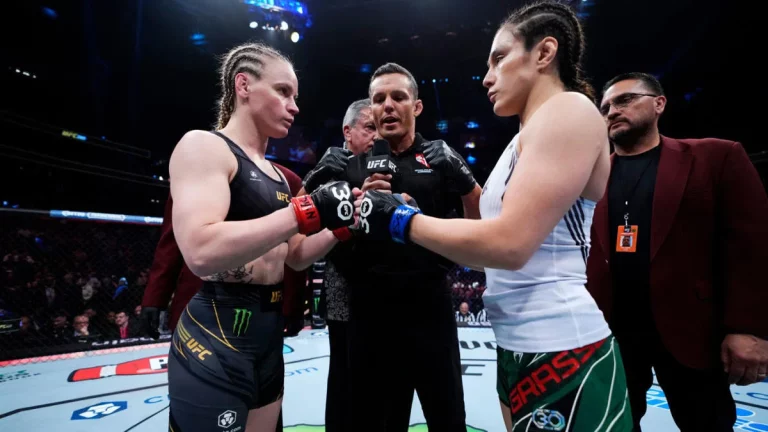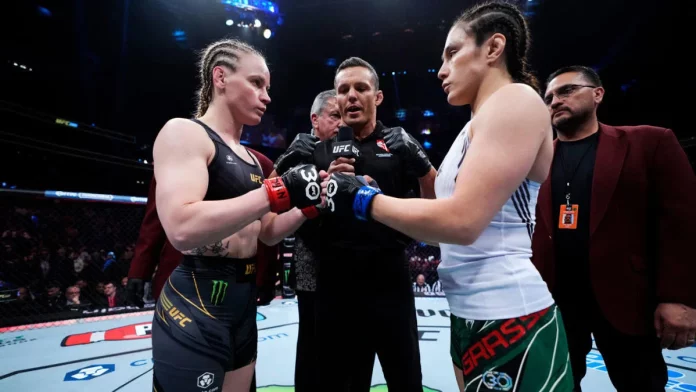 Valentina Shevchenko vows to 'destroy' Alexa Grasso in their rematch at Noche UFC.
Shevchenko fought Grasso at UFC 285, where the Mexican mounted an impressive comeback to defeat the Kyrgyzstani by fourth-round submission.
'Bullet' thinks her opponent got lucky and that she won't leave the cage victorious in a couple of weeks when the two square off in a rematch for the ages.
During a pre-fight press conference, Shevchenko revealed that she will defeat Grasso with ease because she's the better fighter.
"MMA is a complete fight style – I am a complete MMA fighter," Valentina Shevchenko said. "I have to focus on everything. I cannot focus on only one thing, and then in the fight, it changes and I'm not prepared – no. The fighters who fight on the high-level competition have to work on everything.
"I go there for the victory. I go there to destroy my opponent. I go there not to joke around. I go there to take what is mine and show not the best version, but the greatest version of me."
In preparation for her upcoming fight, Shevchenko has returned to her training origins in Thailand, where she initially learned Muay Thai and kickboxing.
According to the former champ, the decision has greatly reinvigorated her passion for fighting and she's ready to reclaim what she believes belongs to her.
"It's kind of like the same when you are going back to the place where you were kind of growing up," Shevchenko said. "You are remembering your feelings when you were on this journey to become the best, to become the greatest. Definitely, all of these emotions wake you up, and say, ok, this is what you have to feel, this is what you have to do."
Noche UFC will take place in Las Vegas on September 16th.
Will Valentina Shevchenko reclaim the UFC flyweight title?