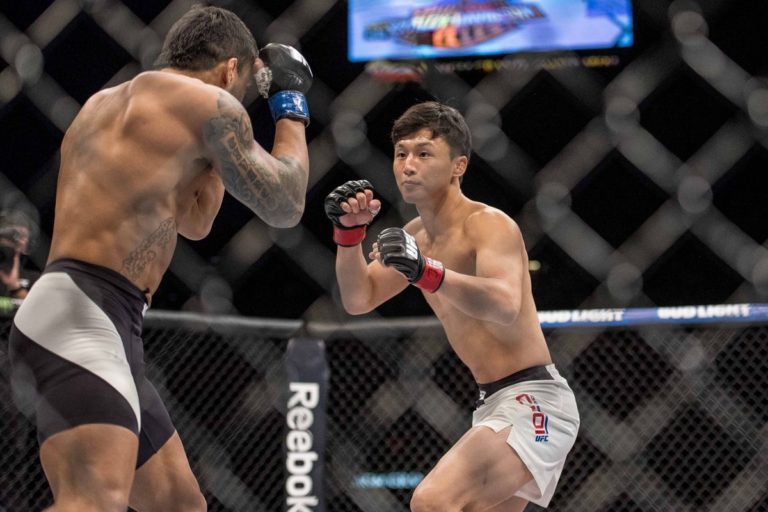 Doo Ho Choi is one of the most talented prospects to ever come out of South Korea. He started out his MMA career with an 11-1 record before joining the UFC, where he quickly went 3-0 with three first round knockouts to his credit. His lightning-quick punches and precise accuracy, along with his stunning power was always something to behold.
Since then however, he's gone 0-3, with two of those losses via TKO, and that's just the beginning. It's going to be some time before we see 'The Korean Superboy' inside the octagon again, if ever.
Choi, like many other South Korean fighters, has been forced to take a hiatus from fighting in order to serve in his countries military. This was supposed to had already taken effect, he shouldn't have been able to fight at UFC Busan, but it hasn't. This is a problem because he's already been out the last 23 months, which is about as long as the minimum term must last, two years. In South Korea, if you elect not to join the military as an adolescent, you must later on before you turn 30.
For example, Chan Sung Jung didn't go in early on in his life, so he spent three-and-a-half years away after his fight with Jose Aldo; same with Kyung Ho Kang, he was out just over three years as well. While others like Dong Hyun Kim didn't have to take that extended break, because he went in after high school. It'd be bad enough if it were two years, like his contract with the military must be, but they're unfortunately out much longer than that.
Missing two years, then having to spend another three plus away has to sting a bit for him. Especially considering he started his career out at 14-1, then fell to 14-4, and to make things worse, he broke his arm in his fight at UFC Busan, so that'll have to heal before his military term can start as well. Another thing is, these are his prime years. Most mixed martial artists come into their prime in their late twenties to early thirties.
There are a lot of things working against this young stud, he really looked like he could be a special talent for a while there, and he still could be. However, at 28-years-old, he'll be at least 31, if not 32 by time he returns because his birthday is in April. All of that, along with having just one fight in the last five years, and not having a win in six or seven, it's unfortunate. That's what things will look like for him upon his return.
Will Doo Ho Choi be able to return to form and climb to the top?