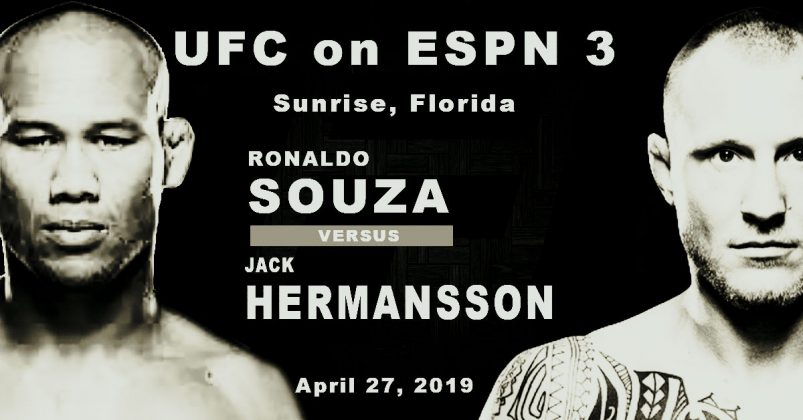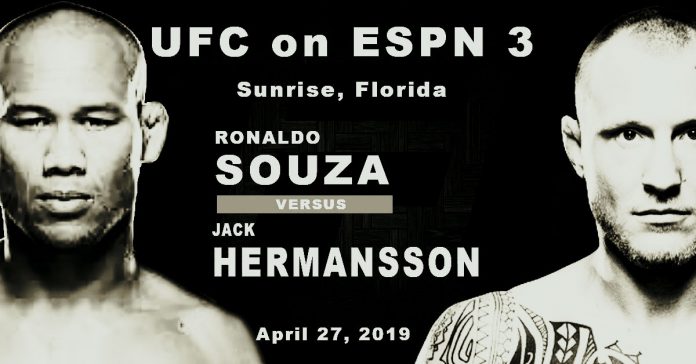 Tomorrow night in Sunrise, Florida, we have a stacked card of 13 fights to look forward to. In this text I will be talking about the last six fights of the night, the skill sets of all the competitors, and how they match up together. Continue reading to get a closer look at the entire UFC on ESPN+8 main card:
Ronaldo 'Jacare' Souza (26-6) 1 NC vs. Jack Hermansson (19-4)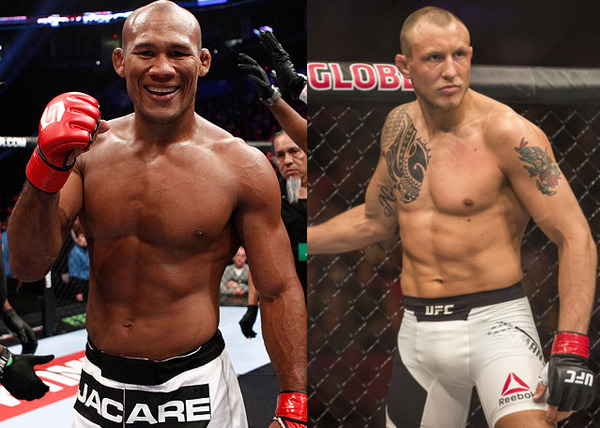 The main event will be a fight between top middleweight Jacare Souza and top middleweight prospect, Jack Hermansson. The main event was initially scheduled to be a rematch between Souza and Yoel Romero, however Romero pulled out, and now we have Souza versus Hermansson. Many think Jacare will just run through Hermansson, and on paper to most people, that seems like the most plausible outcome. However, I think it could go much differently, here's why:
Jacare Souza is better everywhere than Jack is, he's got better grappling, probably has better wrestling, has better stand up, he hits harder, but Hermansson has the superior conditioning; if Jacare can't finish him by the end of round two, or perhaps midway through round three at the latest, I think Jack's pace will be way too much for Jacare to handle. Jacare has never been a cardio machine, we've seen him tired quite a few times, however he pushes through and still does well, depending on who he's fighting.
I just feel Jack has way too high of a pace, he's always all over the place, has relentless ground and pound, has great wrestling, and is tough as hell. He has been submitted before, early on in his career, and then again in his second UFC fight against Cezar Ferreira; that's no shame, Cezar's a legit 3rd degree black belt in BJJ. He also got finished by Thiago Santos with just a second left in round one, but hey, he was undersized against the now light heavyweight, and Santos knocks everyone out.
Jack is also coming off the biggest win of his career against David Branch, who's also a very elite BJJ black belt, and he submitted him in under a minute; he really had a beautiful, unsuspecting setup for it too. Branch is the former WSOF champ-champ, and defended the belts a combined total of four times, and as I said, he's a very elite grappler, that's a hell of a way to beat a guy like that.
Jacare is a 6th degree BJJ black belt, and also a Judo black belt, along with having great wrestling, and some very good boxing with good kicks. He's also an incredibly powerful puncher and is very well rounded, he's just a big, thick guy, and that doesn't do much for his endurance; it just makes me wonder how it'll go if he can't get a finish in the first ten minutes.
Jacare is the former Strikeforce Middleweight Champion, and has eight BJJ World Championship gold medals, two BJJ World Championship silver medals, two ADCC gold medals, and three ADCC silver medals; he may be the best BJJ guy in MMA. Hermansson is a herky-jerky-like striker, kind of like a Keith Jardine or a Darren Elkins, but as I said, his pace and his grappling, particularly his ground and pound is about as good as it gets.
Jack is also a former world champion, having held the Cage Warriors Middleweight Championship, along with the WFS and ECFF Middleweight Championships. Jacare is indefinitely a big favorite, as he should be, but don't be surprised if Jack weathers the storm and ends up wearing Jacare out, it could happen. Who knows though, I'm just very excited to see this high level match up.
Greg Hardy (3-1) vs. Dmitry Smolyakov (9-2)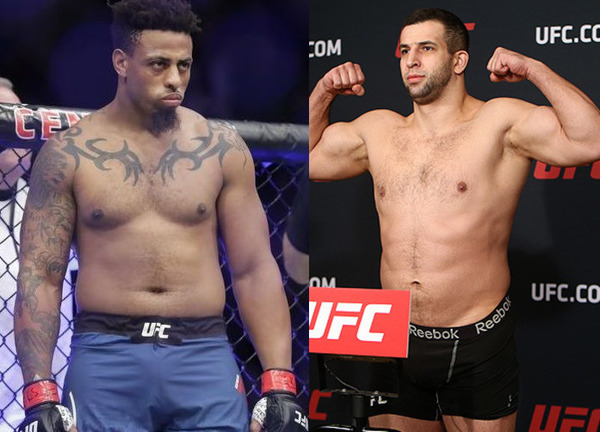 Greg Hardy again gets to showcase himself in a UFC co-main event, hopefully this time when he shows up he'll be a little more careful with his choices; because I'll be honest, I do not believe he landed that illegal knee against Crowder on purpose. That's just an easy thing for everyone to say considering his past, and I strongly disagree with it. He was only 3-0, and 3-0 as an amateur; he had never been out of the first round before, actually he'd never been past :96 seconds, certainly hadn't been tired and in the second round, and tons of fighters make that same mistake.
You see guys getting kneed to the head while they're down and the referee stops the action all the time, just because of his history everyone's going to say he's a cheater? That wouldn't have won him the fight anyways, so how is that cheating? He simply didn't know; part of the issue is the fact that MMA doesn't have federal rules, the rules go state by state, and not all states have adapted the newer rule set.
That's neither here nor there, as this is a completely different fight. Greg is an incredibly powerful specimen, and his record shows that. With a total combat sports record of 6-1, all wins via knockout, and the only loss via disqualification, he'll be trying to improve that to 7-1 this Saturday as he takes on this Russian wrestler. Dmitry Smolyakov is a Master of Sport in Freestyle Wrestling, and has also finished all of his wins. He debuted in the UFC at 8-0, and went 0-2 before getting cut; he took a two year break, came back and won via kimura against a lesser opponent this January, and is getting his second shot in the UFC at 36 years old.
Mike Perry (12-4) vs. Alex Oliveira (19-6-1) 2 NC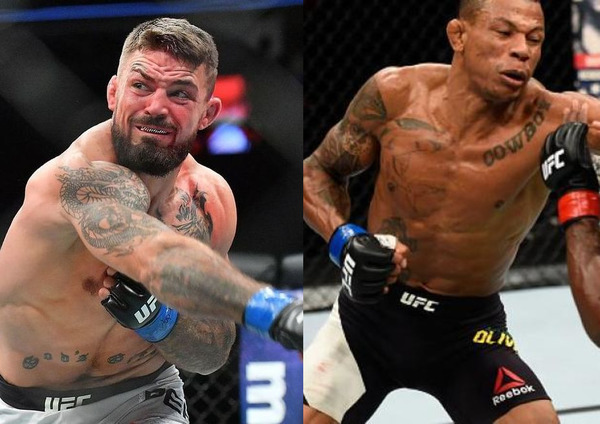 This welterweight match up is going to be absolute fireworks! I really can't wait for this fight, we have a brutally powerful knockout artist in Platinum  Mike Perry, and a very technically sound Alex Cowboy Oliveira. One thing that makes this fight so interesting, four of Alex's six losses are submissions, and he's only been stopped with strikes once. That stoppage from strikes was not a knockout either, it appeared Oliveira was injured and fell against the fence when Yancy Medeiros was teeing off on him. Point being, most of his losses are submissions, Perry's not going to submit him; he's never been knocked out, and that's what Perry does, knock people out.
This fight is going to be very telling of where each guy is in his career, and I cannot wait for it. This is actually my favorite match up on the card, this and Lineker versus Sandhagen. Mike Perry has finished eleven of his twelve wins via knockout, eight of which were KO's. He's definitely someone to fear on the feet, he can crack like no other. It's insane how powerful he is, hard to comprehend even. Mike does have a BJJ purple belt, but I feel it'll be awhile before we see that from him, if ever.
Alex Oliveira is a great fighter, and every fight he's a part of is exciting, much like Perry. He has great striking, he's 3-0 in kickboxing and is a ranked muay thai practitioner, as well as a BJJ blue belt. Just because his BJJ rank is lesser than Perry's however, does not mean anything. If this fight somehow turns into a grappling match, I think Alex will have a sizable advantage, unless Perry's on top pounding on him that is. I believe this fight will either end with Perry winning via knockout, or Oliveira winning via submission; I really can't wait to see! This is match making at it's finest, thank you Mick Maynard for this fight.
Glover Teixeira (28-7) vs. Ion Cutelaba (14-3) 1 NC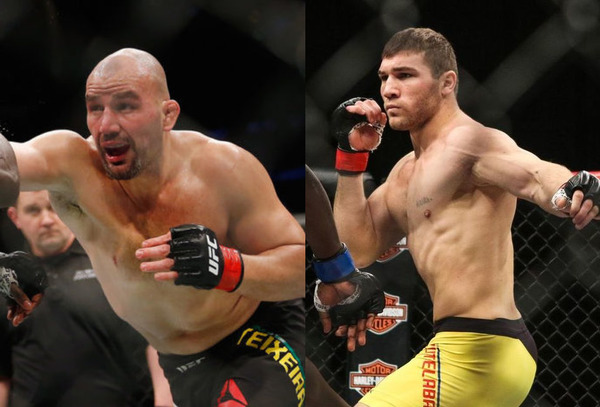 This is another really intriguing contest, between a division staple and a dangerous up and comer. Glover Teixeira has been in the UFC since 2012, and went 5-0 with four finishes in his first five appearances. He then got a title shot against Jon Jones, of course he lost to him, then lost to Phil Davis, falling to 22-4, before going on another finish streak. He made it to 25-4 before losing to Anthony Johnson, and has since had mixed results. He hasn't lost to anyone that isn't elite, and still has beat some real tough, skilled guys.
At 39 years old, he's certainly past his physical prime, and his chin isn't great anymore, but he still has a very deep skill set. He reminds me a lot of a light heavyweight version of Jacare Souza; he has great boxing with good kicks, very powerful, great wrestling, and even better BJJ. They're very similar, if I had to point out a difference, the only one I'd say is noticeable is that Glover is more aggressive with his striking, and perhaps hits a bit harder. Glover is a 2nd degree BJJ black belt, and has two ADCC titles to his credit, one gold and one silver. He's also a 5th degree black belt in Kajukenbo, which is a relatively well rounded martial art; the only other practitioner of that discipline I've seen in MMA is Sage Northcutt, who holds a 3rd degree black belt in it.
Ion Cutelaba is an absolute beast, this dude is seriously dangerous, and is only 25 years old. I'm very excited to see how much better he'll get, he has a lot of time to grow. He's just 3-2 inside the UFC thus far, he lost his debut via third round submission in a back and forth fight with BJJ black belt Misha Cirkunov, and his other loss was a unanimous decision to Jared Cannonier. His first loss was in his sixth professional fight, and was via disqualification. As far as I'm concerned, and I could've said this about Hardy too, I don't agree with disqualifications, they do not show that the winner is better.
Eleven of Ion's wins are knockouts, five of which are KO's, two submissions, and one decision. Those two submissions were both via omoplata as well, that's really interesting. We almost never see omoplata finishes, in fact the only guy to ever do it in the UFC is Ben Saunders, this guy only has two submission wins, and they were both won with that. I have a feeling this fight may be over within the first five minutes, most likely by knockout. Time will tell.
John Lineker (31-8) vs. Cory Sandhagen (10-1)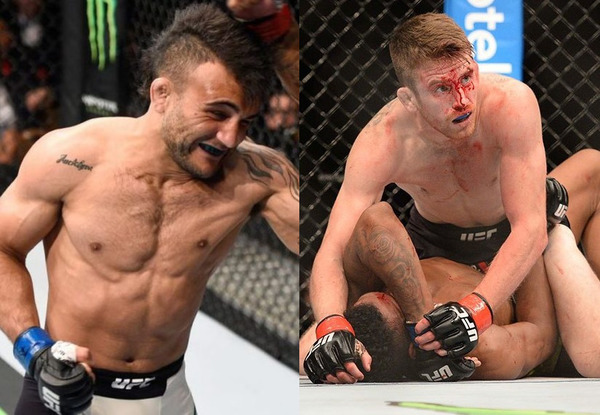 I absolutely love this match up, both of these guys are so good, and so willing to do anything to get the win, there's no way this fight will be boring. John Lineker started out his career with a 6-5 record, and has gone 25-3 since. He has been in the UFC since the flyweight division started back in 2012; he lost his debut to former Ring of Combat Flyweight Champion and The Ultimate Fighter 14 veteran, Louis Gaudinot.
Since then he has since gone 12-2, with his only losses being to former top flyweight Ali Bagautinov, and former two-time UFC Bantamweight Champion, TJ Dillashaw. That span holds wins over Ian McCall, Francisco Rivera, Michael McDonald, Rob Font, John Dodson, and Marlon Vera, just to name a few. Lineker is also still only 28 years old as well, we've still got a decent amount of time to see his full potential.
Cory Sandhagen is 27 years old, and made his UFC debut in January of last year. He won a fight at LFA 31 on January 19, 2018, and made his UFC debut on January 27, 2018, winning via TKO in round two against Austin Arnett. He won his next fight against Iuri Alcantara after almost getting stopped a few times in round one, he came out in round two looking for vengeance, and got it; he won that fight, like his UFC debut, via TKO in round two. UFC fight number three was supposed to be against Thomas Almeida at UFC on ESPN+1, however that fell through, and he was then scheduled to fight John Lineker.
Lineker also ended up getting injured, and had to pull out of the fight. He was then paired up against Mario Bautista, a 6-0 UFC newcomer, and he easily dispatched of him, showing his flashy striking and slick BJJ, winning via armbar in the first round. I'm very excited to see this fight, I'm always looking forward to John Lineker's fights, and now since Sandhagen made his UFC debut against Arnett, I've been a big fan of his as well.
John Lineker is a very good boxer, and has the kind of power that could probably knock out some lightweights, and Cory Sandhagen is very crafty in there, I can't wait to see more of him as he continues to evolve. Lineker is the former Jungle Fight Bantamweight Champion, and also a former amateur boxing champion. Sandhagen is also a former champion, though I'm not sure what promotion he held a belt in considering I can't see the engravings on his belt and he hasn't gone past three rounds before.
Roosevelt Roberts (7-0) vs. Thomas Gifford (17-7)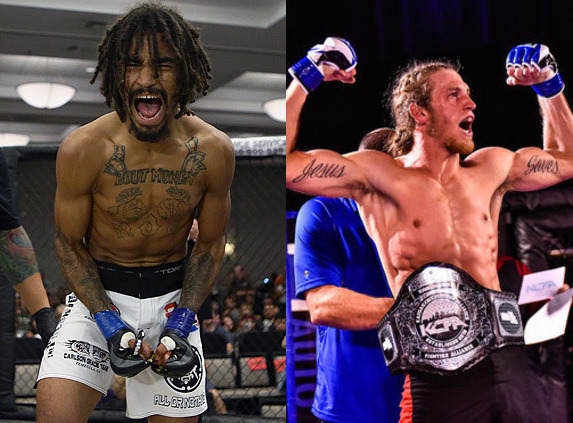 Both of these men have had extensive and successful amateur careers, and both are in their mid twenties: Roosevelt Roberts is 25, and Thomas Gifford is 26. Roosevelt is just 1-0 in the UFC, he got his shot after winning his fight on the Contender Series, and made good with his UFC debut, choking out Darrell Horcher at the end of round one. It was a very interesting submission too, it was like a sideways guillotine, it was different. If you haven't seen it, I suggest you go back and check it out, it was pretty to watch. He's also a KOTC and Bellator veteran.
He has very slick striking, and has some really good submissions too, I'm very excited to see what he turns into in the future also, I expect big things from him. Thomas Gifford is the former KCFA Lightweight Champion, and stands at 6'1", like his opponent. He definitely holds the experience edge, but will that be enough? To have 24 professional fights and multiple amateur fights by time you're 26 is pretty impressive. Though I'm sure they're incomplete, tapology has Roosevelt Roberts' amateur record at 6-1, and Thomas Gifford's amateur record at 9-2. This fight kicks off the main card at 9pm ET, and it'll be a great opener for ESPN+.