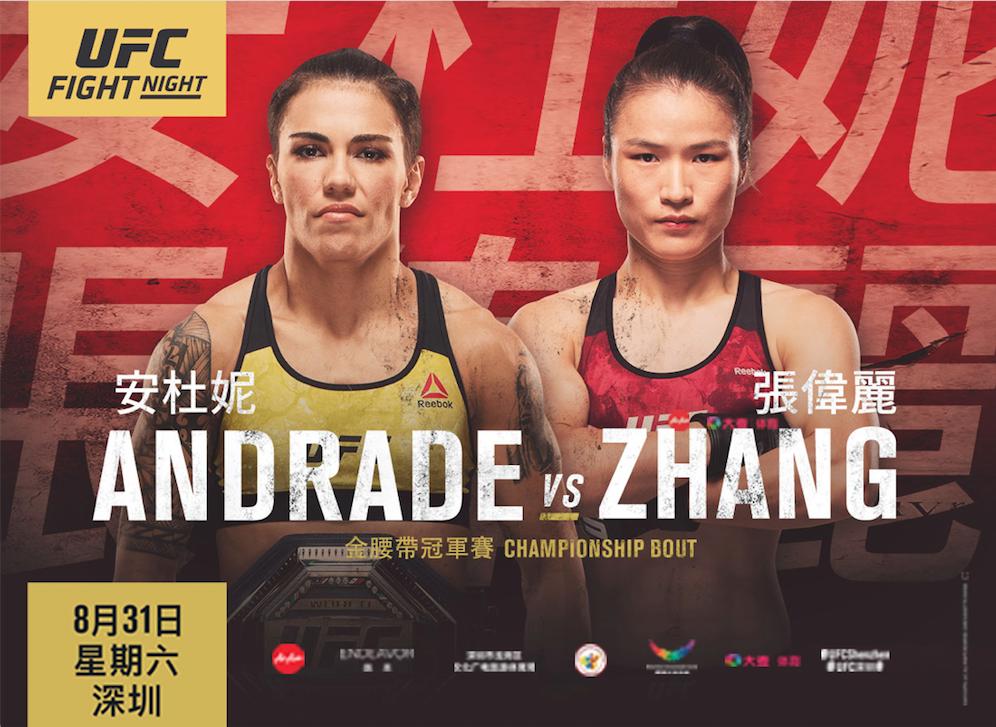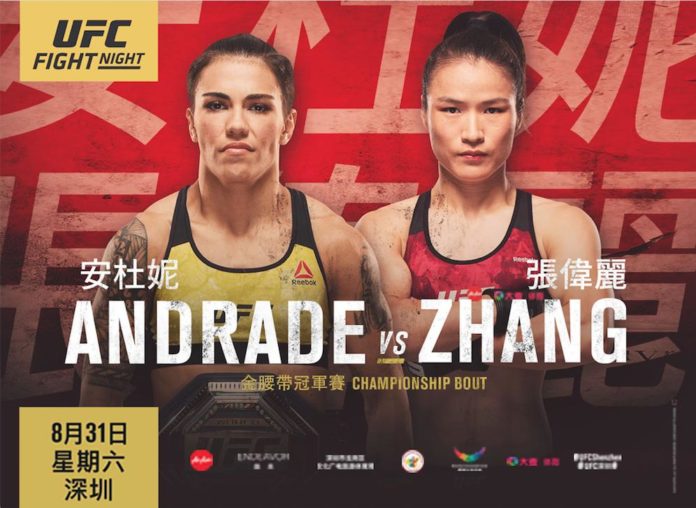 This coming weekend in Shenzhen, Guangdong, China, we have UFC on ESPN+15. Headlining the card will be a UFC Women's Strawweight Championship bout between newly crowned champion Jessica Andrade and the #6 strawweight contender Weili Zhang. Also on the card in the co-main event will be a welterweight match up between knockout artists Elizeu Zaleski dos Santos and Li Jingliang.
Jessica Andrade has been in the UFC for six years, and she's still only 27-years-old. Having won the title in her last fight with Rose Namajunas, Andrade is on the first four-fight win streak of her UFC career. She'll be defending her belt against one of the most skilled fighters to have ever come from Asia, former KLF and TOP FC Strawweight Champion, Weili Zhang.
Zhang holds a 19-1 record, and is incredibly well rounded. Seven of those wins were via submission, and nine were via knockout. This 30-year-old stud is 3-0 in the UFC, and is looking to make it to her first four-fight win streak in the promotion as well.
There's a lot of different ways this could go. Both fighters are at the elite-of-the-elite level of MMA. They're not at all the same fighter, though a lot of their traits and characteristics are similar. Both fighters prefer to strike and land most of their strikes at distance, but both are also good at landing both in the clinch, and on the ground after securing a takedown, something both of them are very capable of doing.
They also both prefer finishes, as Andrade has finished 14 of her 20 wins, with seven submissions and seven knockouts, and Zhang has finished 16 of her 19 wins as well. Zhang is probably better off her back than Andrade, but other than that, it's hard to say who will be better where.
Zhang hasn't lost since her first professional fight, meaning she's on a 19-fight win streak. Andrade has always won a few, lost, won a few, lost, but she's only 27 as previously stated. She's not even in her prime yet, maybe, she may have just cracked the surface of her prime, but we haven't seen her full peak yet. It'll be very exciting to see how this plays out.
Andrade is a small favorite, but remember, she was losing that fight with Namajunas until she got that slam. That's not to take anything away from Andrade, because Andrade is great. However, Namajunas is a very technical fighter, as is Zhang. If Zhang prevents Andrade from slamming her, how does her skill set stack up against the champion? Fight Card posted below:
Main Card: ESPN+ (6am ET/3am PT)
Women's Strawweight (C): Jessica Andrade (20-6) vs. Weili Zhang (19-1)
Welterweight: Elizeu Zaleski dos Santos (21-5) vs. Li Jingliang (16-5)
Flyweight: Mark De La Rosa (11-2) vs. Kai Kara-France (19-7)
Featherweight: Zhenhong Lu (18-6) vs. Movsar Evloev (11-0)
Women's Flyweight: Yanan Wu (10-2) vs. Mizuki Inoue (13-5)
Preliminary Card: ESPN (3am ET/12am PT)
Welterweight: Kenan Song (14-5) vs. Derrick Krantz (24-11)
Middleweight: Anthony Hernandez (6-1) 1 NC vs. Jun Yong Park (10-3)
Bantamweight: Andre Soukhamthath (13-7) vs. Su Mudaerji (11-4)
Light Heavyweight: Da Un Jung (11-2) vs. Khadis Ibragimov (8-0)
Lightweight: Damis Ismagulov (18-1) vs. Thiago Moises (12-3)
Bantamweight: Karol Rosa (11-3) vs. Lara Procopio (6-0)
Bantamweight: Batgerel Danaa (6-1) vs. Heili Alateng (12-7-1)