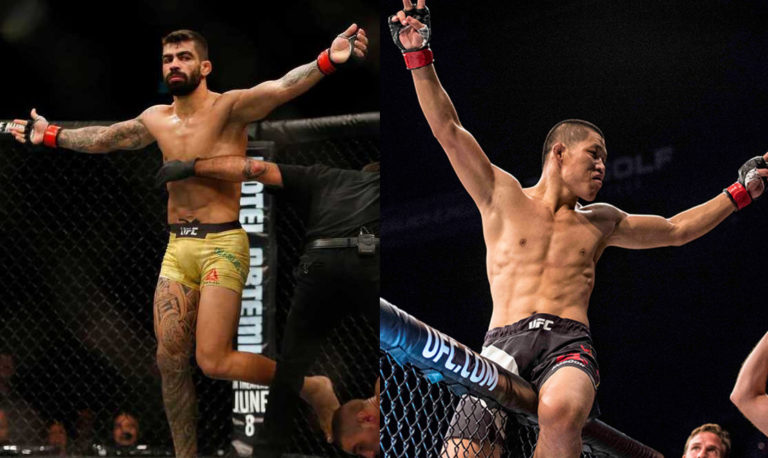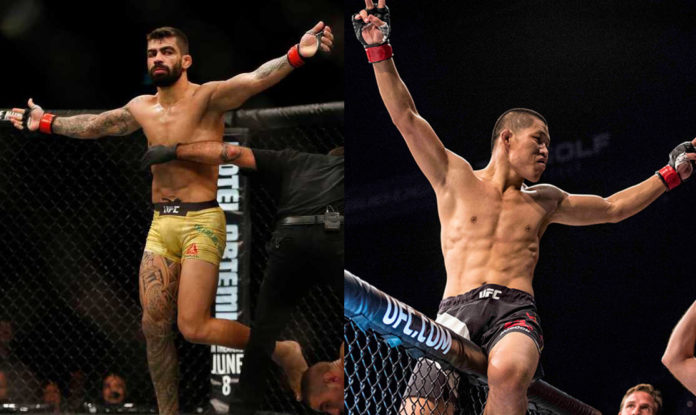 This co-main event for UFC Shenzhen is going to be absolute fireworks! Welterweight knockout artists Elizeu Zaleski dos Santos and Li Jingliang battle for supremacy in Jingliang's backyard, about three-and-a-half hours away from his home in Beijing. Most are of course picking dos Santos to win, he's had more success in the UFC thus far, he's ranked, and is on a seven-fight win streak.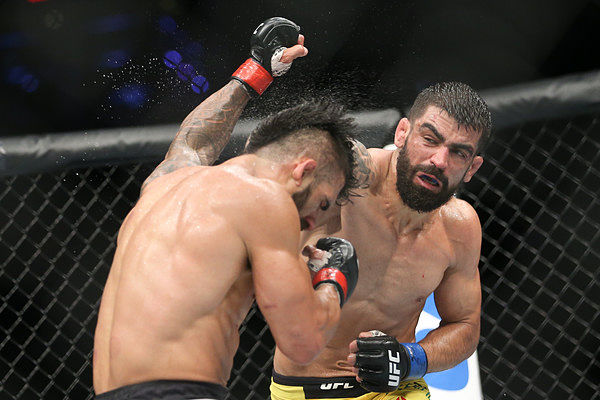 Li Jingliang came to the UFC in May 2014, and picked up a split decision win over David Michaud, a very entertaining back-and-fourth fight. He'd then lose his next fight via split decision to Nordine Taleb, before KO'ing Dhiego Lima :85 seconds into round one. He would then fight Japanese grappler Keita Nakamura, a fight he'd lose via submission, the only time he's ever been finished. After being dropped early in round one, he remained on his back for about four minutes.
He rallied and had a very dominant round two, tripling up on strikes against Nakamura, but he couldn't keep from being choked unconscious in the middle of round three. Honestly, there's no shame in that, especially considering this is his only defeat via finish, because Nakamura is one of the best back takers and one of the best rear naked choke artists in the entire sport and has been for a long time.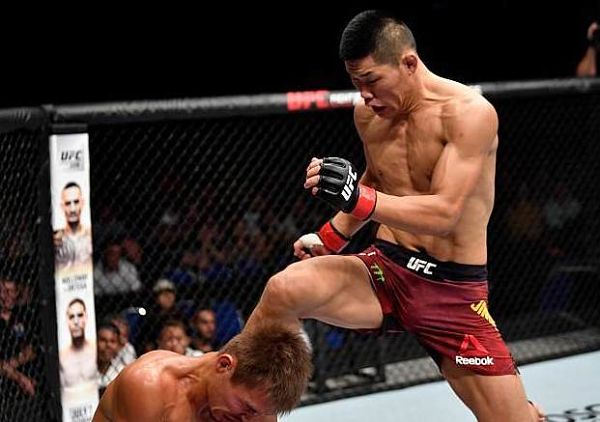 Jingliang would then rattle off four straight victories with three knockouts, before losing to Australian prodigy Jake Matthews via unanimous decision. He has since gone 2-0, with a unanimous decision over Daichi Abe, a fight he won all three rounds in, and a late third round TKO over David Zawada. This fight was in November of last year, it's great to see Jingliang back!
Elizeu Zaleski dos Santos came to the UFC exactly one year and one week later, and his debut ended in a split decision as well, only he was on the other end of it. Since this however, he's won his last seven straight with three knockouts and a submission (rear naked choke) to his credit. This includes wins over Keita Nakamura, Omari Akhmedov, Lyman Good, Sean Strickland, Max Griffin, and Curtis Millender, all great talents in their own right.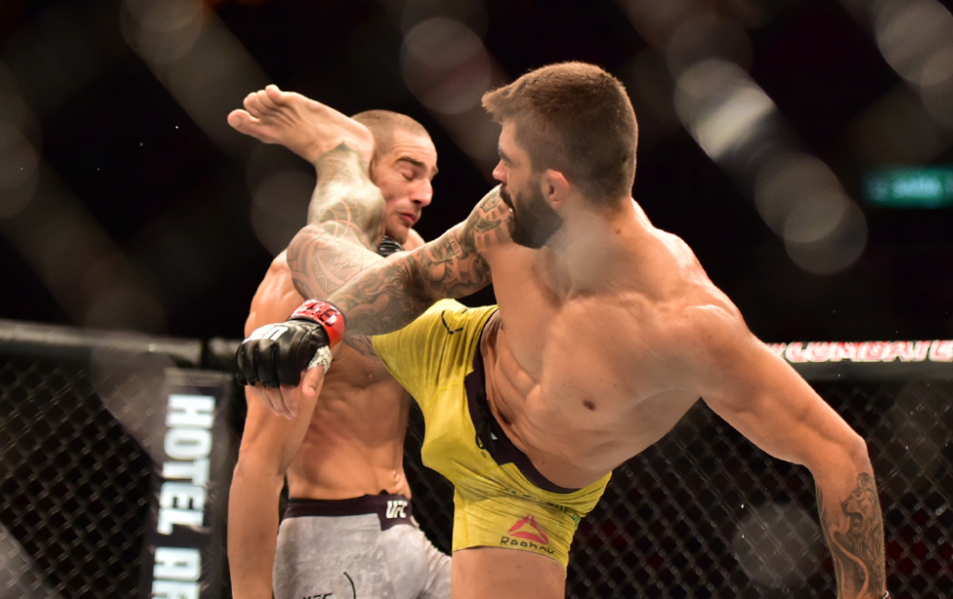 The striking of dos Santos is not something you see every day, it's very unusual, but dangerous and effective. He's got to be one of the best fighters to make capoeira effective thus far in the 26 years this sport has been around. This gets showcased in about every fight he has, but particularly in his second to last and third to last outings, where he KO'd Sean Strickland with a spinning wheel kick, and also KO'd formerly undefeated Mexican fighter Luigi Vendramini with a flying knee.
Most of us thought that dos Santos would get a top 15 guy next, and he probably should have, but this match up is going to be so much fun to watch. Both guys are former champions; Jingliang won the Legend FC Welterweight Championship in his last fight before joining the UFC, and dos Santos won the Jungle Fight Welterweight Championship, and defended it in his last two fights before joining the UFC.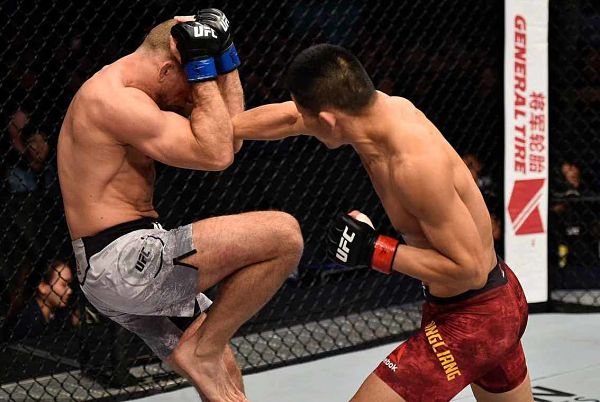 Jingliang is an inch taller at 6′, and has a 72" reach, while dos Santos is 5'11" with a 73" reach. Jingliang boasts a BJJ brown belt, and dos Santos boasts a BJJ black belt, so if this fight goes to the ground, it'll be interesting there too. How does this fight go? Don't count 'The Leech' out, he's a great fighter and is just now hitting his peak at 31-years-old, as is dos Santos, who's 32-years-old.
Jingliang was 8-2 when he made his UFC debut, and is 8-3 inside the octagon; dos Santos was 14-4 when he made his UFC debut, and he's gone 7-1 inside the octagon. They have a similar amount of experience, and both have had a good amount of success inside the UFC. It'll be interesting to see where each of them go from here.
This could be the biggest night the Chinese have ever had in a UFC event; if Jingliang beats the No. 14 welterweight in the world, a guy he's supposed to lose to, and Weili Zhang can take that strap from Jessica Andrade and become the first ever Asian UFC champion, that would be absolutely huge. It may even be the biggest night in Asian MMA history, not just the UFC. Be sure to tune in during the wee hours of the morning to catch the action!