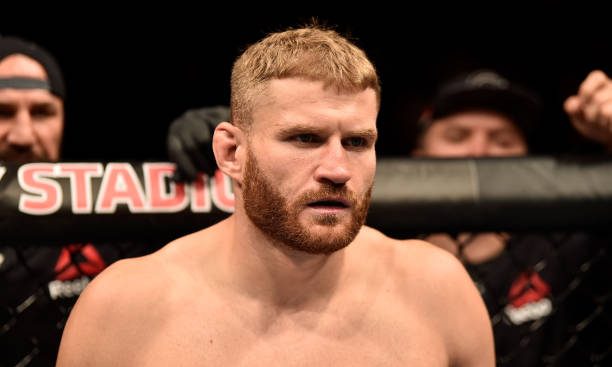 UFC light heavyweight champion Jan Blachowicz says he'll move up to heavyweight in two years' time, and possibly fight Jon Jones somewhere down the road.
Jones relinquished his 205lbs title in August, citing a move up to heavyweight. Later, Blachowicz won the vacant title at UFC 253 by beating Dominick Reyes in the second round via TKO. The Polish star is expected to make his first title defence against middleweight champion Israel Adesanya in 2021, but is keeping his options open.
Move To Heavyweight
Speaking to Submission Radio (as transcribed by BJPenn.com), Blachowicz shared his plans for the future. The 'Prince of Cieszyn' said he will spend the next two years at light heavyweight, before eventually moving up to the heavyweight division and fighting the former 205lbs champion there.
"I would like to stay in 205 a little bit longer," Blachowicz said. "But it's also hard because nobody knows what Jon Jones is doing right now. Even the UFC says that they don't talk with him about his next fight. So, nobody knows what he's doing. But, I believe that I will catch him later in heavyweight. I think two more years at 205 and then I will go to heavyweight."
Jones Ducking Him
Blachowicz campaigned for a title shot when Jones was the light heavyweight champion, but the stars never aligned for the two. The 37-year-old believes it was because 'Bones' ducked him.
"He does everything to not fight against me," Blachowicz claimed. "So, what can I do? He promised me this fight after [I beat] Corey Anderson, and after couple of months he went to heavyweight. What the f***?
"First of all, I have to win against Glover [Teixeira] or Israel [Adesanya], and after this fight we can talk about Jon Jones," Blachowicz concluded. "I don't care. I believe I catch him in the future somewhere, at 205 or in heavyweight. Or maybe I'll go to Albuquerque and go to his gym and we do sparring on the mat. But I believe that I have to fight against him somewhere, just for myself."
Jones has not fought since relinquishing his title, but has posted several pictures to social media showing him bulking up.
What happens if Jan Blachowicz and Jon Jones ever cross paths inside the UFC Octagon?
See also: